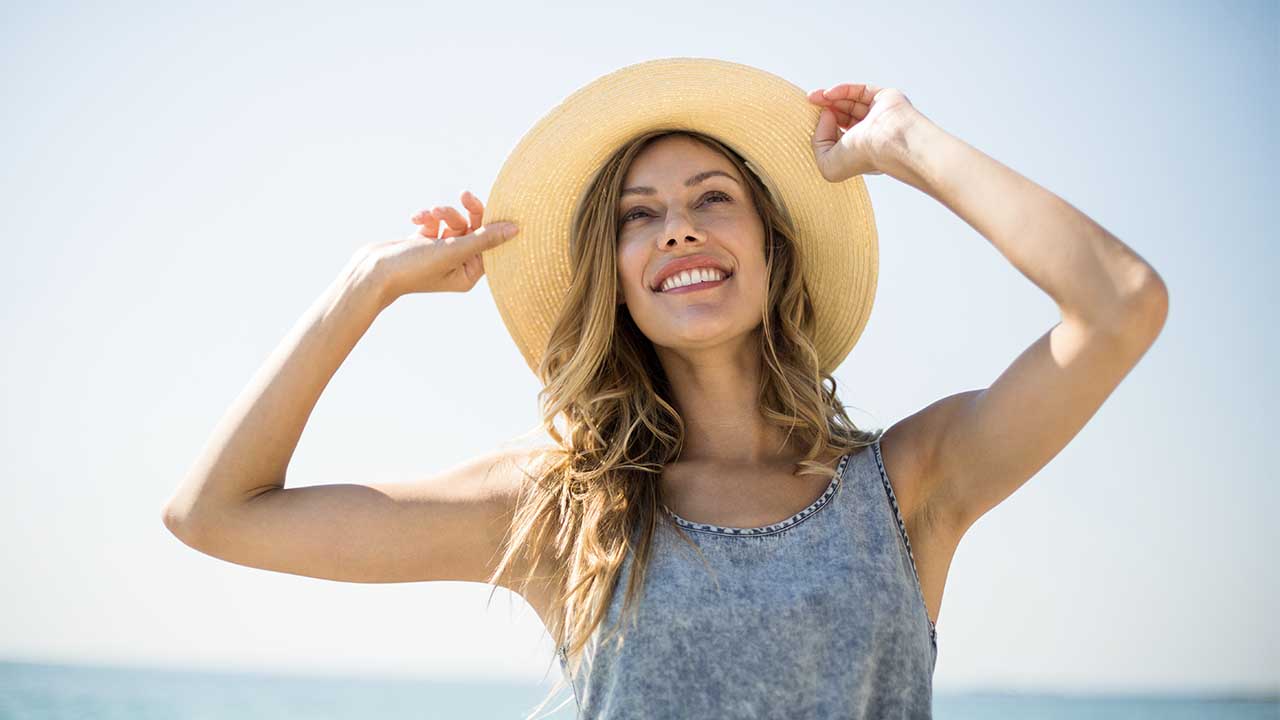 sun care and self tanning
4 Summer Skin Care Tips for Your Day at the Beach
If you're lucky, there's a summer beach day in your near future. You can (temporarily) abandon your responsibilities to enjoy the sun and the sand. Of course, there's one thing we can't encourage you to forget about—your skin. A day at the beach may make for the ultimate fun summer day, but it can also wreak havoc on your skin if you aren't prepared. Thankfully, there's a happy medium where you can enjoy your beach day and practice a proper skin care routine. Follow our beach day beauty tips (which includes using moisturizer with SPF and getting a glow the safe way with self-tanner) to ensure your skin stays protected and beautiful for the duration of your beach day.
Beach Day Skin Care Tip #1: Apply and Reapply Sunscreen
Naming the number one, most important product for a beach day is a no-brainer—it's sunscreen. After all, your wonderful beach day memories will be tainted if you come home with a terrible sun burn. Not only that, but besides a burn, sun damage can result in premature signs of aging and even certain skin cancers. With that said, you can see why being diligent with sunscreen application scores the spot as our top beach day skin care tip. You'll want to start your day off right, before you even get to the beach. 30 minutes prior to leaving your house, apply a broad-spectrum, water-resistant sunscreen with an SPF value of 30 or higher—which is what the Food and Drug Administration (FDA) recommends.
If you're in rush to get out the door and on the road, consider using a moisturizer formulated with SPF—that way you can cut a step out of your skin care routine. Try the L'Oréal Paris RevitaLift Bright Reveal Brightening Day Moisturizer SPF 30. In addition to providing sun protection, the moisturizer is formulated with glycolic acid, vitamin C, and Pro-Retinol to help correct the look of dull, uneven skin. Immediately, skin looks brighter and feels hydrated, while skin tone looks more even.
Of course, applying a moisturizer with SPF once in the morning isn't enough. The key to staying protected during a long day at the beach is reapplication. Toss your sunscreen of choice in your beach bag and reapply, reapply, reapply. More specifically, the FDA says to reapply sunscreen at least every two hours, or more often if you swim or work up a sweat.
Beach Day Skin Care Tip #2: Use Other Protective Measures, Too
Sunscreen is undeniably essential, but it isn't the only way you should be protecting your skin. Besides wearing sunscreen, you want to physically shield your skin from the fun and avoid unnecessary sun exposure. Keep these protective measures in mind when planning your trip:
1. Seek out the shade
According to the FDA, the sun's rays are most intense between 10 a.m. and 2 p.m., meaning you'll want to do your best to stay out of the sun during those hours. Additionally, consider bringing a beach umbrella for your trip. While lugging a beach umbrella around may seem like a pain, it's worth it for the protective shade the umbrella can provide.
2. Dress accordingly
If you're planning on catching waves, you'll likely be spending time in a swimsuit. But what about when you aren't in the water? When you don't need to be dressed for water activities, wear clothing that covers as much of your skin as possible—i.e. long-sleeved shirts and lightweight pants.
3. Wear protective accessories
As luck would have it, protective accessories can make for ultra-trendy looks. Top of your look with a broad-brimmed hat and large sunglasses. You'll look selfie-ready, while providing the sensitive skin on your face with extra sun protection.
Beach Day Skin Care Tip #3: Use Self-Tanner Ahead of Time
If you're on the beach, admiring everyone's fabulous tans, it can be tempting to lay out and try to get your own tan. To avoid that temptation and save yourself from the potential sun damage, we recommend using self-tanner in the days leading up to your beach day. That way, you'll have a sun-kissed glow that will help you look amazing in your bikini (or stylish one-piece) and you won't feel the need to rely on the sun to get some color. Have your pick from a few of our best self-tanners:
L'Oréal Paris Sublime Bronze™ Hydrating Self-Tanning Milk Medium: This gradual self-tanner is designed to gradually deliver an even, bronzed glow while softening and nourishing skin. Use it three times the week before your beach day to build your glow.
L'Oréal Paris Sublime Bronze™ Self-Tanning Towelettes for Body: These convenient, single-use wipes have an advanced skin-smoothing formula with alpha hydroxy acids (AHAs) and vitamin E for a smooth, streak-free tan. Plus, they're perfect if you need to pack just enough self-tanner to last you through your summer vacation.
L'Oréal Paris Sublime Bronze™ ProPerfect Salon Airbrush Self-Tanning Mist: Get a salon-inspired airbrush tanning result at home with this self-tanning mist. The 360-degree wide angle jet applicator provides continuous coverage for a 100 percent natural-looking tan. The super-fine mist applies evenly and dries quickly with no need to rub in. The jet applicator allows you to cover a greater area of skin at one time for easy application.
L'Oréal Paris Sublime Bronze™ Self-Tanning Serum: Featuring a quick-dry formula, this self-tanning serum goes on streak-free and can last for up to two weeks. Equally as noteworthy, it can be used on your body and your face.
L'Oréal Paris Sublime Bronze™ Self-Tanning Lotion: This traditional self-tanner lotion moisturizes your skin while a perfect sunless tan develops. It's formulated with vitamin E and AHAs to provide a beautiful, streak-free tan.
L'Oréal Paris Sublime Bronze™ Tinted Self-Tanning Lotion: This transfer- and water-resistant formula creates an instant bronze tint as your flawless-looking sunless tan develops. The bronze tint has a hint of shimmer and dries quickly.
L'Oréal Paris Sublime Bronze™ Self-Tanning Gelee: This refreshing skin-smoothing formula with AHAs and vitamin E creates a perfect, streak-free tan. The non-tinted, lightweight formula applies easily and dries quickly.
Beach Day Skin Care Tip #4: Leave Makeup Behind
We love makeup as much as the next girl—if not more—but why not give your skin a break for your day at the beach? You won't want to have to worry about whether your makeup can withstand the weather or a dip in the ocean, so go ahead and go au naturel.
Summer skin care isn't only important during a day on the beach. The rest of the season, be sure to put our 10 Ways to Help Keep Your Skin Looking Healthy This Summer to use.
Discover more tips & tricks
Keep your skin happy
See all articles
Shop Featured Skin Care products
Discover More