skin care essentials
Your Ultimate Guide to Summer Skin Care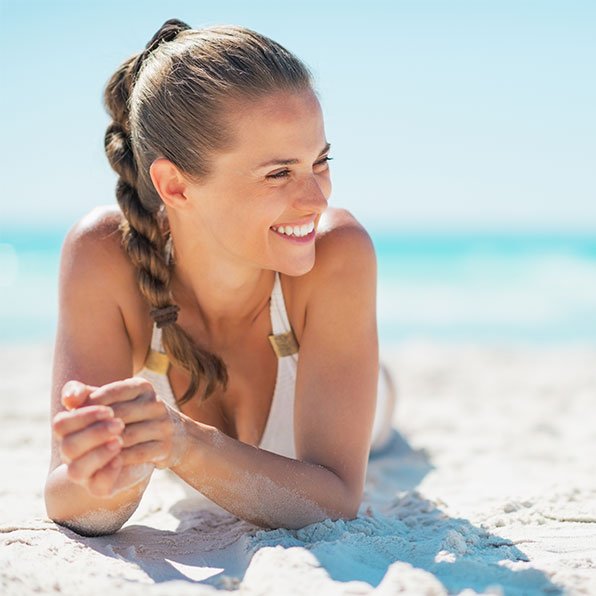 You've survived the winter snow, spring showers and now it's time for some summer fun. But, with the new season comes along a new set of skin needs, tips and tricks. You may know the basics, like that you should wear SPF with broad spectrum protection on a daily basis, but here are a few more essential summer skin tips to keep in mind so that your skin looks and feels it's best all the way into fall.
Summer skin tip #1: Don't miss these spots. You should apply SPF with broad spectrum protection to any parts of your skin that may be exposed to the sun. That being said, it can be easy to miss, or not apply enough SPF, to your nose, lips, ears, neck and chest. Pay special attention to your nose, as this area can burn easily, use a lip balm with SPF and apply SPF to the tops, sides and bottoms of your ears. Further, your neck and chest areas show signs of skin aging, like fine lines, wrinkles, age spots and sagging skin, just as your face does, so be sure to apply SPF there as well.
Summer skin tip #3: Cleanse and exfoliate with glycolic acid formulas. For smooth, glowing skin this summer, look for skin care products with glycolic acid like RevitaLift® Bright Reveal Brightening Daily Scrub Cleanser or RevitaLift® Bright Reveal Brightening Peel Pads. Glycolic acid, a derivative of cane sugar, can help loosen the dead skin cells that build up on your skin's surface. When dead cells on the surface of your skin are removed, newer, younger cells are exposed, revealing a bright, luminous, lit-from-within glow.
Summer skin tip #4: Get smooth, beautiful legs: Smooth legs are an essential summer skin must-have. To get your most beautiful legs take a short soak with bath oils. These oils will provide skin-soothing properties to help hydrate and soothe skin. And, when it comes time to shave, it's best to use a razor with more than one blade; preferably a four or five blade razor. After shaving, be sure to hydrate your skin while it is still moist with a rich, nourishing cream or body oil.
Summer skin tip #5: Apply clay masks. Summer is the perfect time to wear a little less makeup than usual. The hot temperatures and rising humidity can cause sweat and oil to mix with heavy makeup and clog your pores. So, consider spending some days with a fresh face. To encourage clear, naturally glowing skin try applying a clay mask to your skin two to three times a week. The chemical properties of clays work to draw out the buildup of impurities, dirt and oils, making them an ideal skin care ingredient for achieving healthier looking skin.
Summer skin tip #6: Get your blood pumping. Help bring a natural glow to your skin by doing a few jumping jacks or push ups before starting your day. A quick exercising session can help increase your blood flow and elevate your heart rate to help encourage the look of vital, glowing skin.
Summer skin tip #7: Try tontouring: If you love the look that contouring provides, but don't want to wear all of the makeup that the popular method requires while it is so hot outside consider tontouring instead. This contour-like method uses self tanners in place of your typical contouring makeup components, so that your skin feels lighter. Celebrity makeup artist and L'Oréal brand ambassador Sir John shares his application tips to help your achieve the tontouring trend.
Summer skin tip#8: Drink plenty of water. Keep your body and skin hydrated this summer by drinking plenty of water in place of soda or coffee. Caffeine can dehydrate your skin, which can make it look dull, while a glass of water can lubricate your skin from the inside, out.
Enjoy your summer to the fullest and foster and maintain beautiful glowing skin all season by keeping these summer skin tips in mind.
Discover more tips & tricks
Keep your skin happy
See all articles
Shop Featured Skin Care products
Discover More