skin care essentials
The Best Skin Care Products for Women – At Any Age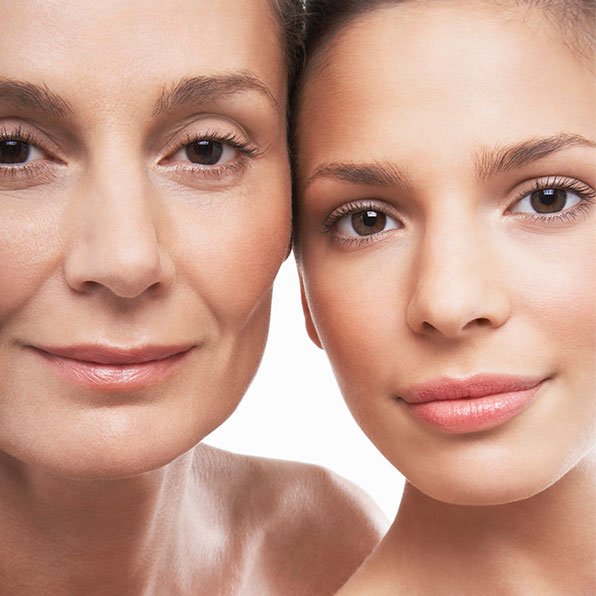 The best skin care products for women are not limited to the basics; they're some that are classic, some that are trendy and others in between. Some of the products require some time and others are applied with one simple spritz. The best skin care plan for any woman is one that evolves with her needs, her concerns and her desire to have beautiful skin – no matter her age. Here, the skin care products every woman should at least consider making a part of her routine – if they're not already her staples.
#1: A cream cleanser.
Even if you have oily skin most of the time, it's common to experience different skin types, including dryness, at some point. The weather, stress, hormones and your environment can all play a role in how dry your skin happens to be at any given moment. This is why its important to keep a cream cleanser, like
RevitaLift® Radiant Smoothing Cream Cleanser
, handy, as it helps maintain your skin's natural oils and cleans skin without drying it out.
#2: A foaming cleanser.
Just as your skin may become dry from time to time it can also experience oiliness based on your current situation. A foaming cleanser, like
Ideal Clean™ All Skin Types Foaming Gel Cleanser
, can cut through built up grease and oil, making it a good option for nighttime cleansing if you've had a particularly taxing day.
#3: Makeup remover.
Cleansing is never complete unless you have entirely removed your makeup. How you do so will really come down to your personal preference;
facial wipes
, cleansing oil, micellar water and makeup remover toners are all good options. Washing your face with just a cleanser may not fully clear your skin of makeup – and if left on the skin overnight makeup can mix with dead skin cells and clog pores.
#4: A chemical or mechanical exfoliator:
Dead skin cells build up on the outer layer of your skin and cause a dull appearance and clog pores. Slough away the collection of dead skin cells with the help of an exfoliator. Exfoliation not only clears skin of dead skin cells, but can also address common skin care concerns like fine lines, wrinkles and even excess oil production. There are two common ways to exfoliate, chemically and mechanically, and you can choose the one that best suits your skin type and needs based off of your dermatologist's recommendations.
#5: Facial mist.
While a facial mist is a product on the trendier side, you may still find it rewarding. Facial mists are meant to hydrate and prep the skin for other skin care products like your serum and moisturizer. A spritz after cleansing is all you need for skin to feel fresh and ready. Many facial mists also come in relaxing and invigorating scents, which can make for a nice treat for your senses in the morning or at night depending upon the aroma you chose. Facial mists can also be spritzed mid-day to give your senses and skin a quick refreshing boost.
#6: A serum to treat your concerns.
Whether you want to address pore size, wrinkles or overall skin dryness there is a serum that matches your skin's needs.
RevitaLift® Triple Power™ Concentrated Serum
for example, targets common skin aging concerns like wrinkles and skin texture. Serums are lightweight and are highly concentrated so that they deliver focused attention to your skin. Always apply serum before any moisturizer or cream, as the heavier consistencies will block the serum from penetrating deep enough to perform at its best.
#7: Eye cream.
An essential part of any women's skin care routine, eye cream delivers much needed hydration to a very dry area of the skin. Because the skin around the eye is so delicate and can tend to become dehydrated it is important that you provide the area with extra moisture. Eye creams are formulated to not only deliver extra hydration, but also to stay put and not wash away if your eye happens to tear. Some eye creams, like
Age Perfect® Eye Renewal Eye Cream
, also aim to help lessen the appearance of dark circles and puffiness in addition to moisturizing the dry area.
#8: Hydrating day cream with SPF.
To maintain and preserve beautiful skin you should apply SPF everyday – especially to your face, neck and chest. Look for a moisturizer with broad-spectrum protection, like
Age Perfect® Glow Renewal SPF 30 Lotion,
to ensure your skin is protected everyday.
#9: Nourishing night cream.
Look for a cream that will replenish and restore your skin while you sleep.
RevitaLift™ Volume Filler Night Cream
is formulated with moisture-boosting hyaluronic acid to recover skin's fullness and smooth lines and wrinkles overnight. It's not just enough to simply apply the cream to your face, you should instead think of your face, neck and chest as the same area.
#10: Facial oil.
Facial oil can suit all skin types and is an especially valuable product to have as a part of your routine. When applied after your moisturizer, in the morning or at night, the oil acts as a barrier to seal in the good skin ingredients and keep harmful pollutants and dirt out. Facial oils are formulated to be lightweight and non-greasy.
Age Perfect® Hydra-Nutrition – Facial Oil SPF 30
is the first of its kind to also offer broad-spectrum protection, an added bonus for daytime use.
#12: Over night mask or treatment.
Pampering you skin overnight with a mask or treatment once or twice a week can help skin soak up nourishing ingredients. You'll wake up with radiant skin that looks and feels more hydrated than just from a night cream alone. Night masks can also target certain skin care concerns;
RevitaLift® Triple Power™ Intensive Overnight Mask
helps improves skin's firmness and elasticity.
Some of these skin care products are a necessary part of any good skin care routine and some are fun trends to give a try. Whether you end up using all of the products on the list or decide to stick with the basics, know that beautiful skin requires that you keep it clean, hydrated and protected – everyday.
Discover more tips & tricks
Keep your skin happy
See all articles
Shop Featured Skin Care products
Discover More