skin care essentials
10 Habits of People with Perfect Skin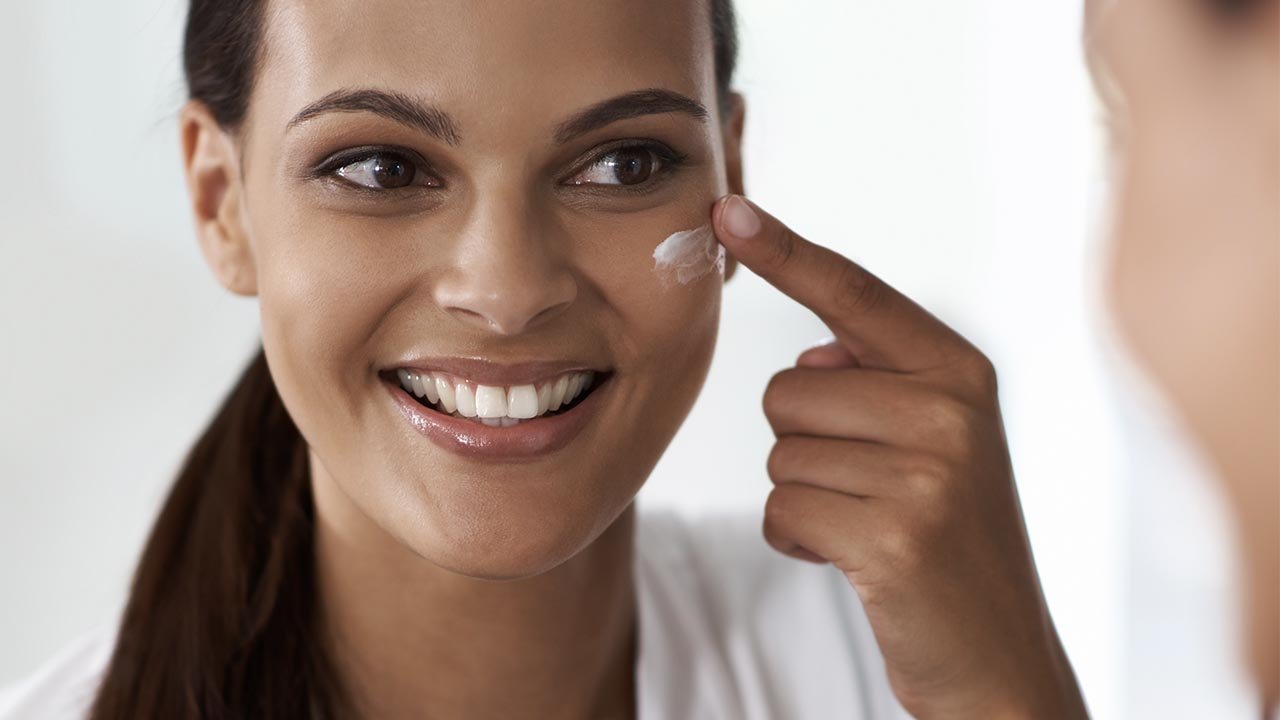 You know that person whose perfect skin you envy? The one with a completely even skin tone and unblemished complexion. Well, chances are that it isn't just plain ol' luck that led them to having flawless skin. While genetics can certainly be a factor, most frequently, when you see someone with a faultless complexion, they've put a lot of work into curating the perfect skin care routine.
If you've been wondering how to get perfect skin, with a little extra effort in the skin care department, you could be on your way toward having envy-worthy skin of your own. Don't worry, you don't have to go and interview every person with perfect skin that you can find—we've already done the heavy lifting. We're sharing 10 skin care habits—including removing makeup and using moisturizer twice daily—shared by people with beautiful skin, as well as skin care product recommendations for gorgeous, glowing skin.
SKIN CARE HABIT #1: CATCH ENOUGH SHUT EYE
According to the American Academy of Dermatology (AAD), beauty sleep is real! The AAD shares that sleep gives your body—which includes your skin—time to refresh and renew itself. So, make sure you're getting enough sleep every night. In addition to snoozing for a full eight hours, you can take your sleep to the next level by using an overnight face mask. After completing your normal nighttime skin care routine, apply the L'Oréal Paris Revitalift Triple Power™ Intensive Overnight Mask in place of moisturizer. When you wake, you can expect to find skin that feels hydrated and supple and looks more radiant.
SKIN CARE HABIT #2: REMOVE MAKEUP BEFORE BED
We can't say it enough—removing your makeup at the end of the day is a must. Slipping between your sheets without washing your face may seem like no big deal, but it can lead to clogged pores and breakouts. That's why you'll find people with perfect skin tend to remove their makeup religiously. If you think starting this habit might be a struggle, keep it simple. Stow a pack of makeup remover wipes, like the L'Oréal Paris Ideal Clean™ All Skin Types Makeup Removing Towelettes, on your bedside table. Grab a wipe when your eyes start to feel heavy and quickly cleanse your skin—you don't even need to get out of bed.
SKIN CARE HABIT #3: CLEANING MAKEUP BRUSHES
Speaking of makeup, one essential habit that can help you achieve perfect skin is cleaning your makeup brushes regularly. Per the AAD, dirty makeup brushes can irritate your skin and cause an infection. In order to protect your skin and keep your makeup tools free of bacteria, they recommend cleaning your brushes every seven to ten days.
Editor's tip: Not sure how to clean your brushes? Here's How to Clean Makeup Brushes and Blenders.
SKIN CARE HABIT #4: MOISTURIZE NO MATTER YOUR SKIN TYPE
If you're seeking perfect skin, it's important to recognize that moisturizing is necessary—no matter your skin type. Those with oily skin may be tempted to skip using face lotions and creams altogether, but that can actually result in skin becoming even oilier. Instead of determining that your skin doesn't require moisturizer, you'll want to find a lightweight moisturizer that suits your skin type.
Try the L'Oréal Paris Hydra Genius Daily Liquid Care for Normal/Oily Skin, which mattifies, the L'Oréal Paris Hydra Genius Daily Liquid Care for Normal/Dry Skin, which improves radiance, or the L'Oréal Paris Hydra Genius Daily Liquid Care for Extra Dry Skin, which soothes and nourishes. Each of these three moisturizers is formulated with hyaluronic acid and aloe vera water for long-lasting hydration.
SKIN CARE HABIT #5: EXFOLIATE
Like it or not, exfoliating your skin is non-negotiable. See, exfoliating works to remove dead skin cells, makeup residue, dirt, oil, and debris that builds up on the surface of your skin, which helps to keep your pores clean and minimizes the chance of acne blemishes developing. It also allows your moisturizer and serums to deeply penetrate your skin for lasting moisture. There are two methods for exfoliation—chemical exfoliants and mechanical exfoliants—and based on your skin type, you can choose the best option for you. Keep in mind, some people can handle daily exfoliation while others can only handle it once a week. It's key to listen to your skin.
For mechanical exfoliation, try the L'Oréal Paris Pure-Sugar Resurface & Energize Kona Coffee Scrub, L'Oréal Paris Pure-Sugar Purify & Unclog Kiwi Scrub, L'Oréal Paris Pure-Sugar Nourish & Soften Cocoa Scrub, or L'Oréal Paris Pure-Sugar Smooth & Glow Grapeseed Scrub, all of which are formulated with a blend of three pure sugars to leave you with nourished and luminous skin.
For chemical exfoliation, try the L'Oréal Paris Revitalift Bright Reveal Brightening Daily Peel Pads, which is formulated with glycolic acid and works to resurface dull-looking skin, uneven tone, and rough texture to give you radiant skin. They also help to reduce the appearance of wrinkles for youthful-looking skin.
SKIN CARE HABIT #6: PRACTICE SELF-CARE
No matter how busy your schedule is, you should always make time for a pampering session. After all, taking time to practice self-care—looking out for your own well-being—can help reduce stress. And there is no better way to start than by using face masks. A few times a week, slather your skin with a clay face mask while you relax. Kick your feet up, watch a bit of guilty pleasure TV, and enjoy! After 10-15 minutes, rinse off. Not only should you feel better, but your skin should, too.
Need a face mask recommendation—or four? Try the L'Oréal Paris Pure-Clay Mask Detox & Brighten Face Mask, L'Oréal Paris Pure-Clay Mask Exfoliate & Refining Face Mask, L'Oréal Paris Pure-Clay Clear & Comfort Face Mask, or L'Oréal Paris Pure-Clay Clarify & Smooth Face Mask.
SKIN CARE HABIT #7: BEGIN AN ANTI-AGING ROUTINE EARLY
The difference between having perfect skin and having less-than-perfect skin can be one mistake, such as starting your anti-aging routine late. While anti-aging products may not seem necessary until you start to notice fine lines and wrinkles, you'll actually be better off if you start combating visible signs of aging early, before those signs appear. While someone in their 20s won't need to follow the same routine as a person in their 50s, it never hurts to introduce an eye cream and a moisturizer formulated with retinol.
To start an anti-aging regimen that's worthy of someone with perfect skin, consider adding the L'Oréal Paris Revitalift Anti-Wrinkle + Firming Eye Cream and L'Oréal Paris Revitalift Cicacream Face Moisturizer Pro Retinol & Centella Asiatica to your regimen.
SKIN CARE HABIT #8: DOUBLE CLEANSING
Your cleansing method may be holding you back from achieving perfect skin. Sure, you probably cleanse once at the start of your skin care routine, but that isn't always enough. For days when one cleanse just doesn't get the job done, it may be smart to give double cleansing a go. First, wash your face with a no-rinse cleanser, then follow-up with a rinse-off cleanser to remove remaining dirt, oil, and impurities.
Set the stage with the L'Oréal Paris Micellar Cleansing Water Complete Cleanser Waterproof - All Skin Types or L'Oréal Paris Micellar Cleansing Water Complete Cleanser for Normal to Oily Skin. Saturate a cotton pad with either micellar water and gently wipe the pad over your skin. Finish off your cleansing session with a cleanser formulated for your skin type. Try the L'Oréal Paris Pure-Clay Detox & Brighten Cleanser, L'Oréal Paris Pure-Clay Exfoliate & Refine Cleanser, which both transform from clay-to-mousse to clean skin without over-drying.
SKIN CARE HABIT #9: KEEP A GOOD DIET IN MIND
While achieving perfect skin almost always relies on having a good skin care routine, a healthy, balanced diet may be beneficial, too. For more on this topic, check out our article, Beauty Foods: Beauty from the Inside Out.
SKIN CARE HABIT #10: BE CONSISTENT
Last, but definitely not least, people with perfect skin are almost always consistent with how they treat their skin. It doesn't matter if they're tired or on vacation, they'll still put effort into caring for their complexion—and you should, too!
Adapting the aforementioned habits may help you obtain the complexion of your dreams, but don't expect it to be immediate. In the meantime, you can learn How to Fake Flawless Skin with Makeup.
Discover more tips & tricks
Keep your skin happy
See all articles
Shop Featured Skin Care products
Discover More