skin care essentials
Try These Face Exfoliators for Dry Skin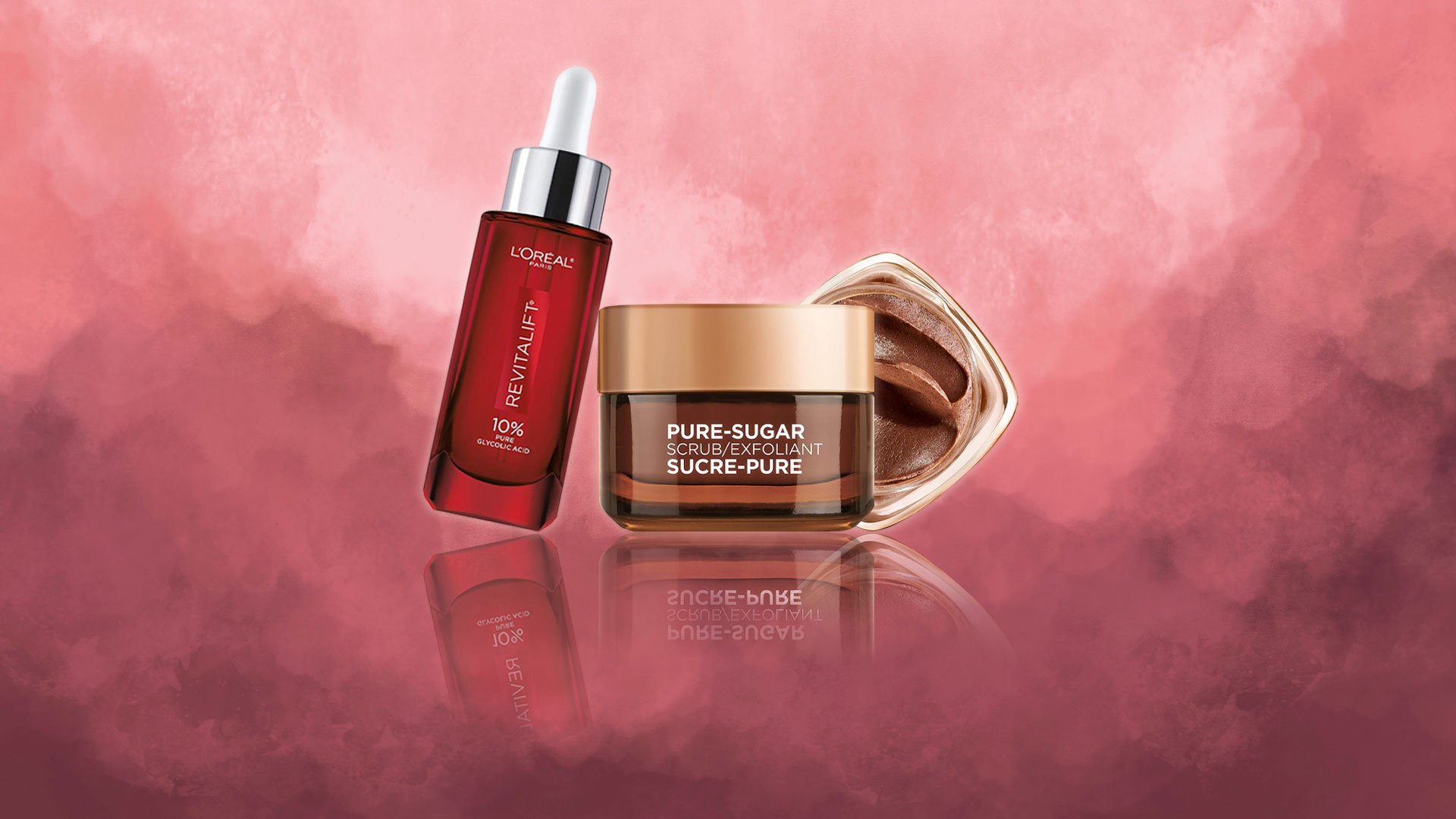 If you have dry skin, you may find that your complexion is in need of some serious exfoliation. You see, over time, dead skin cells build up on your skin, which can actually cause some of that dryness you're struggling to manage. That's why adding a liquid exfoliator or face scrub for dry skin to your skin care routine is so important! In need of a product rec? Don't worry—we have you covered. Read on to learn everything you need to know about our two best exfoliators for dry skin, including how to use them to encourage a smooth, hydrated complexion.
OUR BEST FACE SCRUB FOR DRY SKIN
You're probably most familiar with mechanical exfoliation, which involves physically exfoliating your skin with a face scrub. If this is your preferred exfoliation method, look no further than our best face scrub for dry skin, the L'Oréal Paris Pure-Sugar Nourish & Soften Cocoa Scrub.
This face scrub contains a blend of three pure sugars paired with finely crushed cocoa, luxurious coconut oil, and rich cocoa butter. The buttery-soft sugar scrub is truly kind to your skin. The formula melts onto skin for gentle yet effective exfoliation. The result? Dirt, oil, and impurities are effectively removed, dull skin is gently polished away, and skin looks healthier, smoother, and glowing, and is comforted and softer. Need we say more? The scrub can be used on your face and lips for smooth, exfoliated skin.
How to use it: Smooth a small amount of the scrub onto clean, dry skin with dry fingers, avoiding the eye area. Moisten fingers, and massage the scrub over your face. Rinse with warm water. Use three times a week, making sure not to over-exfoliate your dry skin.
OUR BEST LIQUID EXFOLIATOR FOR DRY SKIN
If mechanical exfoliation isn't your thing, you can also use a liquid exfoliator for dry skin. Our very best? The L'Oréal Paris Revitalift Derm Intensives 10% Pure Glycolic Acid Serum. If you aren't familiar with glycolic acid, let us fill you in a bit. Glycolic acid is an alpha hydroxy acid (AHA) recognized by dermatologists as an effective resurfacing agent for younger-looking skin.
This exfoliating serum is validated in partnership with an external panel of dermatologists, so you know it's worth trying. While glycolic acid is known for its resurfacing properties, the daily use serum is specially blended with aloe, which is touted for its soothing benefits. Basically, you can say it's the best of both worlds, especially for your dry skin. After use, skin is resurfaced, younger-looking, smoother, and visibly refined. Over time, skin tone is more visibly even, and dark spots and wrinkles are visibly reduced. Oh, and did we mention that it's also free of fragrances, parabens, mineral oil, and dyes?
How to use it: Apply four to five drops to clean, dry skin every evening before using moisturizer. For sensitive skin, start by using the glycolic acid serum two to three times per week and build to nightly use. Products with glycolic acid may increase photosensitivity, so apply SPF the morning after use.
HOW TO COMPLETE YOUR DRY SKIN EXFOLIATION ROUTINE
Now that you know about our exfoliators for dry skin and how to use them, you may be curious about how to finish off your routine. Here's what to do.
#1. APPLY A HYDRATING SERUM
After sloughing buildup and excess oils from your skin, it'll need to be replenished with hydration. This is where a face serum comes in, specifically a hyaluronic acid serum. The L'Oréal Paris Revitalift Derm Intensives 1.5% Pure Hyaluronic Acid Serum absorbs quickly to immediately replenish hydration and visibly reduce wrinkles in two weeks for skin that's visibly plumped and youthful-looking. Apply two to three drops to the face and neck and gently smooth over your skin.
#2. DOT ON EYE CREAM
Next, focus the hydration on your eyes. Use your ring finger to pat on an eye cream, like the L'Oréal Paris Revitalift Triple Power Eye Treatment, which is formulated with Pro-Retinol, vitamin C, and hyaluronic acid.
#3. SMOOTH ON MOISTURIZER
As with any skin care routine, you'll want to smooth on moisturizer as the final step. We recommend the L'Oréal Paris Revitalift Triple Power Anti-Aging Moisturizer Fragrance Free, an anti-aging moisturizer that contains Pro-Retinol, vitamin C, and hyaluronic acid to visibly reduce wrinkles and firm and brighten skin.
Discover more tips & tricks
Keep your skin happy
See all articles
Shop Featured Skin Care products
Discover More