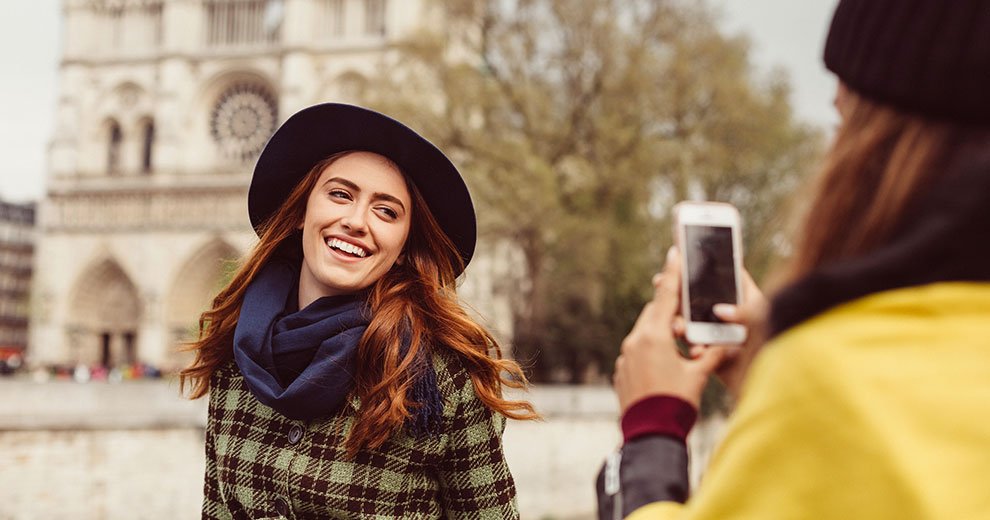 skin care essentials
8 Tricks for Picture-Perfect, Beautiful Skin
You might be excited for the holidays, a special dinner or a big event that's coming up – but you may not be ready for all of the picture-taking that is sure to accompany the upcoming occasion. Don't plan on hiding in the background, instead face the event feeling confidant and camera-ready equipped with beautiful skin. When your skin looks its best, you can't help but feel good too. Address your skin care concerns before the cameras start flashing and incorporate a few other skin care tips into your routine while you're getting ready.
Picture-perfect skin care tip #1: Surge your skin with moisture the night before. Dull skin won't reflect what you want it to in pictures, that is if you want to capture the look of bright, beautiful skin. To ramp up your skin's natural beauty, apply an overnight mask after removing your makeup and cleansing the night before a big event. Surging your skin with moisture while you sleep will better ensure a more nourished and radiant canvas when you wake.
Picture-perfect skin care tip #2: Cleanse with care in the morning. Daily aggressors like air pollution, UV rays, stress and extreme temperatures can impact your skin, sparking some early signs of skin aging like fine lines, wrinkles and sagging skin too. Your skin already has a lot to go up against to look and feel its best, so why not make sure that your cleanser isn't making matters worse. No matter what cleanser you use, just make sure the formula doesn't leave your skin feeling tight and/or raw post-application, suggests Skincare.com, as this could indicate a harsh stripping of necessary moisture. Also, make sure the water in your shower—and when you wash your face—is lukewarm and not piping hot as this can further dry out your skin.
Picture-perfect skin care tip #3: Exfoliate on a weekly basis. Can you remember the last time you exfoliated? If you had to think about it for a few minutes – or really don't remember – than you probably aren't exfoliating enough. Typically, it's recommended that you exfoliate two to three times a week, using either a chemical, like a glycolic acid peel pad, or physical, like with a face scrub, exfoliating method. It's important that you clear your skin's surface of dead skin cell build up regularly so that the flaky, dry cells won't cause your skin to look dull or mix with other surface dirt and oil, which can later congest and clog your pores. Try working regular exfoliation into your skin care routine two to three times a week. If your skin seems to become too dry, consider reducing the frequency or consult your dermatologist for their recommendation for an exfoliating method.
Picture-perfect skin care tip #4: Find a face mask that can address your concerns. Whether your concerns revolve around signs of skin aging, excess shine or extreme dryness, chances are there is a face mask out there that can help. To have picture-perfect, beautiful skin reduce shine with a purifying and mattifying face mask. If your skin is dry and tired-looking, try a detoxifying and illuminating face mask formula. And, if your skin is dull or rough encourage smooth skin with the help of a refining face mask.
Picture-perfect skin care tip #5: Moisturize and protect your skin. Picture-perfect skin should appear radiant and smooth, but your daily environment can sabotage even the best skin care efforts. Free radicals are highly-reactive chemical particles produced by both air pollution and UV rays. When they're introduced to your skin, they cling onto and break down collagen and elastin—the necessary fibers that give skin its firmness and bounce, says Skincare.com. As a result, wrinkles, fine lines, saggy skin, and other visible signs of skin aging can develop. Antioxidants, like vitamin C, for instance can help neutralize free radical damage that can occur on daily basis. So, consider trying a day cream that's not only formulated with moisturizing ingredients, but antioxidants and SPF broad spectrum protection too.
Picture-perfect skin care tip #6: Highlight with facial oil. Encourage radiant skin that is camera-ready by attracting light to your cheekbones and temples. Moderation is key here, as you wouldn't want to apply too much facial oil, which may leave you with a shiny-looking face in photos. Stick with just a dab or two and apply it to your fingertips to better mitigate how much you apply. A few taps on your cheekbones and temples can work like a highlighter, reflecting the light and giving you a look of a natural glow and beautiful skin.
Picture-perfect skin care tip #7: Try a skin smoother. Blur the look of everyday imperfections by applying a skin smoother after you've moisturized. These skin care formulas can help minimize the look of fine lines, wrinkles and blemishes to boot. Some skin smoothers are also formulated with SPF broad spectrum protection and long-lasting hydrating properties, making them a smart choice for everyday use too.
Picture-perfect skin care tip #8: Blot to control excess shine. If you're worrying about your skin looking shiny in photos, in general, then you may want to skip applying facial oil and instead keep a few blotting papers on hand. Before striking a pose, give your skin a few taps to help soak up excess surface oil.
Feel confidant and camera-ready with beautiful skin that will shine – the right way – through any lens. And, remember that you don't always need makeup to look your best, encourage the look of beautiful without any concealer or foundation by keeping these no makeup skin care tips in mind and still have picture-perfect skin you'll want to have documented!
Discover more tips & tricks
Keep your skin happy
See all articles
Shop Featured Skin Care products
Discover More