skin care essentials
5 Ways to Rehab Your Summer Skin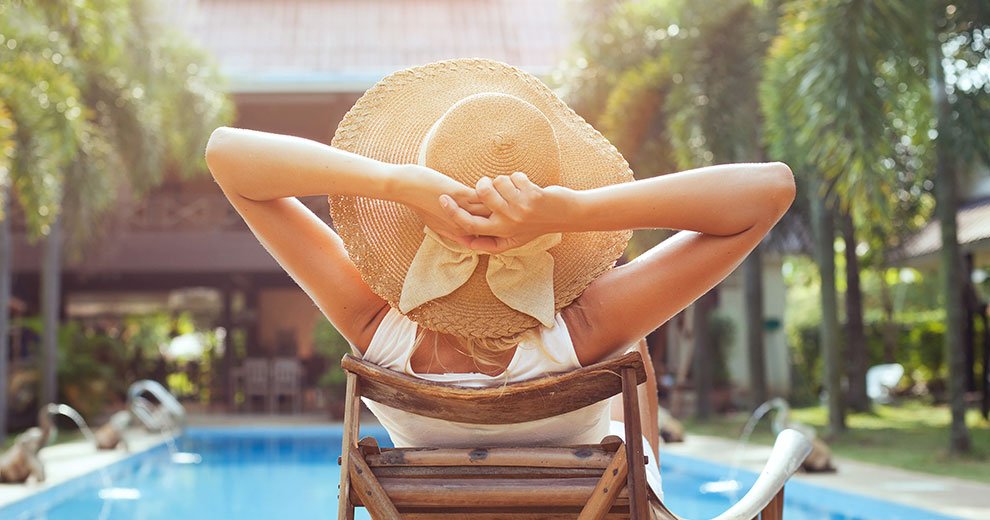 The sand, surf and sun can put your summer skin through a lot – and by the end of the season your skin may be dry, dull and anything but glowing. Long hours in the strong sun, chlorinated pools and salty waters can dry skin out, leaving it to look lackluster and worn. But, you can regain your glow and revive your tired, summer skin with just a few skin care tips that will help you end the season with beautiful skin; no matter what summer struggles its endured so far.
Rehab summer skin care tip #1: Cleanse summer skin gently. Your skin may be more dry and sensitive if you've spent a lot of time outside in the sun. So, instead of washing your face with foaming or gel-based cleansers, which can strip dry skin of its natural oil, consider switching to micellar water formulas and cream cleansers. These cleansing options are typically gentle and hydrating to dry skin. Micellar water is also a convenient option to take with you if you have an end of summer getaway planned. These multi-tasking skin care formulas can remove makeup, cleanse your skin and hydrate it at the same time – and require no running water for wetting or rinsing your skin.
Rehab summer skin care tip #2: Dissolve away dullness. Your skin may appear dull if dead skin cells have piled up on its surface. Perhaps you've avoided exfoliating, because your skin has been regrouping from hours spent in the sun, but if not removed these dry, dead cells can cover up younger-looking cells. Reveal these bright, fresh cells by exfoliating with a pre-soaked glycolic acid peel pad after cleansing. Typically gentle enough to be used by those with dry skin, the glycolic acid formula can dissolve away the dead skin cell buildup and unveil skin cells that appear more radiant.
Rehab summer skin care tip #3: Treat your summer skin to a face mask. Two to three times a week, apply a refining or hydrating face mask to your summer skin to help it regroup from dryness and dullness. Consider looking for creamy, rich formulas and even consider applying an overnight face mask in place of your regular night cream if your skin is experiencing more dryness than usual.
Rehab summer skin care tip #4: Moisturize your eye area. The skin around your eyes tends to be very delicate and can easily become dry. Keep this area hydrated by applying an eye cream in the morning and at night. Also, try to wear sunglasses with UV protection while outside to shield this area of your skin from the sun. If left unprotected, the skin around your eyes may become more likely to develop fine lines and wrinkles and existing signs of skin aging, like hollowed under-eyes, may worsen.
Rehab summer skin care tip #5: Protect recuperating summer skin from the elements. Now that you've taken some time to regroup your summer skin, protect it throughout the rest of the season. Preserve your beautiful skin by applying SPF with broad spectrum protection every day about thirty minutes before sun exposure and reapply as needed – especially after swimming or sweating. Also, for further protection from air pollutants that can age your skin, consider looking for serums and face creams formulated with antioxidants too.
Enjoy the rest of your summer and have beautiful skin while doing so, simply follow these summer skin care tips to revive your skin just in time.
Discover more tips & tricks
Keep your skin happy
See all articles
Shop Featured Skin Care products
Discover More