skin care essentials
5 Must-Know Winter Skin Care Tips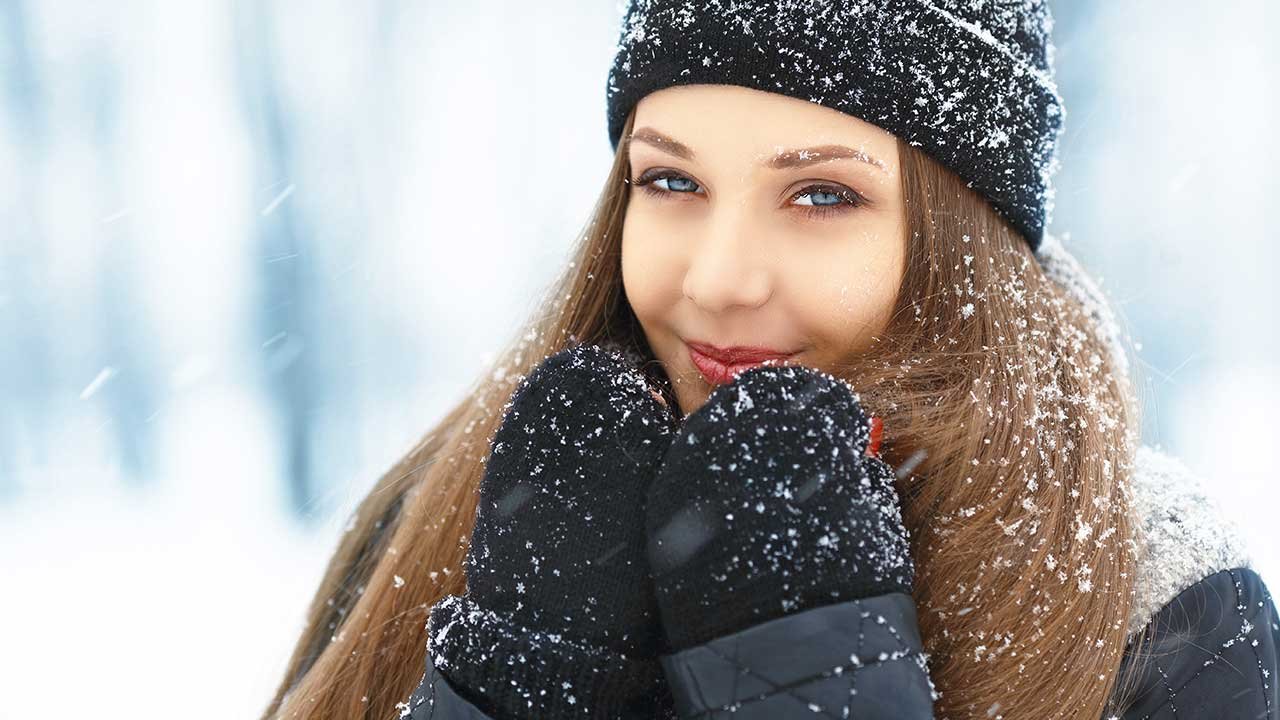 Winter is a time for snuggling by the fire, sipping hot cocoa, and hitting the slopes. The air may have a chill, but that won't keep you from window-shopping and dinner dates. However, winter weather can take a toll on your skin. Intense temperatures can lead to dry skin and temporary skin sensitivity—and that's just mentioning the two most common skin care concerns that accompany the season. It all comes down to the dry air inside and out as a result of mother nature and hours spent in artificial heat. Together these factors can deplete your skin of much-needed moisture and leave it vulnerable to other environmental factors like strong UV rays and freezing temperatures. No bueno. To bundle up against winter woes, keep reading for five essential winter skin care tips. From the necessity of taking sun protection measures, to finding the right facial cleansers and moisturizers for the cold, we've got you covered.
Winter Skin Care Tip #1: Slather on Broad-Spectrum Sunscreen
Even if there is hardly a ray of sunshine in sight, you should apply broad-spectrum sunscreen, as you can still get burned even on cloudy days. If you like to partake in winter sports, like skiing or snowboarding, take extra care. Be sure to apply broad-spectrum sunscreen to any part of your skin that may be exposed to the sun, and don't forget about your lips, ears, scalp, and hands. For everyday protection for your face, neck, and chest, look for a moisturizer with SPF, like the L'Oréal Paris RevitaLift Bright Reveal Brightening Day Moisturizer SPF 30. Remember to reapply at least every two hours or immediately after swimming or sweating. Other sun protection measures you should take include limiting your amount of time in the sun, seeking shade whenever you're outside, and covering up exposed areas.
Winter Skin Care Tip #2: Keep Showers Short
Long showers can strip your skin of the natural oils it needs to stay hydrated. The ideal shower length is actually 10 minutes, and the temperature should be tepid—slightly warm, not scalding hot. Hot water can deplete your skin's natural oils, which can leave your skin feeling drier. Not to mention, hot water can also temporarily increase your skin's sensitivity.
Winter Skin Care Tip #3: Try a Cream Facial Cleanser
Even if you have oily skin, you may experience dryness in the winter. So this season, look for a cream facial cleanser, like the L'Oréal Paris RevitaLift Radiant Smoothing Cream Cleanser, which helps boost the appearance of skin's radiance while gently exfoliating and removing all traces of impurities and makeup. Just as you should shower with lukewarm water, you should also wash your face with lukewarm water.
Winter Skin Care Tip #4: Don't Skimp on Moisturizer
No matter your skin type, replenish your skin's hydration by making a facial moisturizer with hyaluronic acid a part of your skin care routine morning and night. Try the L'Oréal Paris Hydra Genius Daily Liquid Care for Normal to Dry Skin, L'Oréal Paris Hydra Genius Daily Liquid Care for Normal to Oily Skin, or L'Oréal Paris Hydra Genius Daily Liquid Care for Extra Dry Skin depending on your specific skin type. If you're looking for more of an anti-aging approach, consider adding the L'Oréal Paris RevitaLift Cicacream Face Moisturizer Pro Retinol & Centella Asiatica to your skin care routine.
Winter Skin Care Tip #5: Pamper Your Skin with Face Masks and Face Scrubs
Winter is especially known for drying out your skin—and when your skin is dry, it tends to look dull and lifeless. The solution? Face masks and face scrubs, which can help brighten the appearance of your skin. To see just how beneficial these skin care products can be, take a multi-masking approach with the L'Oréal Paris Pure-Clay Clarify & Smooth Face Mask, L'Oréal Paris Pure-Clay Clear & Comfort Face Mask, L'Oréal Paris Pure-Clay Detox & Brighten Face Mask, L'Oréal Paris Pure-Clay Exfoliate & Refining Face Mask, and L'Oréal Paris Pure-Clay Purify & Mattify Face Mask. And don't forget to stock up on the L'Oréal Paris Pure-Sugar Nourish & Soften Face Scrub, L'Oréal Paris Pure-Sugar Purify & Unclog Face Scrub, and L'Oréal Paris Pure-Sugar Smooth & Glow Face Scrub to exfoliate!
There you have it: Five simple skin care tips for better-feeling skin all winter long. And, when the temperatures start to rise as spring comes into sight, check out our article, How to Transition Your Skin Care Routine from Winter to Spring.
Discover more tips & tricks
Keep your skin happy
See all articles
Shop Featured Skin Care products
Discover More