skin care concerns
The One Tip You Should Add to Your Routine, According to Your Skin Type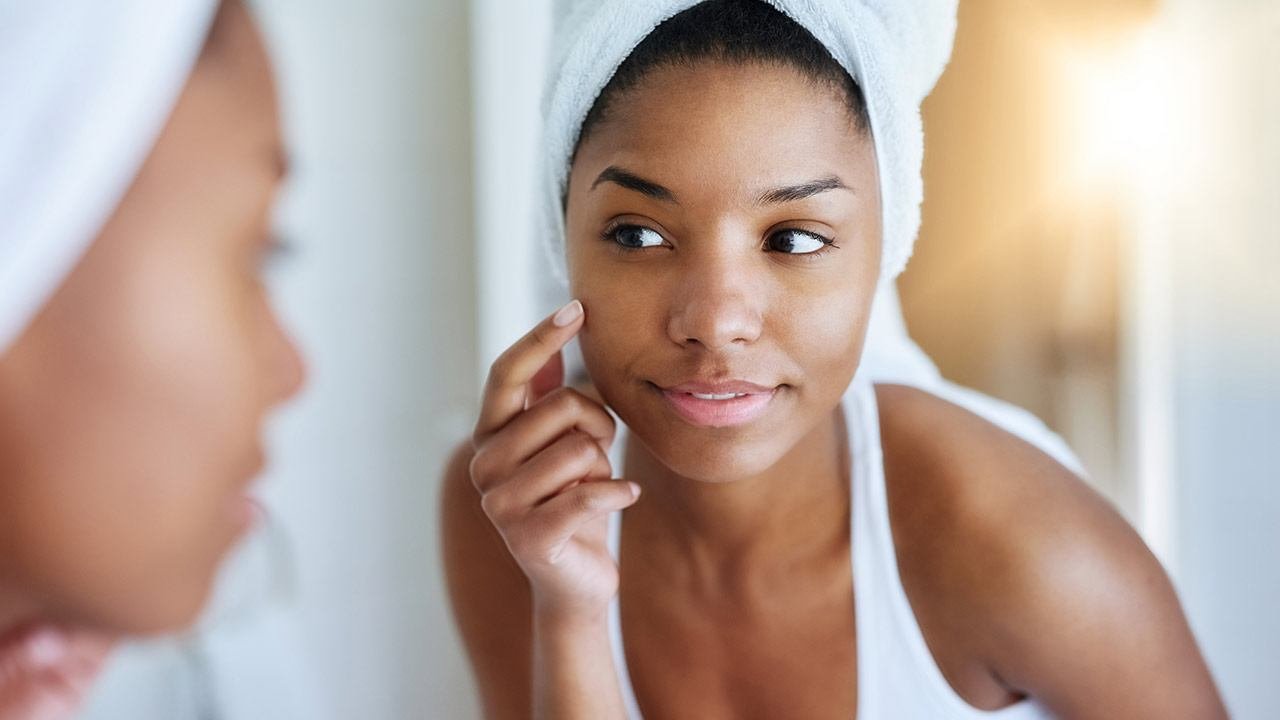 Whether you've got dry skin, oily skin, combination skin, sensitive skin, dull skin, mature skin, or anything in between, chances are you've questioned whether or not you're taking care of your complexion properly. In fact, it can be pretty overwhelming to figure out what to do every morning and night to ensure you're keeping your skin looking its best. Do you really need moisturizer if you have oily skin? Is there any way to brighten your dull complexion? Make things easier on yourself by adding just one new step to your skin care routine today. Even a tiny change can make a world of difference. Here's to your most beautiful skin yet!
If You Have Dry Skin…Cleanse Gently
Wipe away the day's impurities with a gentle cleanser such as micellar water, which is super-trendy right now for good reason. Micellar water is powered by tiny micelles—oil molecules—that act like a magnet to lift dirt, oil, and makeup residue up and away from the skin. Try the L'Oréal Paris Micellar Cleansing Water Complete Cleanser for Normal to Dry Skin. Saturate a cotton pad with micellar water and wipe it over your face—no rinsing or harsh rubbing required.
If You Have Dull, Lackluster Skin…Exfoliate with a Peel Pad
Dirt and oil can build up your skin, causing it to look dull. And your skin's natural ability to shed surface skin cells decreases as you age. So, consider adding a peel pad to your nightly beauty routine. Try the L'Oréal Paris RevitaLift Bright Reveal Peel Pads, which are formulated with glycolic acid to help resurface dull, uneven skin tone and rough texture. The multi-ply texture pads also physically resurface dead skin cells to help skin look brighter. Just remember to apply sunscreen in the morning, since newly revealed skin can be sensitive to sunlight.
If You Have Mature Skin…Use a Rich Moisturizer
As your skin matures, it loses moisture, nutrients, and natural oils. Plus, its ability to retain moisture decreases, which can leave the skin on your face, neck, and chest very dry. Use a rich moisturizer, like the L'Oréal Paris Age Perfect Hydra-Nutrition Golden Balm Face, Neck, & Chest, which is formulated with calcium and precious oils to provide long-lasting hydration and comfort. As the name implies, apply it to your face, neck, and chest morning and night!
If You Have Oily Skin…Slather on a Mattifying Mask
Impurities, dirt, makeup, and excess oil can build up on your skin day after day, leaving your complexion overly oily. And sometimes, a cleanser just isn't enough—that's where a mask can come in. The L'Oréal Paris Pure-Clay Mask Purify & Mattify Treatment Mask helps to draw out the buildup of impurities, dirt, and oils, absorb impurities, unclog pores, reduce excess shine, and refresh your skin. To use, apply an even layer to clean, dry skin. Leave the mask on for 10 to 15 minutes, then remove with water. Use three times a week for best results.
If You Have Sensitive Skin…Wear SPF
Of course, you should use sunscreen regardless of your skin type—including sensitive. Spending time in the sun unprotected can lead to skin damage, which can lead to visible signs of aging down the road, like wrinkles or dark spots. When you have sensitive skin, it's important to pay attention to how your skin reacts. You may need to avoid products formulated with alcohol or fragrance, for example. In need of a new daytime moisturizer? Try the L'Oréal Paris Ideal Moisture Facial Daily Lotion SPF 25 Sensitive Skin, which can hydrate and soothe sensitive skin. Apply SPF as the last step in your skin care routine 15 minutes before going outside—and reapply every two hours!  
If You Have Combination Skin…Apply Separate Products to Different Areas of Your Face
When you have combination skin, oftentimes your T-zone (the central part of your face, including your forehead, nose, chin) is oily, while your cheeks and the skin around your eyes might be dry, and your nose and chin may appear rough. Consider using separate products to address your complexion's various needs (hello, multi-masking!).
Discover more tips & tricks
Keep your skin happy
See all articles
Shop Featured Skin Care products
Discover More