skin care concerns
Your Post-Holiday Skin Care Routine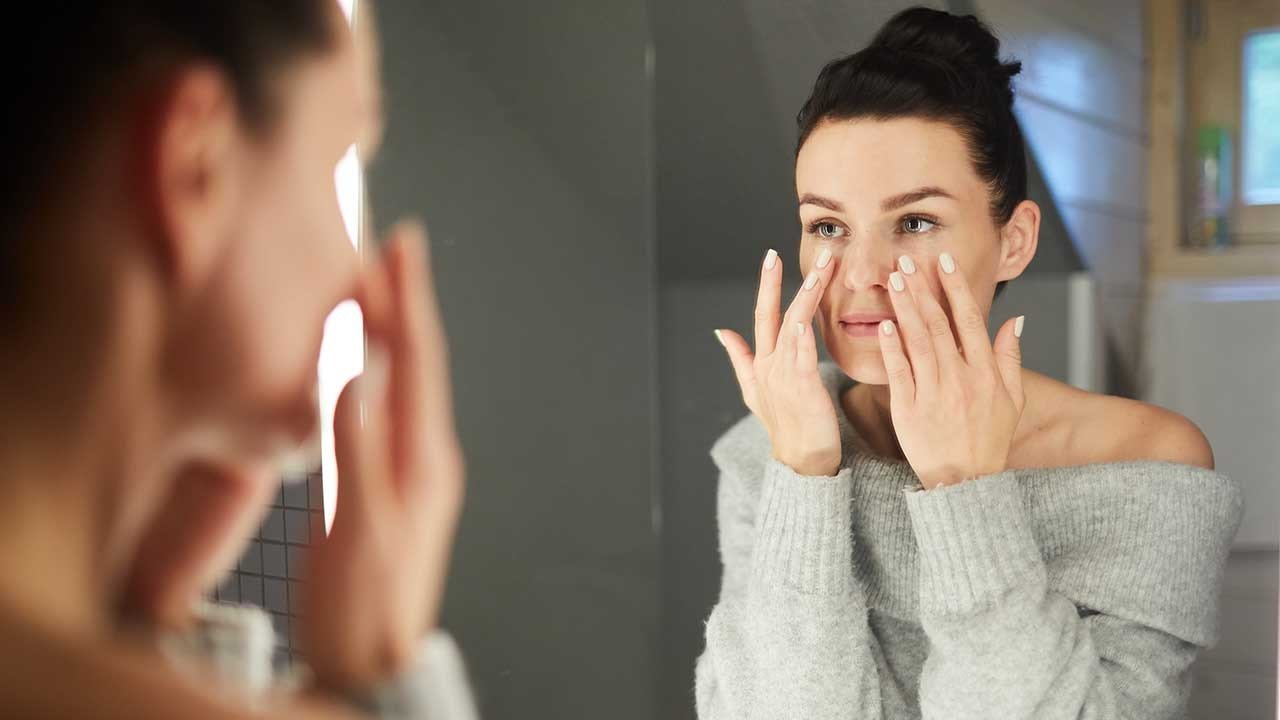 Ah, the holidays! Who doesn't love the endless festivities, food, and family time? Unfortunately, come January, your skin can start to feel (and look) a bit less than radiant. But just as the beginning of the new year signals a commitment to bettering yourself via your resolutions, it's the perfect time to rehab your skin and commit to a new, more thought out skin care routine. If you're still reeling from too many seasonal indulgences, it's time to get your skin back into shape—it's a skin care detox, so to speak. Not sure where to start? From clay masks to serums, we've got you covered. Read on for your post-holiday skin care routine.
STEP #1: DETOX WITH A GENTLE FACE SCRUB
After a holiday season full of cookies and champagne, your skin needs a deep cleaning—and we're not talking about a quick wash with your go-to facial cleanser. You need to slough off whatever is lingering on the top layer of your skin, whether it be dead skin cells, oil, or debris. Reach for a gentle yet effective face scrub, like those from the L'Oréal Paris Pure-Sugar line, which are each formulated with a blend of three pure sugars. If your skin tends to crave extra moisture, try the L'Oréal Paris Pure-Sugar Nourish & Soften Cocoa Scrub. Conversely, if you're prone to breakouts, reach for the L'Oréal Paris Pure-Sugar Purify & Unclog Kiwi Scrub. Since these scrubs feature ultra-gentle formulas, you can use them three times a week—just be sure to pay attention to your skin as some people require more or less exfoliation than others.
STEP 2: AND A FACE MASK
Next, you'll want to give your skin an even more thorough cleansing with a face mask. Reach for the L'Oréal Paris Pure-Clay Detox & Brighten Face Mask, which is formulated with three pure clays and charcoal. The clay mask rids your skin of dirt, dust, oil, and pollution. If your skin is feeling extra-stressed after the holiday season (totally understandable), try the L'Oréal Paris Pure-Clay Clear & Comfort Face Mask instead. If large pores and an uneven skin tone are your main concern, reach for the L'Oréal Paris Pure-Clay Exfoliate & Refining Face Mask, which is formulated with red algae extract. To use any of the above options, apply an even layer onto clean skin, leave on for 10 to 15 minutes, then rinse off with water.
Editor's note: Another great option is multi-masking, which, if you're not already familiar, involves using different face mask formulas on different areas of your face. Learn more about this skin care trend in our article, How to Multi-Mask.
STEP #3: USE A HYDRATING SERUM
No quality skin care routine would ever be complete without a facial serum. Since it's the dead of winter, use a serum that's extra-hydrating, like the L'Oréal Paris Revitalift Derm Intensives 1.5% Pure Hyaluronic Acid Serum. As its name suggests, it's formulated with hyaluronic acid, a powerhouse ingredient in its own right. Apply an even layer of the serum onto clean skin every morning and evening. If your skin could also use an extra dose of antioxidants after the holidays, try the L'Oréal Paris Revitalift Derm Intensives 10% Pure Vitamin C Serum, which can help restore skin's radiance and neutralize free radicals. If you want to use both serums, remember: HA before vitamin C.
STEP #4: AND AN EYE CREAM
This step is often overlooked, but it couldn't be more crucial! The skin around your eyes is the most delicate (and wrinkle-prone) on your entire face. As such, it needs to be moisturized with an eye cream every morning and evening, just like the rest of your complexion. Reach for the L'Oréal Paris Age Perfect Hydra Nutrition Manuka Honey Eye Gel, which contains nurturing oils and antioxidants. Bonus: The eye gel has a rollerball wand, so it's easy to apply and can help massage away any puffiness. It's basically a mini spa treatment!
STEP #5: LAYER ON YOUR MOISTURIZER
Now, it's time to layer on your facial moisturizer. If you're heading out for the day, reach for the L'Oréal Paris Age Perfect Hydra Nutrition Manuka Honey Day Cream, which is rich yet lightweight, to provide effective yet non-sticky hydration all day long. If you're headed to sleep, layer on a night cream or an overnight mask for an extra beneficial night of beauty sleep. We love the L'Oréal Paris Age Perfect Hydra Nutrition Manuka Honey Night Balm, which you should apply to your face, neck, and chest.
STEP #6: GET GLOWING
It's the dead of winter, and we could all use a little boost of color. No, not orange, fake-looking color, just a slight tan. Once you're all showered and you've worked your way through your skin care routine (as outlined above), reach for the L'Oréal Paris Sublime Bronze Self-Tanning Water Mousse. Don't be intimidated—it's super lightweight and streak-free. Apply a light layer and your tan will gradually develop in four to eight hours. Soon enough, everyone will be asking what sort of tropical vacation you went on over the holidays!
Now that you've got your skin care routine back on track, learn about these 8 Must-Have Winter Skin Care Products to add to your beauty arsenal.
Discover more tips & tricks
Keep your skin happy
See all articles
Shop Featured Skin Care products
Discover More