skin care concerns
Our Best Oily Skin Products for Combatting Shine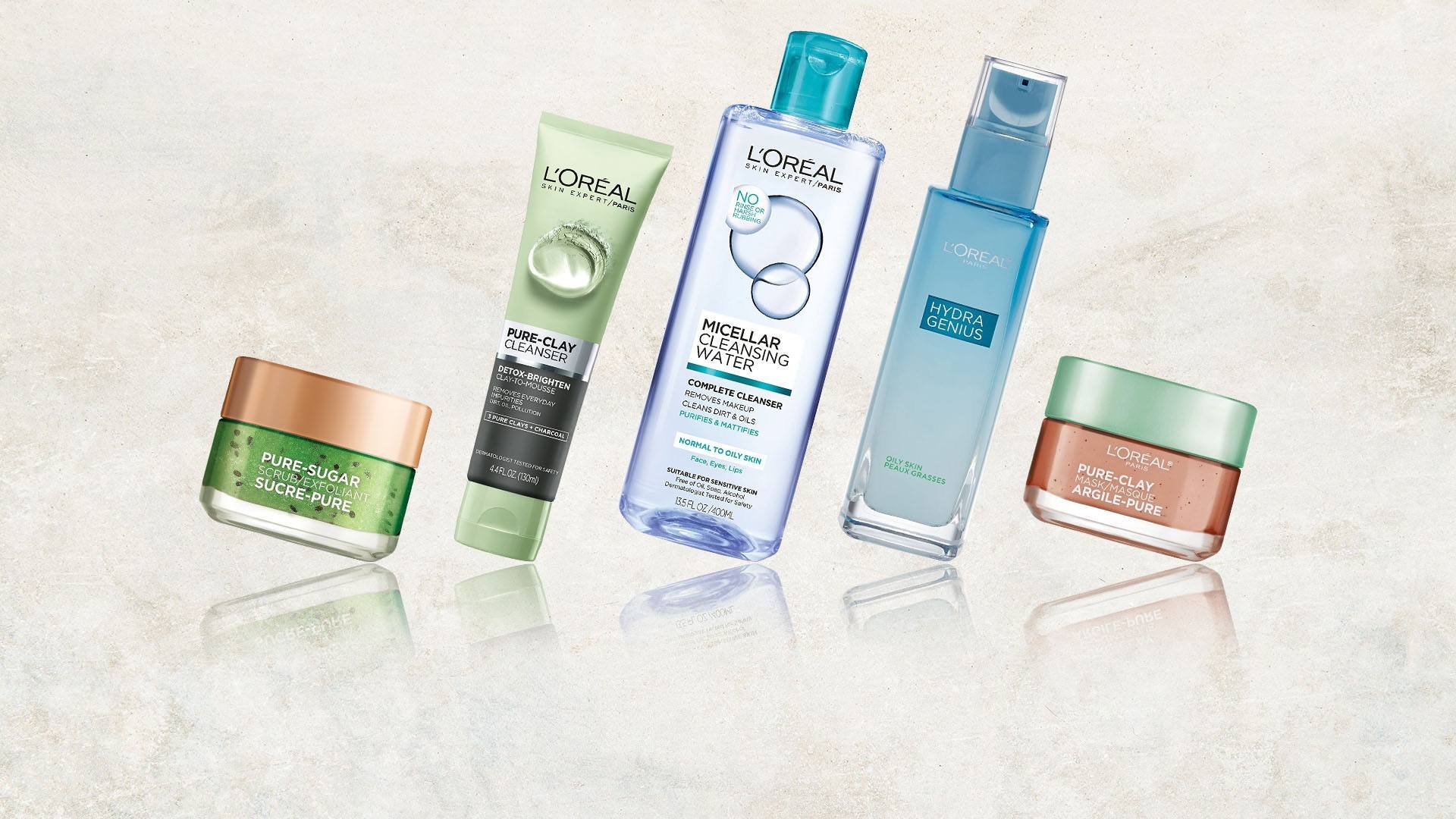 Taking care of oily skin isn't always the easiest of tasks—and if this is your skin type, that's a fact you likely know all too well. When it comes to putting together a skin care routine for oily skin, it's all about finding the right oily skin care products, including cleansers, moisturizers, face masks, and everything in between. Of course, we won't make you embark on that search yourself. We've rounded up our best products for oily skin so you can stock up and start combatting unwanted shine.
OUR BEST FACIAL CLEANSER FOR OILY SKIN
Start off your skin care routine for oily skin with cleansing. This should be the first step in your skin care routine no matter what skin type you have, but it's especially important for those with oily skin to wash away the buildup of oil, dirt, and grime on their skin.
As for what type of cleanser to use, a clay formula that can remove excess oils will suit your skin well. The L'Oréal Paris Pure-Clay Detox & Brighten Cleanser removes everyday impurities from the surface of your skin without over-drying it. Enhanced with charcoal, the cleanser works wonders to remove excess oils and also helps to purify the skin of dirt, oil, and pollution. To use, squeeze a small amount of cleanser into your hands and add water to transform the formula from a clay to a mousse consistency. Gently massage the cleanser onto your face using circular motions, then rinse thoroughly with lukewarm water and pat dry.
OUR BEST FACE SCRUB FOR OILY SKIN
All skin types can benefit from exfoliation, and yes, that includes you! Oily skin is often accompanied by acne and clogged pores, which are two things a face scrub can help address. Introduce your skin to the L'Oréal Paris Pure-Sugar Purify & Unclog Kiwi Scrub, which is formulated with three types of sugar and kiwi seeds. The gentle formula removes dirt, oil, and impurities from skin, leaving your complexion looking less shiny and rebalanced immediately. Pores also look tighter and unclogged. Simply massage a small amount over skin with wet fingers and rinse with lukewarm water. Feel free to use up to three times a week for desired results.
Editor's tip: Love products that serve double-duty? Try using this scrub on your lips, too!
OUR BEST MICELLAR WATER FOR OILY SKIN
Micellar water is one of the most convenient skin care products you can use—and it can certainly come in handy if you have oily skin. Micellar water is a no-rinse cleanser powered by tiny micelles—oil molecules—that act as a magnet to lift dirt, oil, and makeup up and away from the skin. Since you don't have to be anywhere near a sink to use micellar water, it's an excellent option for removing your makeup (and cleansing your skin) on those nights when you're feeling too lazy to go through a complicated skin care routine. Heading to the gym? Toss a bottle of micellar water in your bag so that you can quickly cleanse post-workout without having to jostle for a position at the sink in the locker room.
The L'Oréal Paris Micellar Cleansing Water Complete Cleanser - Normal to Oily Skin removes makeup, cleans dirt and oils from the surface of your skin, and purifies and mattifies your complexion. All you have to do is saturate a cotton pad with the micellar water and wipe the pad across your face. For eye makeup removal, hold the pad over closed eyes for a few seconds, then wipe.
OUR BEST FACE MASK FOR OILY SKIN
Treat your oily skin to an at-home spa day by adding a face mask to your regular skin care routine. Now, what kind of face mask should you use? If your complexion is plagued by shine, reach for the L'Oréal Paris Pure-Clay Exfoliate & Refining Face Mask. Formulated with three pure-clays and red algae, the mask draws out buildup of impurities, dirt, and oils, exfoliates dead skin cells, smooths the look of imperfections, and allows skin to breathe. Immediately after use, you'll notice your skin texture appears refined. After cleansing, apply a thin, even layer to skin and leave it on for 10-15 minutes. Then remove with water in circular motions before following up with a moisturizer (we've got our pick for oily skin below!). Use three times a week for best results.
OUR BEST MOISTURIZER FOR OILY SKIN
You may think you can get away without using moisturizer if you have oily skin, but that's not actually the case. Every skin type needs hydration, including oily skin. Again, it's all about finding the right moisturizer for oily skin. We recommend trying the L'Oréal Paris Hydra Genius Daily Liquid Care - Normal/Oily Skin, which is formulated with hyaluronic acid and aloe vera water and will help provide long-lasting hydration with a matte finish—that means moisturizing won't make your skin look greasy. Smooth it over your face and neck morning and night after cleansing.
So, there you have it: our best oily skin products. For more tips on taking care of your skin type, check out our article, 13 Skin Care Rules for Oily Skin Types.
Discover more tips & tricks
Keep your skin happy
See all articles
Shop Featured Skin Care products
Discover More