skin care concerns
How Much Time Should You Spend Washing Your Face?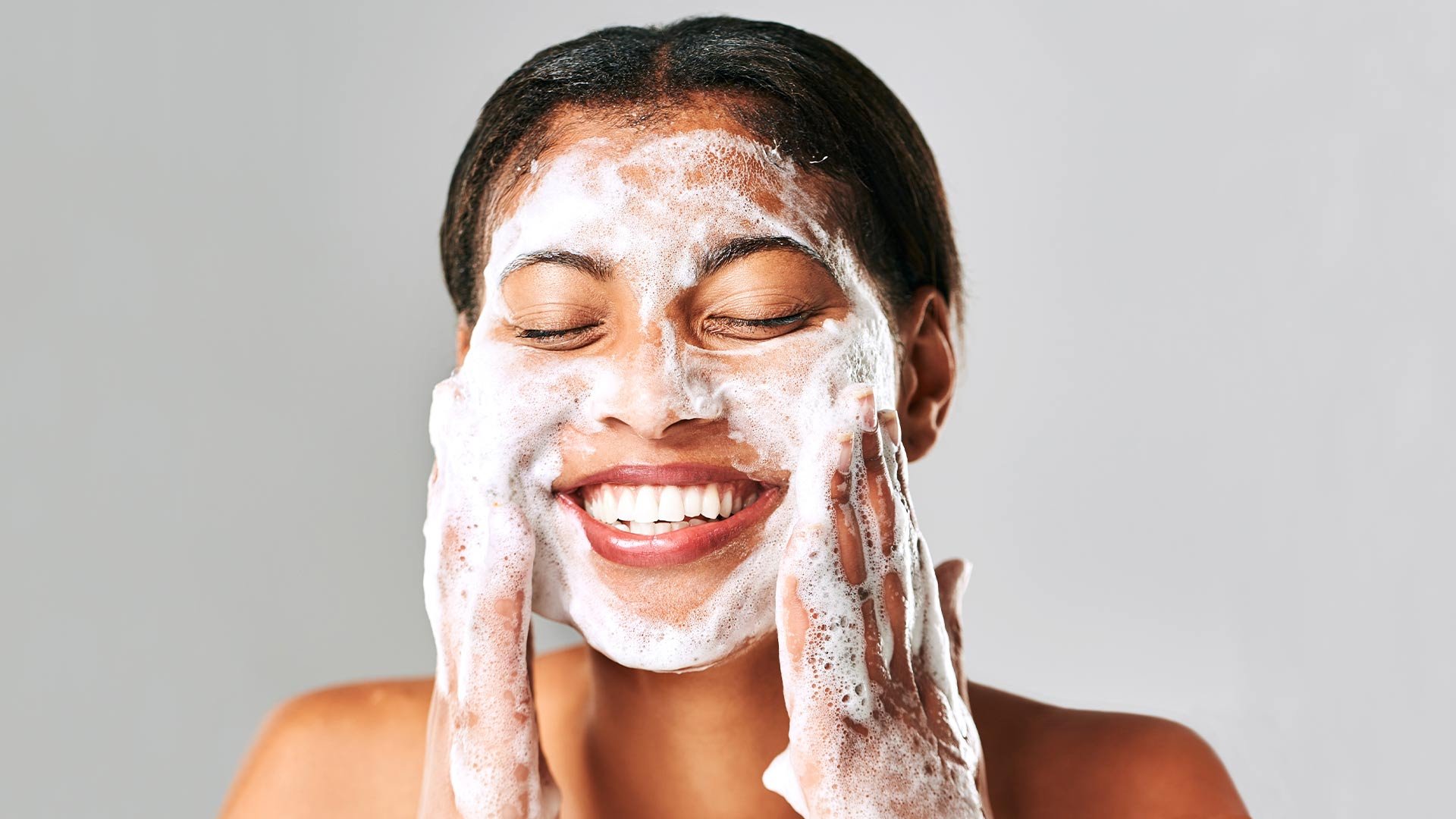 There are a few time-centric rules most of us know to abide by, like you're in the clear to eat a piece of food you dropped if you pick it up within five seconds or that you should sing "Happy Birthday" to yourself while washing your hands. As it turns out, time-based rules are also pretty common in the skin care world—including when it comes to washing your face. Ahead, find the answer to the popular question: How long should you wash your face?
HOW LONG SHOULD YOU WASH YOUR FACE?
As with most skin care routines, how long it takes you to wash your face is dependent on your skin type and the cleanser you're using. In general, there's a 60-second rule you can use and adjust based on your skin's needs. This is enough time for you to wet your face, work your cleanser into a lather, and massage it over your skin before rinsing. It also gives your cleanser enough time to thoroughly do its job of removing impurities and excess oils without over-drying your complexion. That said, if you have sensitive or dry skin, you might find that a 30-second cleanse is all you need. The type of cleanser you use can also play a role in your cleansing time, since options like micellar water won't require you to lather and rinse.
IS IT BAD TO WASH YOUR FACE EVERY DAY?
Speaking of how long you should wash your face, you may be curious about how often you should wash it—and if it's bad to wash your face every day. The answer is no! Think about it: Each day, your complexion accumulates oils and impurities, not to mention residue from makeup. The American Academy of Dermatology states you should wash your face twice a day, morning and night, as well as after sweating heavily.
HOW TO WASH YOUR FACE THE RIGHT WAY
Now that you're aware of how much time you should spend cleansing, let us walk you through the steps to properly wash your face.
STEP #1. REMOVE MAKEUP
Before you reach for your cleanser, it's a good idea to remove any makeup. Typically, cleansers aren't meant to remove all traces of makeup, so doing so prior to washing your face will ensure your skin is left fully bare and clean post-cleanse. Saturate a cotton pad with the L'Oréal Paris Micellar Cleansing Water Complete Cleanser Waterproof - All Skin Types and glide it over your face to remove.
STEP #2. CLEANSE
Next, turn your attention to your face wash. Pick an option that's formulated for your skin type—or better yet, one that's suitable for all skin types, like the L'Oréal Paris Ideal Clean All Skin Types Foaming Gel Cleanser. Wet your face and hands with lukewarm water, then work a small amount of gel into a foamy lather and massage it onto your face with a gentle, circular motion using the 60-second rule. Rinse with lukewarm water and pat dry with a soft towel.
For a cleanser option that's specifically made for your skin type, consider the following:
If you have dry skin...try the L'Oréal Paris Age Perfect Nourishing Cream Cleanser, which is formulated to gently yet effectively clean your skin without over-drying for softer and smoother skin.
If you have oily skin...use our L'Oréal Paris Pure-Clay Exfoliate & Refine Cleanser. It contains three pure clays and red algae extract to go beyond daily cleansing to exfoliate, unclog, and minimize pores.
If you have combination skin...grab the L'Oréal Paris Revitalift Brightening Daily Scrub Cleanser, which is formulated with gentle micro-pearls and glycolic acid to exfoliate dullness and impurities, and improve skin tone, texture, and clarity.
STEP #3. MOISTURIZE
After cleansing, it's a must to follow up with a moisturizer. In the morning, use an option formulated with SPF, like our L'Oréal Paris Revitalift Triple Power Day Lotion SPF 30. At night, try the L'Oréal Paris Revitalift Triple Power Anti-Aging Overnight Mask. This overnight mask not only moisturizes your skin, it also visibly reduces wrinkles while firming and brightening skin.
Next up: To answer another popular beauty Q, here's How Often Should You Wash Your Pillowcase, Sheets, and Towels?
Discover more tips & tricks
Keep your skin happy
See all articles
Shop Featured Skin Care products
Discover More