skin care concerns
The Face Mask to Try if Your Skin Looks Oily in the Summer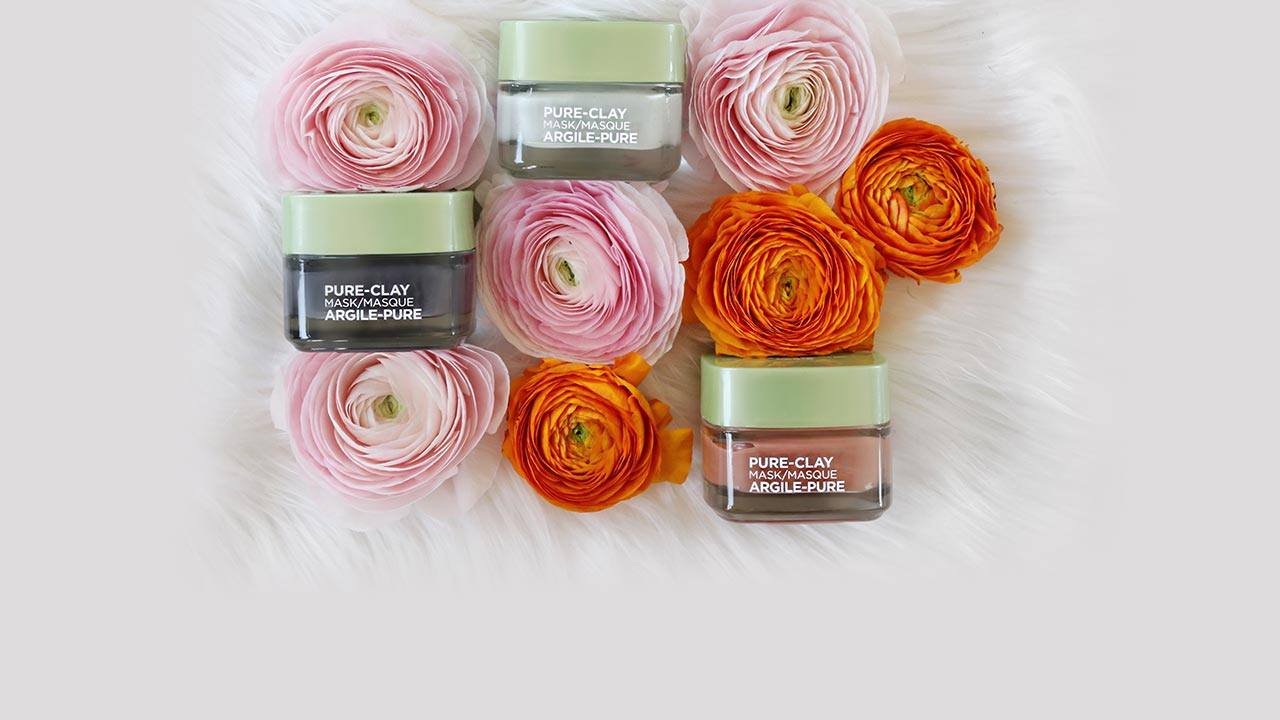 As much as we all love summer, oftentimes the deliciously warm temperatures can come with a whole lot of uncomfortable humidity. And all that warm moisture in the air means that your skin might end up looking a little greasier than it does the rest of the year. Which is basically the total opposite of the beach babe look you're going for this season, right? What's a girl to do? We've got you covered! Here, learn about a face mask that could be useful for your oily summer complexion—along with tips for caring for oily-looking skin this season.
The L'Oréal Paris Face Mask to Try This Summer
Day after day, impurities, dirt, makeup, and excess oils can build up on the surface of your skin, leaving your complexion looking overly oily. Sometimes, using a cleanser just isn't enough to help manage this. That's where adding a face mask to your weekly beauty routine comes in. The L'Oréal Paris Pure-Clay Mask Purify & Mattify Treatment Mask is formulated with three types of clay (kaolin, montmorillonite, and Moroccan lava) and enhanced with eucalyptus leaf extract. The formula can help draw out the buildup of impurities, dirt, and oils and reduce the look of excess shine.
To use, apply an even layer to clean, dry skin. Leave it on for 10-15 minutes, then remove with water. For best results, use three times a week. Go ahead and treat yourself to a few relaxing at-home spa days this summer (while chilling out in the AC, of course!).
Other mask options from L'Oréal Paris to put on your radar are the L'Oréal Paris Pure-Clay Mask Detox & Brighten Treatment Mask and L'Oréal Paris Pure-Clay Mask Exfoliate & Refining Treatment Mask.
The Skin Care Routine for Oily Summer Skin
In addition to adding a mattifying face mask to your skin care routine this summer, there are some other tips to keep in mind to help keep the look of excess shininess at bay.
1. Cleanse smartly. Stock up a no-rinse cleansing option, like micellar water, so that you can cleanse on the go. Since you don't need to be near a sink to use it, you can easily cleanse on vacation or at the gym. Try the L'Oréal Paris Micellar Cleansing Water Complete Cleanser for Normal to Oily Skin, which purifies and mattifies. Micellar water is powered by tiny micelles—oil molecules—that act as a magnet to lift dirt, oil, and makeup up and away from your face. Saturate a cotton pad with the micellar water and wipe the pad across your face.
For those days when you do have time to cleanse your skin at home, take a whirl at double cleansing. Double cleansing involves first cleansing with a micellar water or towelette and then using a rinse-off cleanser to help remove any remaining dirt, oils, or impurities from the surface of your skin. After using the L'Oréal Paris micellar water, follow up with the L'Oréal Paris Ideal Clean™ All Skin Types Foaming Gel Cleanser, which helps to lift dirt and impurities from skin's surface without drying it out.
2. Use a lightweight moisturizer. In the summer months, you may find that a lightweight moisturizer is all you need to help hydrate your complexion. The L'Oréal Paris Hydra Genius Daily Liquid Care for Normal/Oily Skin is formulated with hyaluronic acid and aloe vera water to help provide long-lasting hydration.
3. Go matte. In the summer, put your radiant finish foundation away, as it may make you look greasy when it's super-hot outside. Instead, opt for a matte foundation, like the L'Oréal Paris Infallible Pro-Matte Foundation. Apply it with the L'Oréal Paris Infallible Blend Artist Foundation Blender for a seamless finish. Oh, and don't forget the primer! Before applying foundation, dot the L'Oréal Paris Studio Secrets™ Professional Magic Perfecting Base onto any areas that tend to get greasy-looking (such as your T-zone).
4. Stock up on blotting papers. Throw a pack of blotting sheets into your purse so that you can help sop up excess oil whenever needed throughout the day. These handy-dandy papers won't take up much room in your bag, so they're the perfect product to take with you for midday touch-ups.
Discover more tips & tricks
Keep your skin happy
See all articles
Shop Featured products
Discover More