skin care concerns
4 Reasons Why You May Have Dry Skin in the Winter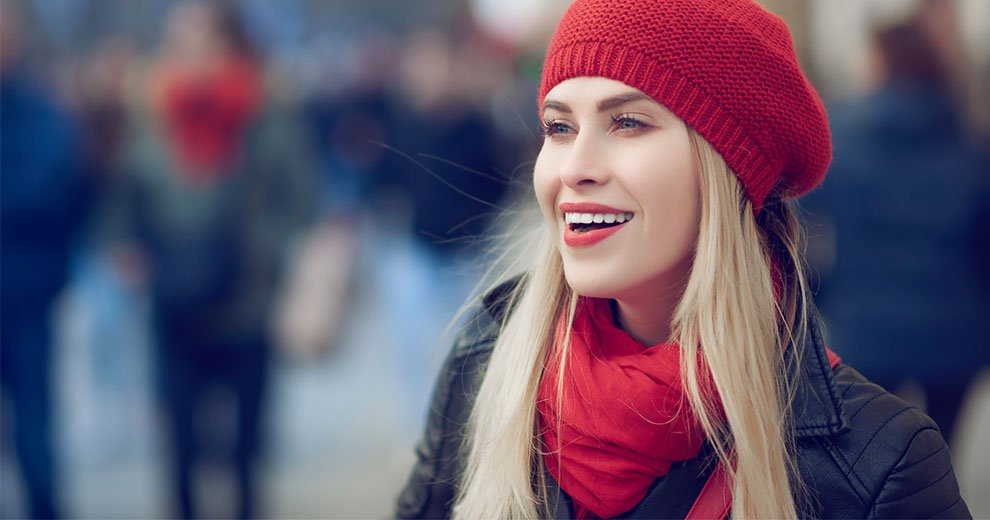 You may experience skin that becomes dry in the winter, but do you know why? Seasonal dryness is normal, but you may not understand why it happens or how to help it – especially if your skin type is oily or normal throughout the rest of the year. If you typically have oil skin, the skin care products that you have on hand may be doing your skin more harm than good – at least when it comes to addressing skin dryness. And, if you tend to have dry skin in general, it can easily become even drier, and your usual batch of skin care products might not cover it. Here, take a look at some common factors that can cause or exaggerate dry skin in winter.
Winter dry skin factor #1: The air outside is cold. The weather outside may be frightful, this time of year considering the fact that extremely cold weather can dry out your skin. There's not much you can do to control the weather, but you can control how you care for your skin. Consider switching to a creamy cleanser if you typically wash your face with a foaming or gel-based cleanser. And, look for a gentle way to remove makeup at night, like with a micellar water formula, which can clean your skin and hydrate it at the same time.
You may also want to work in weekly exfoliation into your skin care routine if you aren't sloughing away dead skin cells that can pile upon on skin's surface. Skin that's covered in a buildup of dead surface skin cells cannot reflect light the same way clean skin can, according to SkinCare.com. Typically, exfoliating two to three times a week can help refine, rough dry dead skin cells that build up on your skin's surface. Consider trying a glycolic acid peel pad to dissolve dead skin cells. You could also look into trying a refining and exfoliating face mask to help smooth out the surface of your skin. After exfoliating, be sure to replenish your skin with moisture by applying your hydrating skin care products.
Winter dry skin factor #2: The sun's rays are extra bright. While it's true that you should take measures to protect your skin from the sun all year, you may think that the threat of skin aging rays affecting your skin will lessen in the winter. Unfortunately, though, that is not the case. UV rays can be just as much of an issue in the winter as they are in the summer – and even more so if you find yourself out on the slopes. Take care and protect your skin, especially while out enjoying winter time sports, by applying a day cream formulated with SPF broad spectrum protection. Apply your day cream or sunscreen in the morning, at least thirty minutes before sun exposure and be sure to reapply as necessary, especially after sweating or getting wet.
Winter dry skin factor #3: The air inside is drier than normal. Fireside chats, indoor heat and space heaters can cozy up the coldest of nights, but they can also dry out your skin. While they produce much-welcomed heat they also create dry air. When the air is dry, it can negatively affect skin by further drying it out. Look for ways to provide your skin extra nourishment this season when indoor conditions can be quite harsh. After cleansing, layer moisturizing skin care products to address excess dryness. First, apply a hydrating skin serum. Serums are formulas that are often highly concentrated and consist of nutrients, vitamins, and other skin-benefitting ingredients. Then follow up with a daytime or nighttime moisturizer. You can also lock in moisture by applying another nourishing skin care product: Facial oil. Facial oil can form a lipid-like barrier to seal in added moisture, keeping it from evaporating into the dry air.
Winter dry skin factor #4: You're good skin care habits are hibernating. Don't let your skin care routine fall to the wayside like your workout routine tends to do in the winter months. While you may be showing less skin this season, when compared to the spring or summer months, your face will still be on display. As the daylight hours grow shorter, you may be tempted to skip your nighttime skin care routine and jump into bed early, as the sun sets and the temperatures drop even further. But, skipping your nighttime skin care routine is a bad habit you'll want to resist.
Always, remove your makeup and cleanse your skin before bed. Day-old makeup can cause skin to appear dull and tired the next morning, not to mention unnecessarily clog your pores, leaving it more vulnerable to breakouts and blemishes. And, if you only have enough energy for one more step after removing your makeup and cleansing your skin, make it moisturizing. Always follow up cleansing with a moisturizer to replenish it with much-needed hydration, especially this season. And, if you have the time and the energy, consider applying an eye cream and lip balm as well.
Bundle up to stay warm and stock up on moisturizing skin care products to keep your skin nourished and protected from the elements this season. Keep up with your morning and nighttime skin care routines no matter how tempted you are to hibernate your skin care skills.
Discover more tips & tricks
Keep your skin happy
See all articles
Improve your routine
Show your new look more love:
makeup