anti aging
This Night Cream Transformed My Dry Skin In Just 24 Hours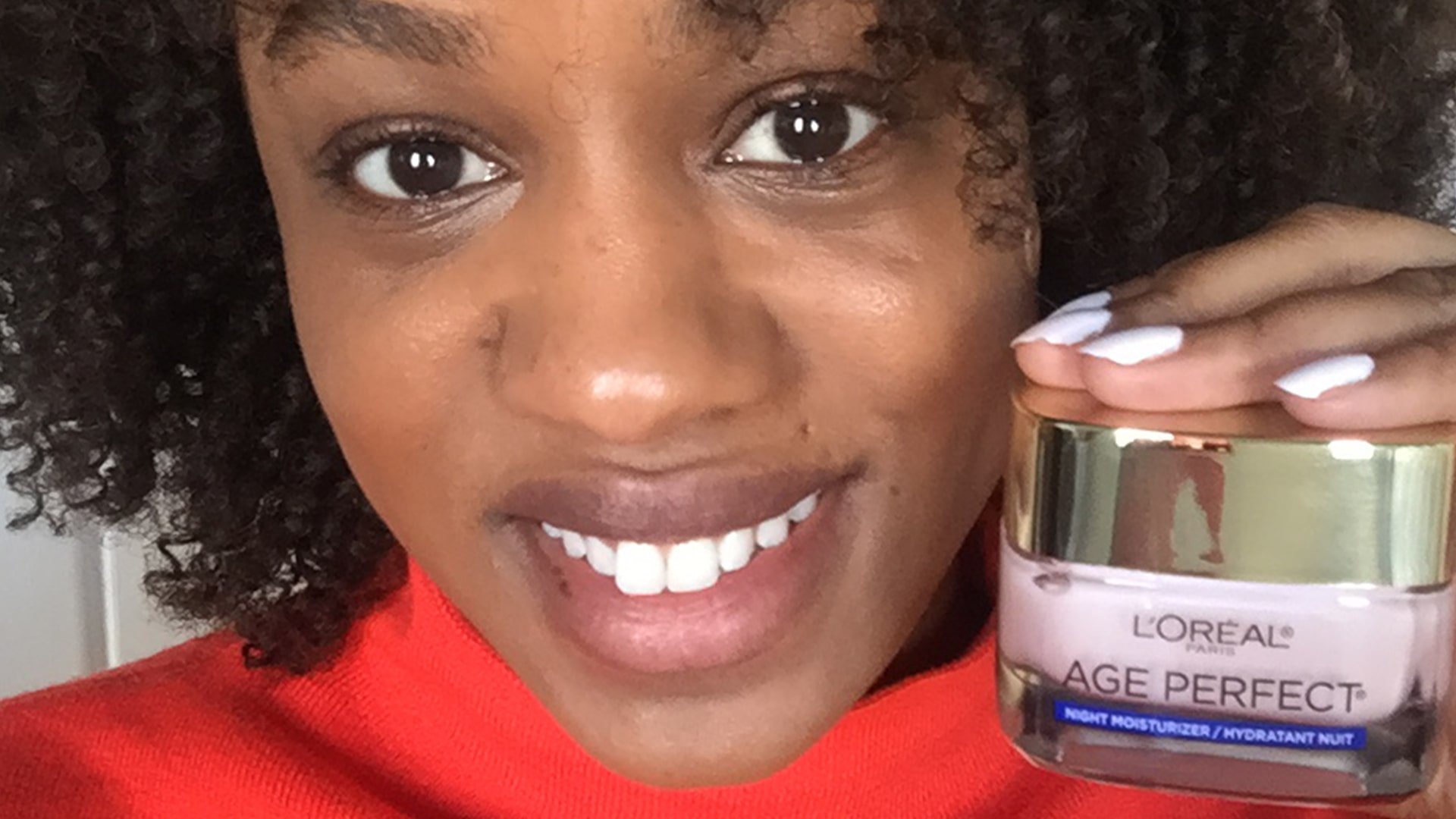 As quickly as the cold weather made its way to my little corner of the world, so did rough and dry skin. Since I have thirsty yet acne-prone skin it can be a struggle to find a moisturizer that's truly hydrating but doesn't clog my pores. I found that with my tried-and-true L'Oréal Paris Hydra Genius Daily Liquid Care moisturizer, so it's what I reach for every winter.
But I was on the hunt for something that would play overnight defense against the scaly and patchy skin I was starting to see as the weather changed. So when the brand's new Age Perfect Rosy Tone Cooling Night Moisturizer hit my desk, I was looking forward to discovering whether or not it would elevate my nighttime routine. Now, I'm reaching for it every night before bed to kick my beauty sleep into high gear—here's why.
The first thing I noticed was the amazing smell—it's a mix of floral and fruity, but not too sweet or overwhelming. I'm highly sensitive to smells so if a product is sitting on my face it has to be pleasant. The next thing that stood out was the light and silky texture of the cream. Winter skin care products sometimes feel dense and greasy, even on the fingers, because they're packed with emollients and other hydrating ingredients. But for someone who has to keep her pores from feeling suffocated, too thick can be alarming and greasy is a big no-no.
I applied a quarter size amount of moisturizer to my face after cleansing with a face wash made for dry skin. For the first night I added a little extra moisturizer to my especially coarse chin area, but going forward I would cut that quarter measure by about half—a little really goes a long way. The two-degree cool down that the cream brings to the skin isn't aggressive, but I felt a difference in the surface of my skin immediately. I love that while it has shea butter and meadowfoam seed oil to lock in moisture, my skin never felt oversaturated or oily.
When I woke up the next day my previous dry patches were gone. I waited ten minutes to see what would become of my skin after my morning routine, and checked it again midday after running errands in the cold. My skin was still smooth to the touch and hydrated. My cheeks didn't feel like they would crack if I smiled, and when I ran my index finger back and forth across the bridge of my nose it didn't have that tight feeling that almost squeaks at my touch when the skin is completely dehydrated. The flakiness above my brows was gone and my face had a dewiness and a glow that I typically credit to the warmer weather months.
Not only did Age Perfect Rosy Tone Cooling Night Moisturizer make my skin look and feel better after just one night of use, it continues to work its magic stimulating cell turnover as I sleep the more I use it. It might be specially formulated for mature skin, but my thirty-something face is benefitting from all the anti-aging nourishment that it offers skin of all ages any time of the year.
Discover more tips & tricks
Keep your skin happy
See all articles
Shop Featured products
Discover More