lip makeup
5 Metallic Lipstick Looks for Fall
August 25, 2017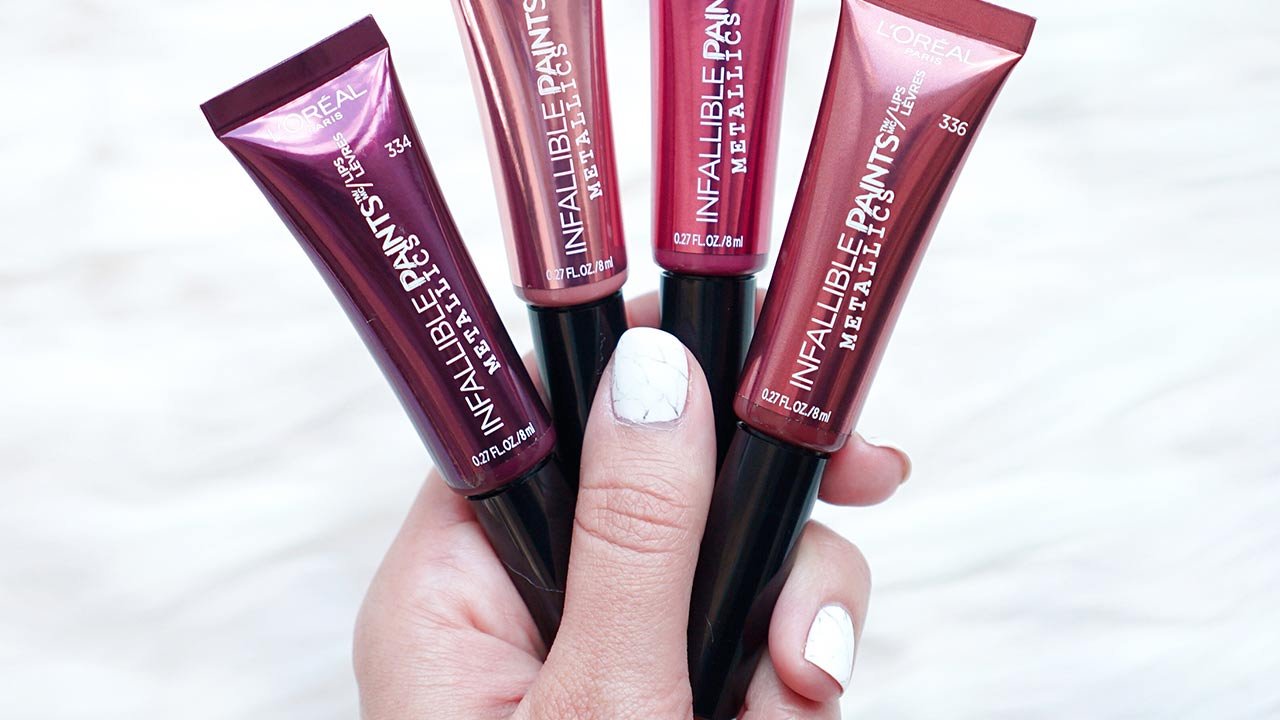 Bright, bold lipsticks are to summer as darker, more sultry shades are to fall. And now that autumn is just around the corner, what better time to learn about the trendiest shades of the season? As much as you may love your classic matte and glossy lippies, we're here to push your beauty boundaries and inspire you by sharing one of our favorite makeup looks of the moment. And that would be metallic lipstick. Ready to rock an eye-catching color on your lips? Keep reading to find your go-to metallic lipstick shade for fall.
5 Metallic Lipstick Looks for Fall
Ready to rock some seriously glitzy makeup on your lips? Try one of the following five color options.
L'Oréal Paris Infallible Paints/Lips Metallic in Moon Lust: Take one glance around any clothing or home goods store and you'll quicky realize that dusty rose is having a moment. If you want to wear a velvety shimmer that's true to the season's hottest trend, look no further than this pinkish nude hue.
Best for: the girl who wants an updated nude lip look.
L'Oréal Paris Infallible Paints/Lips Metallic in Galactic Foil: Mauve has made a name for itself as one of the trendiest colors recently, so it only makes sense to add this muted pinkish, purple lipstick to your autumn makeup lineup.
Best for: the girl who wants a touch of fresh-faced berry color.
L'Oréal Paris Infallible Paints/Lips Metallic in Smoldering Eclipse: Raise your glass to this wine-colored lippy that will complement just about any autumnal look. Wear it for a pop of color or to coordinate with a wardrobe choice in the same hue.
Best for: the girl who loves a good dark lipstick.
L'Oréal Paris Infallible Paints/Lips Metallic in Liquid Venom: Forget about a classic red, reach for this brick-colored metallic lipstick instead for the perfect burnt orange pout.
Best for: the girl who loves a semi natural-looking lip look with a twist.
How to Mix and Match Metallic Lipstick
Can't quite choose just one metallic lipstick? Combine any two colors for a one-of-a-kind metallic ombré lip look. All you have to do is focus one color towards the outer edges of your lips and another color towards the center. Blot for the perfect blend and you're ready to show off your trendy pout.
How to Apply Metallic Lipstick
Now you know which metallic lipstick colors you want to use this fall—but what about the application process? Follow our step-by-step instructions below for putting on metallic lipstick like a pro.
Metallic lipstick tip #1: prep your pout. The best way to create a lip look that looks smooth is to ace your base. Meaning: use a lip scrub to exfoliate any dead skin cells from the surface of your lips, then apply a lip primer, which can help ensure your metallic lipstick wears evenly.
Metallic lipstick tip #2: use the right applicator. Like liquid lipstick, metallic lipstick is best applied with a doe-foot applicator that makes reaching all the tiny corners of your smile possible. These applicators are especially useful because they let you reach the outermost edges of your lips with precision, making lip liner less of a necessity.
Metallic lipstick tip #3: clean up the edges. You know how you wouldn't want to walk out the door with a messy wing tip? You probably wouldn't want to leave the house with messy lipstick, either. Just soak a cotton swab with some of the L'Oréal Paris Micellar Cleansing Water Complete Cleanser Waterproof – All Skin Types and trace it along the outer edges of your lips to wipe away any stray metallic lipstick.
Metallic lipstick tip #4: highlight and contour your pout. Metallic lipstick makes a statement all on its own, but if you want to get even more dramatic, then go ahead and highlight and contour your lips using the L'Oréal Paris Infallible Total Cover Concealing and Contour Kit. By blending the darkest color beneath your lip and the lightest color above your cupid's arrow, you can add dimension to your lips, which can make them look fuller.
Metallic lipstick tip #5: let your lips do the talking. When you wear metallic lipstick, you don't want them to have to compete with the rest of your look. For that reason, it's a good idea to stick to matte, neutral makeup on the rest of your face.
{ "@context": "https://schema.org/", "@type": "WebPage", "speakable": { "@type": "SpeakableSpecification", "cssSelector": ["speakable-content"] }, "url": "https://www.lorealparisusa.com/beauty-magazine/makeup/lip-makeup/metallic-lipstick-for-fall" }
Discover more tips & tricks
Keep your skin happy
See all articles
Shop Featured Skin Care products
Discover More
{ "@context": "http://schema.org", "@type": "BreadcrumbList", "itemListElement": [ { "@type":"ListItem", "position": 1, "item": { "@id": "/", "name": "Home" } } , { "@type":"ListItem", "position": 2, "item": { "@id": "https://www.lorealparisusa.com/beauty-magazine", "name": "Beauty Magazine" } } , { "@type":"ListItem", "position": 3, "item": { "@id": "https://www.lorealparisusa.com/beauty-magazine/makeup", "name": "Makeup Tips For Every Look" } } , { "@type":"ListItem", "position": 4, "item": { "@id": "https://www.lorealparisusa.com/beauty-magazine/makeup/lip-makeup", "name": "Lip Makeup" } } , { "@type":"ListItem", "position": 5, "item": { "@id": "https://www.lorealparisusa.com/beauty-magazine/makeup/lip-makeup/metallic-lipstick-for-fall", "name": "metallic-lipstick-for-fall" } } ] }