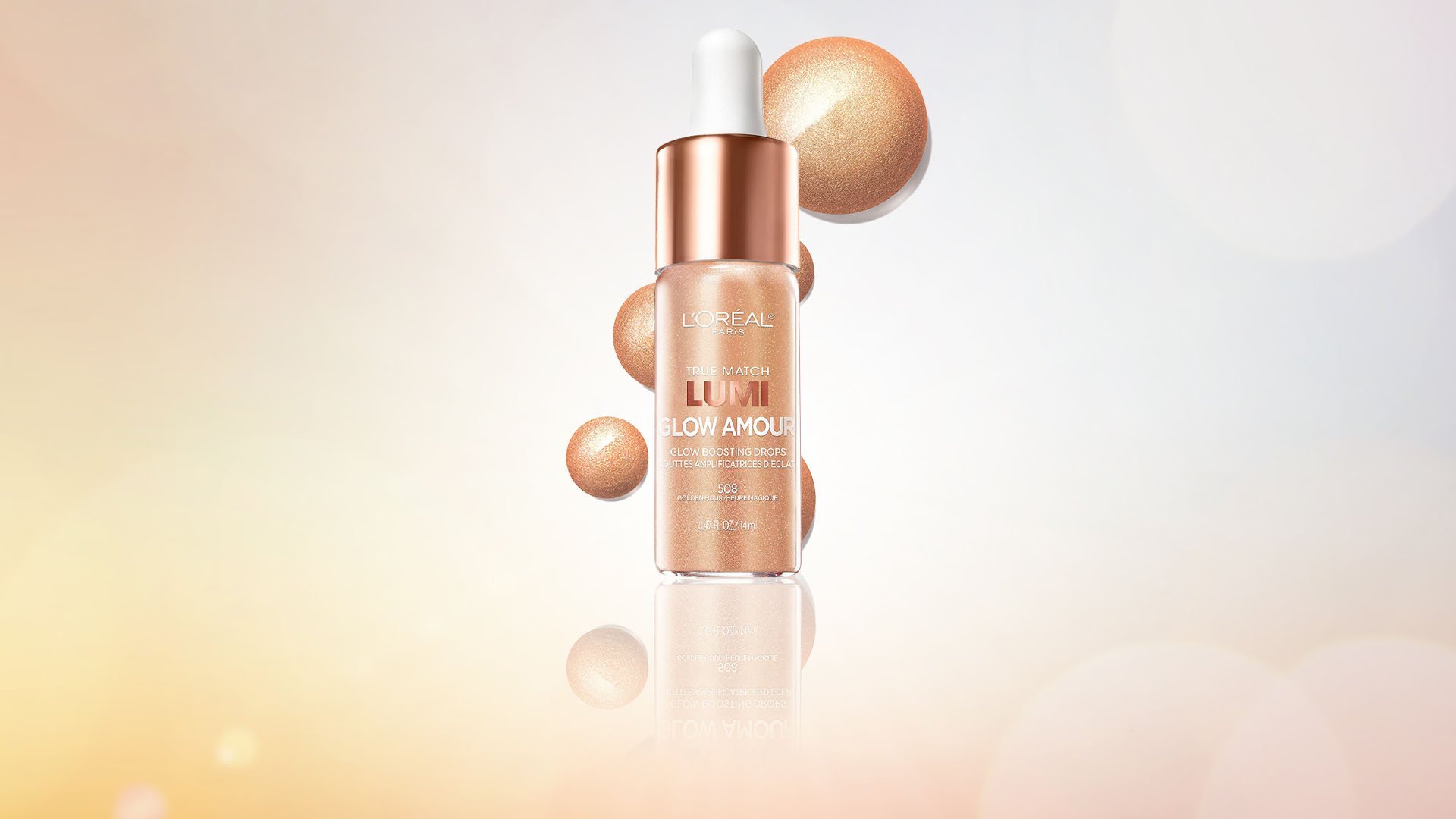 At this point, it's no secret that highlighter can be found in just about every cosmetics bag and makeup routine near and far. As much as we love a good old fashioned powder highlighter, we can't help but be intrigued by liquid formulas—more specifically, in this case, highlighter drops. Curious about this trendy formula? To learn how to use this innovative highlighter option, keep reading for a step-by-step approach to getting your glow on with illuminating drops.
STEP 1: SMOOTH YOUR COMPLEXION WITH A FACE SCRUB
Nothing gets in the way of a glowing complexion like dull skin. To make sure that you start your glowing makeup regimen with your best foot forward, it's a good idea to start with your skin care routine. By using a face scrub, like the L'Oréal Paris Pure-Sugar Smooth & Glow Grapeseed Scrub, you'll be able to get rid of dead skin cell buildup on the surface of the skin for a complexion that looks fresh and glowing. Smooth a small amount of the face scrub onto skin that's dry, then massage it over your face with wet fingers and rinse off thoroughly with lukewarm water and pat dry.
STEP 2: MOISTURIZE, MOISTURIZE, MOISTURIZE
After exfoliating, it's time to reach for moisturizer before you go anywhere near your highlighter drops. Use the L'Oréal Paris Hydra Genius Daily Liquid Care - Normal/Oily Skin, L'Oréal Paris Hydra Genius Daily Liquid Care - Normal/Dry Skin, or L'Oréal Paris Hydra Genius Daily Liquid Care - Extra Dry Skin, depending on your skin type. Each of these moisturizers is formulated with hyaluronic acid and aloe vera water for long-lasting hydration.
STEP 3: APPLY PRIMER
Once your moisturizer has dried, twist the cap off of a bottle of the L'Oréal Paris Infallible Pro Glow Lock Makeup Primer and massage a dime-sized dollop of this glow-enhancing primer from your forehead to your chin. Primer can help create a smooth canvas for the rest of your makeup application.
STEP 4: COLOR CORRECT
Now it's time to color correct your complexion. When you're using illuminating drops for glowing skin, the last thing you want is for redness, dullness, or sallowness to take away from your radiant final look. Use the L'Oréal Paris True Match™ Color Correcting Crayons to disguise your skin imperfections. After drawing on your face with your concealer of choice, use a makeup sponge to blend the shade out. Choose peach, bisque, or orange for dark circles, green for redness, and yellow for blue or purple areas.
STEP 5: APPLY A SHEER GLOW LOTION
Glowing skin is all about looking natural and light, so the last thing you want to do is apply a heavy foundation or powder to take away from that airy radiance. To keep things natural-looking, reach for a tube of the L'Oréal Paris True Match™ Lumi Glotion Natural Glow Enhancer instead. To encourage an all-over glow, squeeze some of the product onto the L'Oréal Paris Infallible Blend Artist Foundation Blender and stipple it onto your face.
STEP 6: CONCEAL
At this point, if you're noticing any areas of your face that could use a little extra coverage (think: under-eyes, nose creases, and any pesky blemishes), it's time to break out the L'Oréal Paris True Match™ Super-Blendable Multi-Use Concealer. Simply swipe some of the creamy formula onto your face and use the diffuser on the other end to blend it out.
STEP 7: GET YOUR GLOW ON
Alas, the moment you've all been waiting for. While your complexion no doubt looks radiant thus far, it's time to take it up a notch. Open the L'Oréal Paris True Match™ Lumi Glow Amour Glow Boosting Drops—our favorite highlighter drops—and squeeze a few drops onto a makeup sponge. From there, gently dab the drops onto the high points of your face—your cheekbones, the tip of your nose, your cupid's bow, and the arch of your brow—to recreate the effect of a perfectly-lit picture. If you want to take your glow a step further, use your ring finger to dab a tiny bit of product on your inner-eyes to rock yet another trending beauty look successfully.
And there you have it—the full rundown on making highlighter drops your new makeup BFF! Want to learn how to use other trendy products with drop formulas? Check out our article, Do Self-Tanning Drops Work?, to drop your way to a sun-kissed fake tan.
{ "@context": "https://schema.org/", "@type": "WebPage", "speakable": { "@type": "SpeakableSpecification", "cssSelector": ["speakable-content"] }, "url": "https://www.lorealparisusa.com/beauty-magazine/makeup/face-makeup/how-to-use-highlighter-drops" }
Discover more tips & tricks
Keep your skin happy
See all articles
Shop Featured Skin Care products
Discover More
{ "@context": "http://schema.org", "@type": "BreadcrumbList", "itemListElement": [ { "@type":"ListItem", "position": 1, "item": { "@id": "/", "name": "Home" } } , { "@type":"ListItem", "position": 2, "item": { "@id": "https://www.lorealparisusa.com/beauty-magazine", "name": "Beauty Magazine" } } , { "@type":"ListItem", "position": 3, "item": { "@id": "https://www.lorealparisusa.com/beauty-magazine/makeup", "name": "Makeup Tips For Every Look" } } , { "@type":"ListItem", "position": 4, "item": { "@id": "https://www.lorealparisusa.com/beauty-magazine/makeup/face-makeup", "name": "Face Makeup" } } , { "@type":"ListItem", "position": 5, "item": { "@id": "https://www.lorealparisusa.com/beauty-magazine/makeup/face-makeup/how-to-use-highlighter-drops", "name": "how-to-use-highlighter-drops" } } ] }