hairstyle trends
10 Creative Hair Trends From 2020 We're Still Loving, And Doing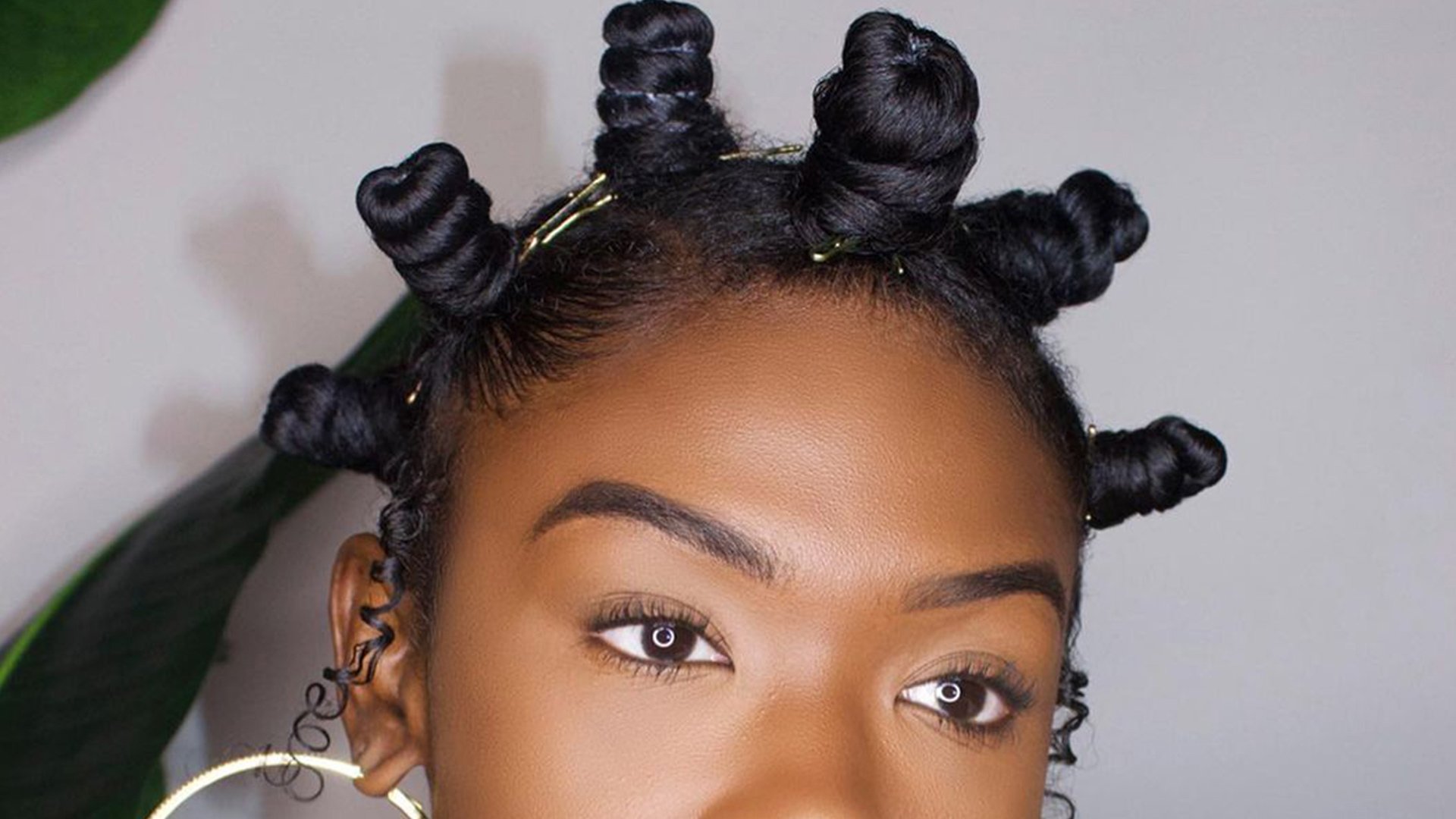 While some hair trends are like the ultra thin pencil eyebrows of the nineties (read: we never want to see them again) some styles make a lasting impact. Some even go on to become classic styles that can be revisited and reinvented throughout the generations, such as the bob, the chignon and jumbo box braids. And though we'd love to leave everything from 2020 behind us, some hair trends from that year still have our hearts—and heads. Read on to see which 2020 hairstyle trends were still rocking in 2021, and likely, beyond.
Lavender Tresses
While bright colored hair has been having a moment, for well, a moment, muted pastel versions of some of the most popular hues have made their way to the top of this year's trends list. We're loving the versatility of lavender. It's flattering on all skin tones and looks fabulous on all lengths—from buzz cuts and pixies to waist-length braids and layered shags. Want to DIY it? Try L'Oréal Paris Colorista Hair Makeup Temporary 1-Day Hair Color Spray in Pastel Lavender to experiment with lavender highlights, or to give your roots or tips a fun pop of the hue.
Buzz Cut
Speaking of buzz cuts—anyone in the mood for a big chop? As ladies experienced major hair transitions, and even learned to care for their hair without professional help for the first time last year, some felt the pull to just cut it all off. And with good reason. A clean buzz cut can transform your look tremendously and really put the focus on your face in the best way.
Floor-Length Ponytails
First there was the big textured ponytail trend in 2018. Then we saw the fabric wrapped Dominatrix ponytail take over the red carpets and fashion week runways in 2019. Then in 2020 braided ponytail styles continued to get longer and longer, until they were finally pushed to the limit with this floor-grazing trend. And though we know that this doesn't have to be where it ends (beauty and fashion are boundless), we'll settle for picking up our ponytails to whip around for fun and not as a necessity to move from room to room — for now.
Curtain Bangs
Bangs will always be on trend but different styles get their moment in the spotlight, and this year it's all about curtain bangs. This cute peek-a-boo type of fringe (which looks exactly how it sounds with the hair in front of the face opening up like two drawn curtains) is perfect for anyone who wants to take the plunge into bangs but doesn't want to commit to cutting off too much hair. It's a face-framing style that looks cute in any color and on long, short, or medium hairstyles.
Balayage
Since 2020 was the year of at-home hair treatments, and at-home hair color for the first time many, it was also the year of at-home hair mishaps. It's what made those seeking highlights indulge in this freestyle highlights technique. That, and balayage looks smoking on just about everybody. We love a gorgeous bronde like this one, or even a partial balayage on curls.
Bantu Knots
The natural hair movement ushered in an influx of traditional African hairstyles that we've been loving and trying for years. Bantu knots are not only a beautiful style on their own, but they create big bouncy heat-free curls that can last for days (known as a knot-out). This protective style has become a summertime staple because it keeps hair off of the face and neck. But in the cold weather months it offers an effortless look that can be reimagined with a variety of accessories. Just stock up on gel. We love L'Oréal Paris Advanced Hairstyle LOCK IT Extreme Style Gel.
The Reinvented Bob
The classic bob will always be a go-to for anyone looking for an easy style that they can rock through any season. But for some, giving this tried-and-true 'do an upgrade is what the new year calls for. Whether it's adding a fun color, or two (or five), or giving the look lots of texture, the bob will have its time in 2021. It might look like a phoenix rising through the ashes of 2020, but it will be fabulous.
Passion Twists
Another protective style we love, this look is all about versatility. Pull your passion twists up into a bun, try the half-up, half-down look, add some twisted curtain bangs, or just let them hang like some of our favorite influencers. What we love most about the style? It looks great in short, medium and long lengths. You can do it yourself with a little patience and some social media videos. And if you DIY, it's low cost that you'll get long wear out of.
Halo Braid
A favorite for weddings and other special occasions (at-home proms still include great hair and makeup!), this ethereal style makes a comeback year after year. Whether you wear it for a fancy event or on a random Tuesday when you want to feel angelic, it's a style you can achieve at home on your own with a little bit of braiding skills. Just grab some bobby pins, and a few cute accessories (fresh baby's breath anyone?) to give your halo braid a special touch that feels very you.
Triangle (And Inverted Triangle) Curls
Whether you have loose curls or tight coils, it was all about interesting shapes in 2020 and for the new year we're ready for some more! Unlike flat pyramid head of the past, triangle curls and inverted triangle curls like these are about volume. If you have naturally big hair this style's made for you. If you want to give your curls more body in order to create a dynamic shape grab L'Oréal Paris Dream Lengths Air Volume Dry Shampoo. It lets you dial up the volume while cleansing hair, and without leaving white residue on your curls.
Unapologetically Pink Hair
Haven't gotten tired of saying pink hair, don't care? Us either! And since 2020 didn't turn out to be as fun as this hue, we're hoping that bringing it back for 2021 can have a positive effect. If we can't will the year to be as bright as the hair trend, at least we can find joy in seeing someone rocking their pink tresses proudly. Try a bold hot pink or a lived-in pink on long strands like these. And don't forget to care for those color-treated tresses. Try L'Oréal Paris EverPure Repair & Defend Shampoo and L'Oréal Paris EverPure Repair & Defend Conditioner to strengthen hair and slow color fading.
Photo Credit: Maiya Carmichael/@_mcqn

Discover more tips & tricks
Keep your skin happy
See all articles
Shop Featured Hair Style products
Discover More