hairstyle trends
10 Gorgeous Styles For Showing Off Your Gray Hair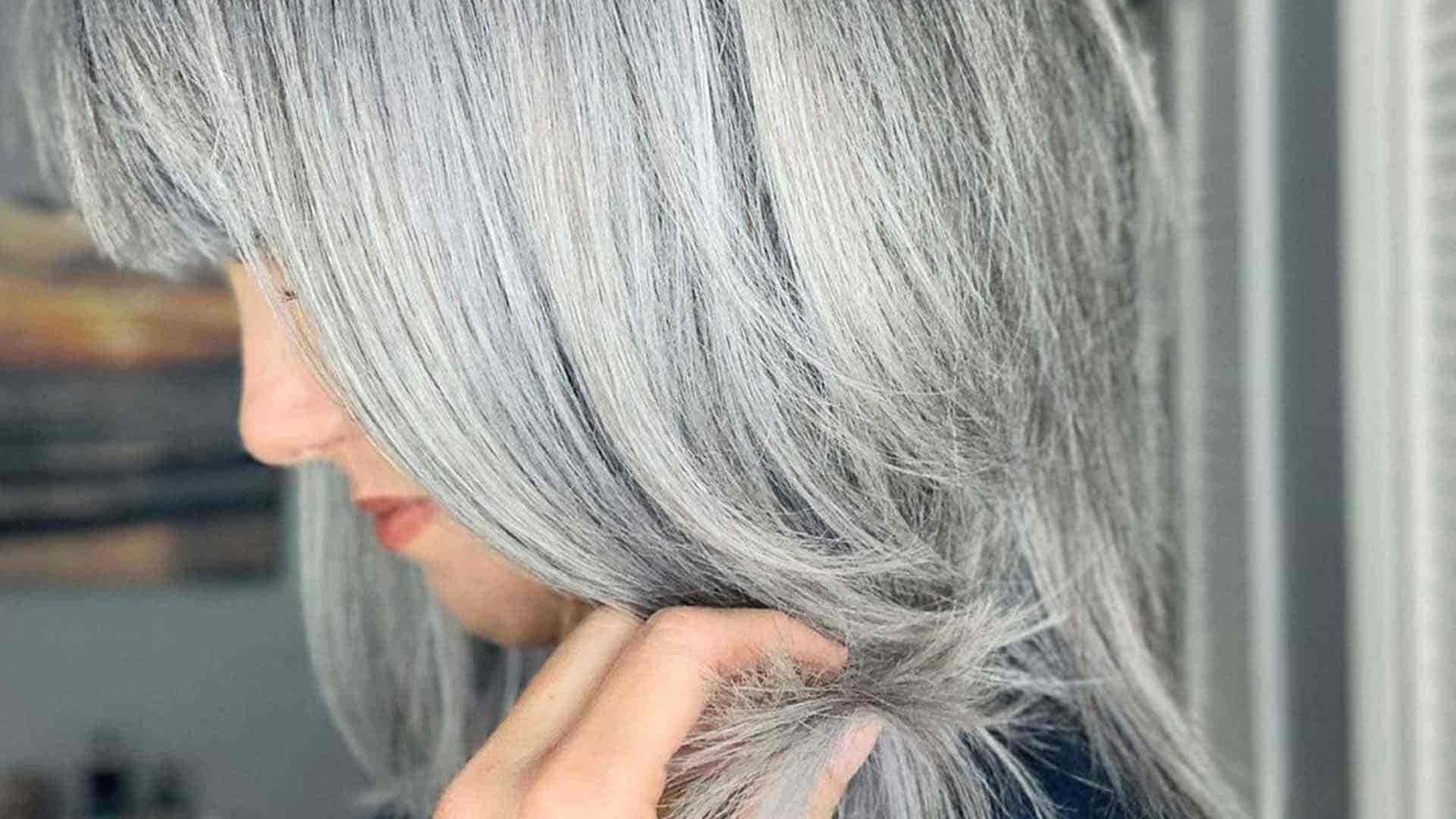 These days, gray hair remains one of the most popular hair color trends. Not only are people embracing their naturally graying hair, but YouTubers and Tik Tok influencers alike are still trading in their natural hues for a silvery shade. During quarantine, we saw celebrities loving those new light hairs popping up in their manes—reinforcing the idea that it's okay to go gray. So, it should come as no surprise that gray hairstyles continue to be a hit in the beauty world. In fact, there are certain hairstyles that look particularly enticing in the shiny silver strands. Ahead, we're sharing some of those styles. So whether your hair is naturally graying, or you used hair color to take a dip into the gray hair color trend, try one (or a few) of these ten gorgeous hairstyles for gray hair.
1.WAVY LOB
The wavy lob puts your texture on full display and calls attention to your silvery strands. It also serves as a happy medium that allows you to play with length without going too short. Part your hair into four large sections and weave each one into a large braid. Spray the L'Oréal Paris Advanced Hairstyle BOOST IT Volume Inject Mousse throughout your entire mane. Cover your hair with a silk scarf or bonnet and let your braids sit overnight. In the morning, undo each plait to enjoy your wavy texture.
2. FISHTAIL BRAID
The fishtail braid is a classic and intricate hairstyle that gives your hair a beautiful woven pattern. This style may look a bit complicated to create, but note it's super easy to do. Part your hair and add some mousse for volume. Then separate it into three sections for a traditional plait. Take the pieces and layer them one over the other until you reach the ends. Click through to our article, How To Do a Fishtail Braid, to learn more.
3. AFRO
The afro is a style that allows your mane to do its own thing. In other words, it's the perfect option for minimalists and natural hair enthusiasts. Start by adding the L'Oréal Paris Elvive Extraordinary Oil Curls Shampoo and L'Oréal Paris Elvive Extraordinary Oil Curls Conditioner to your wash day routine for bouncy and lustrous curls. Infuse your hair with your favorite leave-in conditioner, then let your hair air-dry and use a pick to lift the volume from the roots out.
4. NATURAL CURLS
Flaunt your beautiful natural curls while you put your gorgeous gray on display. We love a style that's as easy to create as it is chic. Wash your strands with the L'Oréal Paris EverPure Moisture Shampoo and L'Oréal Paris EverPure Moisture Conditioner. Next, add a large dollop of curl cream, like the L'Oréal Paris Elvive Dream Lengths Super Curls Cream Leave-In to damp hair to enhance your texture and define your curls. Add a little mousse, scrunch your hair and let your strands air dry.
5. CHIN-LENGTH BOB
A chin-length bob helps you flaunt a silky look that won't go unnoticed. Bobs are always on-trend, so this look will never go out of style. Wash and condition your hair with a frizz-free hair-care system, like the L'Oréal Paris EverPure Frizz-Defy Shampoo and L'Oréal Paris EverPure Frizz-Defy Conditioner. Spritz a heat protectant, like the L'Oréal Paris Advanced Hairstyle SLEEK IT Iron Straight Heatspray, onto your strands. Next, blow dry your hair and use a flat iron to straighten your strands. Finally, mist your mane with the L'Oréal Paris Elnett Precious Oil Satin Hairspray to keep your style sleek all day.
6. BUBBLE PONYTAIL
The bubble ponytail is a chic upgrade of the traditional hairstyle that adds head-turning personality and volume to your mane. Start by smoothing out your hair with a serum to prevent frizz. We love the L'Oréal Paris Elvive Dream Lengths Frizz Killer Serum Leave-In. Then gather your hair into a ponytail, and create one to two-inch bubbles down the length of it using hair ties. Don't forget to check out our article, How To Create The Perfect Bubble Ponytail, for a detailed step-by-step tutorial.
7. TWIST OUT
We love heat-free curls and this style lets your natural texture and color shine. First detangle and hydrate your hair. Then create two-strands twists throughout your hair (choose the size of the twists based on the size of the curls you want), using the L'Oréal Paris Advanced Hairstyle LOCK IT Clean Style Gel to hold them and slick down flyaways. Allow the twists to set overnight then separate them in the morning. For more detailed tips and other twist out styles, check out our article, How To Do a Twist Out On Natural Hair.
8. TOUSLED WAVES
Tousled waves add a playful and sultry element to any look. They're also a cool way to veer away from classic wavy gray hair styles. Mist your mane with texturizing spray. Take a small amount of a hair pomade or paste, like the L'Oréal Paris Studio Line Overworked Putty and work it through your mane. Shape your strands in different directions.
9. LONG SHAGGY LAYERS
Long shaggy layers give your feathered mane retro flair with a feminine touch. Not to mention, it's a universal look that flatters all face shapes. Start by rubbing a small amount of hair putty through your layered strands. Feel free to add more product to create a messy shag and use your fingers to tousle the hair to your linking.
10. POMPADOUR
This classic style gives you free rein to experiment with height and angles. It highlights your length at the top and keeps the sides and back short for a manageable 'do. Make it as big or small as you want. Smooth a generous amount of curl mousse through your strands to liven up your texture. For more tips, head on over to our article, How To Style a Quiff Haircut.
Main photo: @erikamarie72
Discover more tips & tricks
Keep your skin happy
See all articles
Shop Featured Hair Care products
Discover More