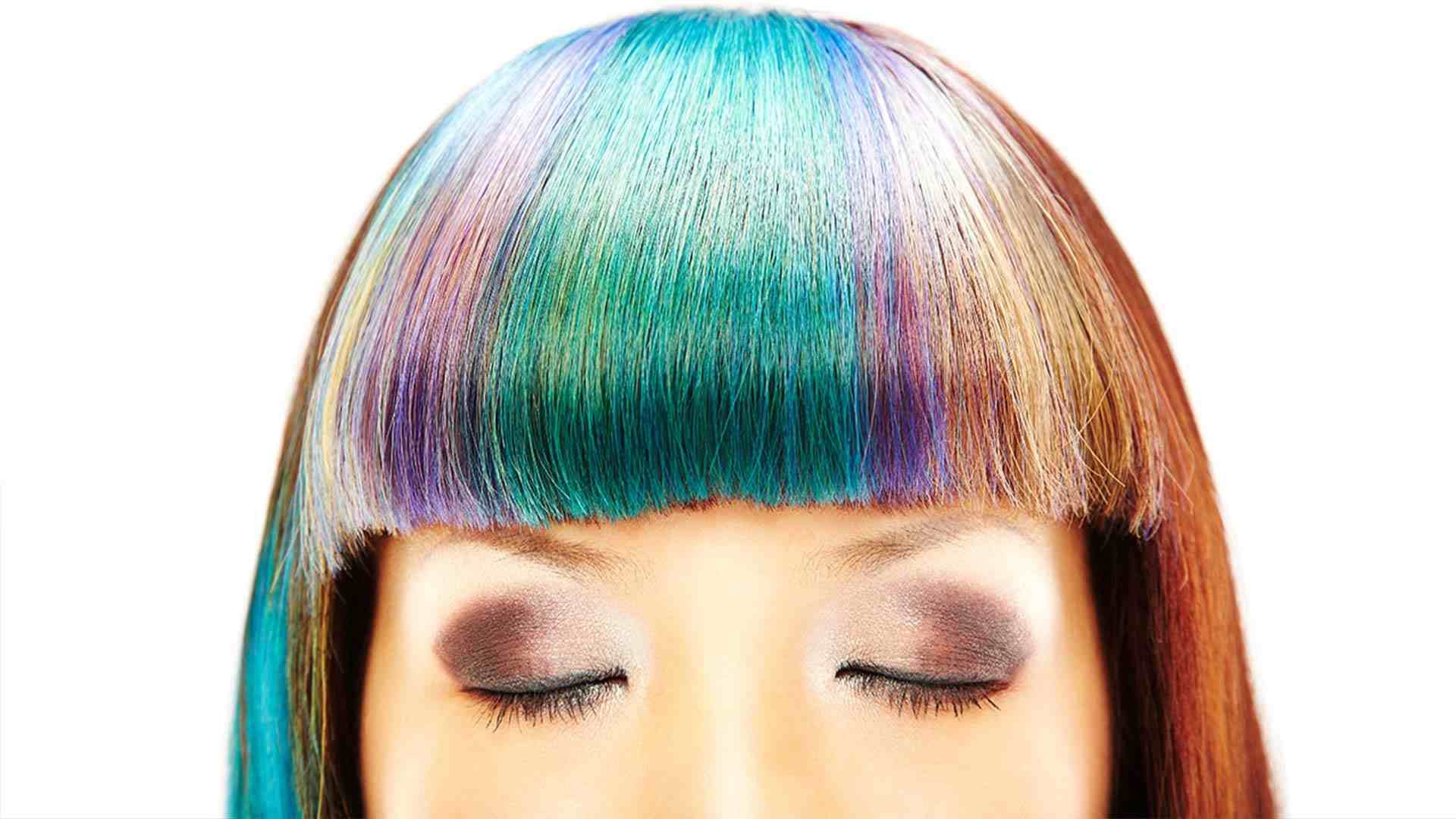 hair color trends
How to Get Rainbow Bangs for a Major Mane Makeover
If you love the hidden rainbow hair trend, boy, do we have another striking hair color option for you! Rainbow bangs are the latest craze to hit the beauty scene, and this statement-making style doesn't seem to be going anywhere anytime soon. This look is basically rainbow hair meets the money piece trend, and it's perfect for those who don't want to deal with the maintenance of an all-over colorful mane, but still want to be trendsetters. Interested? Below, we're sharing all of the details on how to makeover your mane with rainbow bangs.
HOW TO GET RAINBOW BANGS
Getting rainbow bangs at home is super easy—and super fun, if we do say so ourselves. Follow the steps below to DIY rainbow bangs like a pro.
STEP #1. WASH AND STYLE
Before coloring your strands, you'll want to wash and style your bangs. Follow your typical hairstyling routine, depending on your hair type and bang style, then head to the next step.
STEP #2. CHOOSE YOUR COLORS
If you want traditional rainbow bangs, you'll want to color your strands in red, orange, yellow, green, blue, indigo, and violet—but you don't have to limit yourself! Rainbow bangs can be worn in a myriad of ways, with an array of colors. The only necessity is coloring your bangs in a multitude of hues. Which colors you choose is up to you!
We recommend picking colors from the L'Oréal Paris Colorista Hair Makeup Temporary 1-Day Hair Color Spray line. This temporary hair color spray washes out in just one shampoo, meaning you can rock a different set of rainbow bangs each day!
Editor's tip: If you love how your rainbow bangs look, you can always use semi-permanent or permanent rainbow dyes next time.
STEP #3. COVER YOUR FOREHEAD
You may want rainbow bangs, but we're going to assume you don't want a rainbow forehead. Before reaching for your hair color, it's a good idea to protect your forehead just as you do your clothes when coloring your mane at home. To do so, wrap a hair scarf that you can spare around your head so that it covers your forehead. Make sure your bangs are still hanging free and tie the scarf at the back of your head. If you don't have a scarf to use, you can also try placing plastic wrap or a piece of paper beneath your bangs.
STEP #4. SECTION YOUR BANGS
It's time to create your rainbow! To do so, first split your bangs into equally-sized sections. Keep in mind that each section you create will be a new color. Grab the first section and clip the rest out of the way for now.
STEP #5. COLOR YOUR STRANDS
Ready to get colorful? Working with that first section, pick up your first shade. Hold the can four to six inches from your hair and carefully spray your strands. Keep in mind that a little goes a long way—the color will become more visible as it dries!
STEP #6. AND COLOR SOME MORE
After giving your first section time to dry, it's time to let down your second section. Repeat this process with as many colors as you choose until your bangs resemble a magical rainbow!
3 OTHER WAYS TO GET RAINBOW BANGS
You now know how to get traditional rainbow bangs, but what if you want to switch things up even more? Here are a couple of coloring techniques we thought we'd share.
OPTION #1. HORIZONTAL STRIPES
Your stripes of color don't have to be vertical. If you like to put your own twist on the latest trends, consider coloring your bangs in horizontal rainbow stripes. Keep in mind that this technique is best for those with longer bangs.
OPTION #2. JUST THE TIPS
Want to keep your rainbow bangs minimalistic? Try coloring just the tips! This is a great option for those who have bangs that are shorter in length, like micro bangs.
OPTION #3. ALTERNATING SIZES
If you like the idea of vertical stripes but still want to put your own spin on the look, consider alternating the size of your stripes. Switch between thicker and thinner stripes as you apply each color to end up with bangs that are full of personality!
Next up: Rainbow bangs put your colorful strands front and center. For a trend that does pretty much the opposite, hiding colorful hues at the back of your head, you'll want to familiarize yourself with underlights. Check out our article, The Underlights Hair Trend Is All About an Unexpected Pop of Color.
Discover more tips & tricks
Keep your skin happy
See all articles
Shop Featured Hair Color products
Discover More