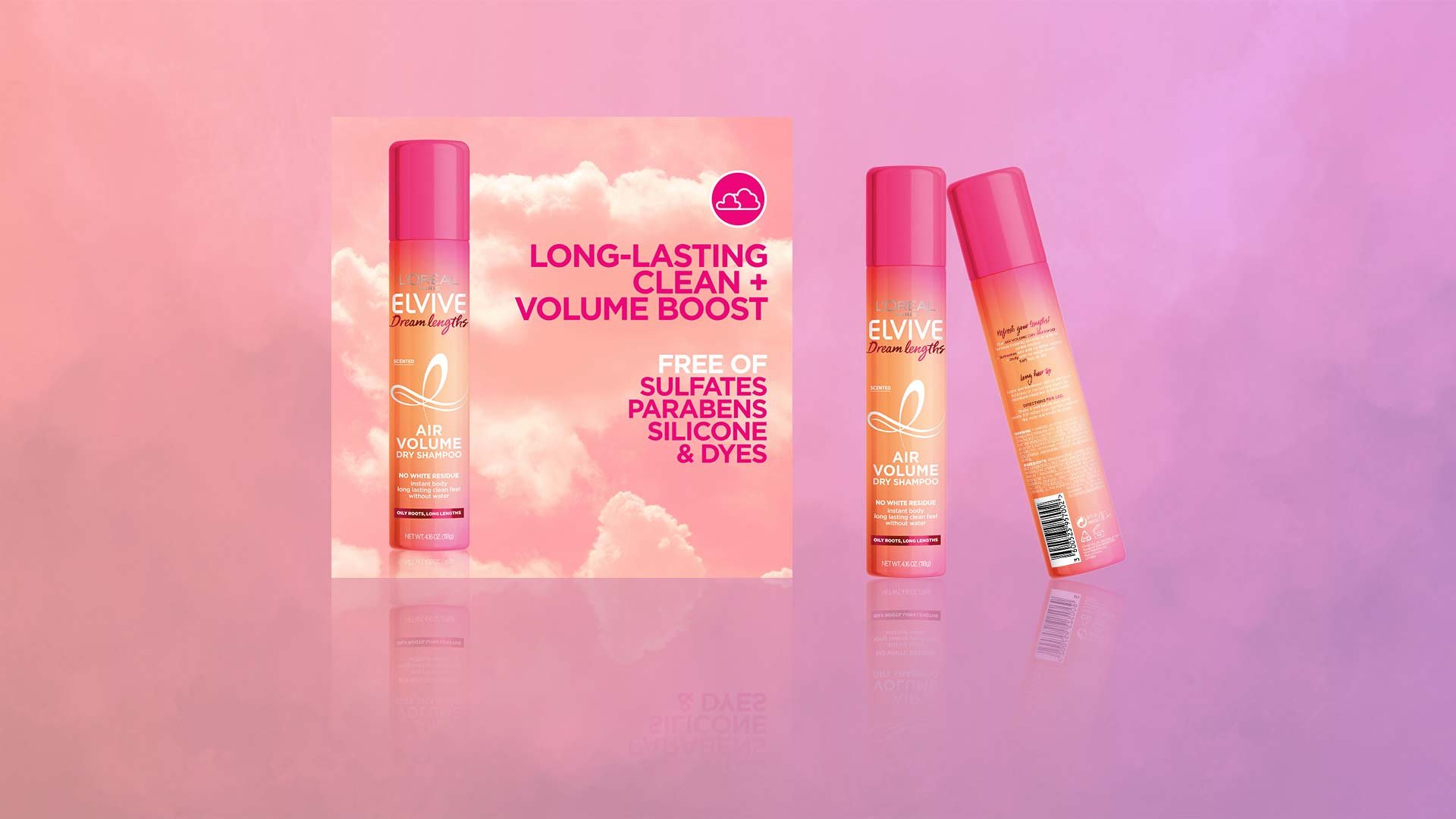 Real talk: If there's one hair-care product you need to add to your arsenal, it's dry shampoo. An excellent alternative for days when you don't have time for a proper wash, dry shampoo can refresh your tresses and extend the life of a bouncy blowout without fail. While you're likely an expert on using shampoo and conditioner, learning how to use dry shampoo may be new territory for you. And since the benefits of dry shampoo are enough to make you a fan for life, it's worth getting the breakdown. If you're wondering, "How does dry shampoo work," below, we're sharing all you need to know about this absolute essential, including our best dry shampoo to add to your arsenal.
WHAT IS DRY SHAMPOO?
Dry shampoo, which is sometimes referred to as waterless shampoo, is a hair-care product that revives greasy hair by absorbing oils for a refreshed look and feel. It's a perfect travel companion and an absolute holy grail when you're pressed for time. This product is available in different formats, from dry shampoo powder to dry shampoo foam, depending on your preference.
IS DRY SHAMPOO BAD FOR YOUR HAIR?
The quick answer: no! Dry shampoo isn't bad for your hair. The key is not to let dry shampoo replace your regular hair-care routine. This is a surefire way to end up with scalp buildup. Instead, use dry shampoo to briefly tide you over until it's time for your next shower. The best dry shampoo will temporarily give you the appearance of clean hair—without actually cleaning it—but you'll still need to use your shampoo and conditioner on the regular.
HOW DO YOU USE DRY SHAMPOO?
Dry shampoo may seem like a pretty straightforward hair-care product to use, but there is a right (and wrong) way to use it. If you're working with a standard dry shampoo spray, start by shaking the can really well. Then hold it six to eight inches away from your hair and spray directly onto oily roots and lightly throughout the rest of your mane to absorb oil. Finally, brush through your hair, and you're ready to go. Also, keep in mind that dry shampoo doesn't have to be used on unwashed hair. You can get your strands super clean and then use dry shampoo to pump up volume and give hair a lived-in look.
If you're using a dry shampoo with a different type of formula, the instructions will vary slightly. For loose powder formulas, how to use dry shampoo remains the same, except you'll shake the powder directly onto your roots.
Like we mentioned, there are also dry shampoo foams, which you can work through your strands just like hair mousse, making sure to focus the product on your roots.
OUR BEST DRY SHAMPOO
Sure, you know it's a necessity, but finding the right dry shampoo can be tricky. Fortunately for you, we have a product rec worth trying—the L'Oréal Paris Elvive Dream Lengths Air Volume Dry Shampoo. This drugstore dry shampoo spray instantly absorbs oil for a long-lasting clean feel with no white residue. It's also sulfate-, paraben-, dye-, and silicone-free.
HOW OFTEN SHOULD YOU USE DRY SHAMPOO?
Contrary to what dry shampoo devotees might think, there is such a thing as using dry shampoo way too much. Think about it: Every time you use dry shampoo, you're spraying product directly on your scalp and roots. Like we mentioned above, if you're applying it way more than you need, it can cause product buildup, which can weigh down your mane and leave it looking dirtier than before. Play it safe and only use dry shampoo once or twice a week, and don't spray on too much.
DO YOU USE DRY SHAMPOO AT MORNING OR NIGHT?
If you think that there's just one time of day to use dry shampoo, think again. Dry shampoo can be used anytime you feel that your roots need a proper refresh. So, your lunch break, post-workout, and pretty much anytime oily roots are weighing you down is ideal timing for a dry shampoo session.
As for whether dry shampoo is better suited to being used in the morning or at night, both have their perks. Using a dry shampoo at night can be your strand-saving grace because it will absorb excess oils while you catch some shut-eye, and you can wake up and style your hair with no worries of greasy-looking locks. On the flip side, if you wake up with hair that looks less than perfect, a few quick spritzes of dry shampoo can help turn things around.
WHAT HAIR-CARE PRODUCTS SHOULD YOU PAIR WITH DRY SHAMPOO?
Dry shampoo can be used in conjunction with various products. For your shampoo and conditioner, we recommend using a system that instantly purifies oily roots and hydrates dry lengths without weighing hair down for beautifully fresh, flowing strands from root to tip. Here's a quick routine to try either before using dry shampoo or on the days you don't use a waterless shampoo.
STEP 1: SHAMPOO
The key to sporting a healthy, oil-free mane starts with a purifying hair-care routine. Kick things off with the L'Oréal Paris Elvive Extraordinary Clay Shampoo. Massage the shampoo onto wet hair, focusing mainly on your roots, lather it up, then rinse out completely. Now you're ready to move on to the next step.
STEP 2: CONDITIONER
Just because you have oily roots doesn't mean you should skip out on using a conditioner. All hair types—curly hair, fine hair, color-treated hair, and frizzy hair included—need conditioning. Apply the L'Oréal Paris Elvive Extraordinary Clay Conditioner to wet hair post-shampoo, focusing on your mid-lengths to ends. Leave the conditioner on for one to three minutes, then rinse out.
Next up: One place where dry shampoo can be particularly useful in the gym. Here are The 16 Best Gym Hairstyles For Working Out In 2020, many of which utilize dry shampoo.
Discover more tips & tricks
Keep your skin happy
See all articles
Shop Featured Hair Care products
Discover More