beauty looks
The Best Makeup and Nail Polish to Pair with Every Outfit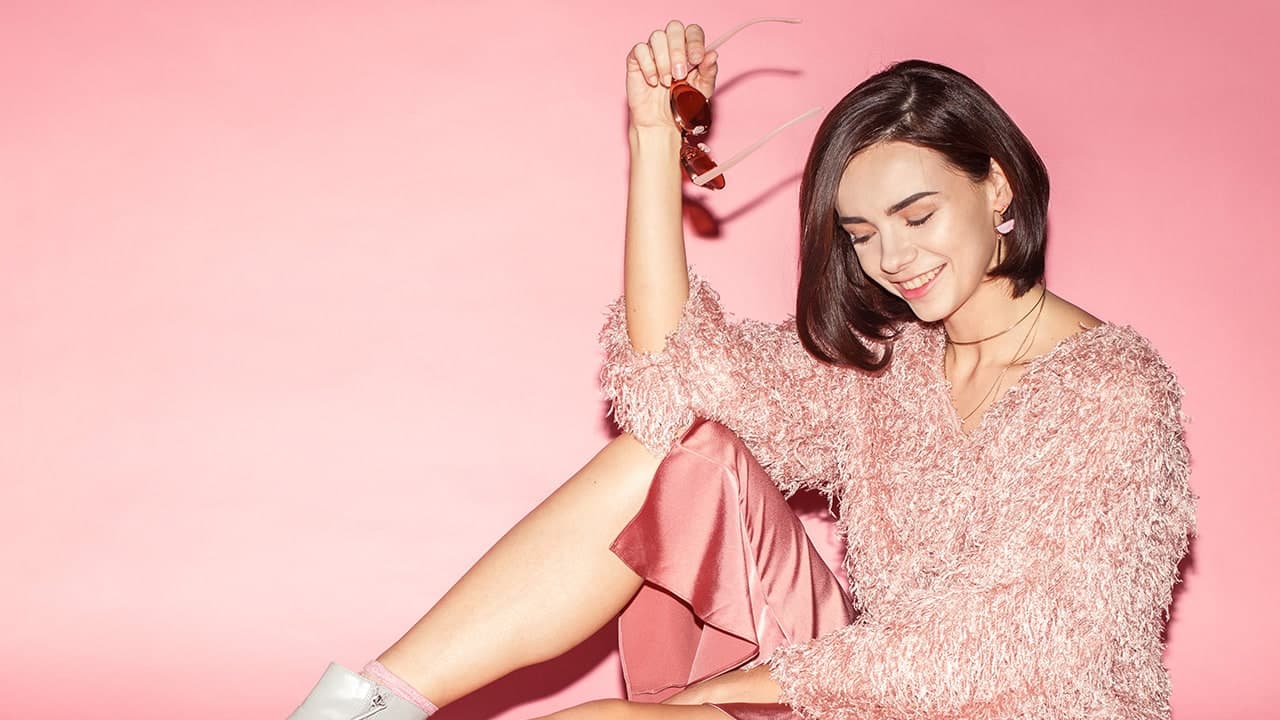 So, you have your outfit all set—what's next? Once you know what you're wearing, everything else practically falls into place. In case you aren't so sure, we've come up with a simple guide to help you out. Whatever outfit you've decided on—from date night to a job interview to a beach vacation—we know the best nail polish and makeup colors to pair with your look. For example, some occasions call for a bright red lip color, while others require a more understated, nude makeup look. Keep reading to learn about the best makeup looks and nail polish colors to pair with nine different outfits.
OUTFIT #1: DATE NIGHT CHIC
There's no better time to look your best than on a date! That means after carefully selecting your favorite little black dress and heels, you'll want to pick out the perfect nail polish and lip color to match. Paint your nails a glossy red and coat your lips in a similar shade of red lipstick for a stunning effect. It's just the pop of color you need! For your lips, try the L'Oréal Paris Infallible Pro-Matte Liquid Lipstick in Matador. Keep your eye makeup subtle but a bit smoky by using nude and brown eye shadow tones, like those in the L'Oréal Paris Colour Riche Quad in Snooze Addict.
OUTFIT #2: COZY FALL ATTIRE
When you're planning to rock layers (or forced to by fall temperatures), why not create nail art that's equally as layered. Besides, when you're wearing your go-to jeans, boots, and layered sweater look, a little nail art is the perfect accessory. To do so, start with a charcoal base color on your nails, then add an eye-catching glitter shade overtop. That's all! It doesn't have to be complicated or take a long time. For your makeup look, simply sweep on a few layers of black mascara, like the L'Oréal Paris Voluminous Lash Paradise Washable Mascara in Blackest Black, then slip on your flannel shirt and fuzzy scarf and you're good to go.
OUTFIT #3: INTERVIEW ENSEMBLE
Going on a job interview is all about making a good first impression, and it isn't only your outfit that comes into play. Your nails and makeup matter, too! Base your outfit on the job you're interviewing for, taking the office environment into consideration as well. If everyone's wearing jeans, you probably don't want to show up in a suit—and vice versa. Once you've nailed down a look that's appropriate, paint your nails a natural nude or light pink hue. The color won't be distracting to your interviewer, but it still offers a touch of serious style. Swipe on a light rosy lip gloss, like the L'Oréal Paris Infallible 8HR Le Gloss in Barely Nude, and touch up your arches with a brow pencil, like the L'Oréal Paris Brow Stylist Shape & Fill Mechanical Pencil. You'll look groomed but not overly so.
OUTFIT #4: GIRLY GETUP
If you're feeling particularly feminine, such as before a girl's night out, of course you'll want to dress for the occasion. Throw on your most flowing, floral dress and a pair of flirty flats. Your nails should be pink—obviously. Pair them with a light rose blush, like the L'Oréal Paris True Match™ Blush in Tender Rose, and top off your look with a shimmering illuminator to highlight the high points of your face, such as your brow bones, upper cheekbones, and cupid's bow. Add those final touches with the L'Oréal Paris Infallible Longwear Highlighter Shaping Stick in Slay-In-Rose.
OUTFIT #5: beach vacation
Jet-setting style is almost as fun as the travel itself. Break out your maxi dresses, bikinis, and sandals so that you're resort-ready. As for your nails, try a coat of bright green—think palm leaves—or a bright orange. Stick with waterproof mascara, like the L'Oréal Paris Unlimited Lash Lifting and Lengthening Waterproof Mascara in Blackest Black, and BB cream, like the L'Oréal Paris Magic Skin Beautifier BB Cream, for a low maintenance makeup look that'll suit your effortless vacay outfits.
OUTFIT #6: ATHLEISURE APPAREL
Whether you're actually heading to the gym or simply throwing on comfy clothes to hit the grocery store, there's nothing trendier (or more practical) than athleisure. A pair of cropped leggings, a stretchy tank, and stylish sneakers will serve you well for almost anything your schedule can throw at you. Paint your nails with a clear topcoat for serious shine that won't require touchups if your nails get mussed while working out. You can skip the makeup when you're planning to get sweaty, or go for all waterproof products, including concealer that won't budge, like the L'Oréal Paris Infallible Full Wear Concealer Waterproof, Full Coverage. Of course, after your workout, don't forget to cleanse your face—if you can't make it to a shower, use the L'Oréal Paris Micellar Cleansing Water Complete Cleanser Waterproof – All Skin Types to remove any lingering sweat, oil, and debris.
OUTFIT #7: time for a celebration
It's your birthday, and you'll need to be the best dressed—and made up—person in the room. Pick out a party dress that flatters all your best features and will make you stand out from the crowd. Treat yourself to a mani-pedi, choosing a metallic gold, silver, or rose gold shade. Round out your attention-grabbing look with super-sharp winged eyeliner and a pair of voluminous falsies. Try using the L'Oréal Paris Infallible the Super Slim Eyeliner in Black to create your wing.
Editor's note: Haven't attempted to apply false lashes since your last birthday? Brush up on your falsie skills with a little help from our article, 7 Hacks to Make Applying False Lashes Easier.
OUTFIT #8: BRIDAL BEAUTY
It doesn't matter if it's your big day or someone else's, the rules for your nails are similar. When you're wearing a wedding gown or a bridesmaid dress, opt for nude polish. Flashy colors may seem fun in the moment, but chances are you'll prefer looking back on pictures in which your nails don't steal the show. The guidelines for makeup are similar; stick with a nude eye shadow, such as the L'Oréal Paris Colour Riche Monos Eyeshadow in Little Beige Dress, minimal eyeliner, and a touch of light blush. For your lips, go with a light, nude shade, such as the L'Oréal Paris Colour Riche Ultra Matte Highly Pigmented Nude Lipstick in Full-Blown Fawn, as well.
OUTFIT #9: family holidays
While family holidays might not feel like the most fun time to dress up, just remember that those pictures will last a lifetime! For fall holidays, pair a dark red nail polish with an equally dark red lip color, like the L'Oréal Paris Rouge Signature, Lasting Matte Liquid Lipstick in I Explore. Then, keep the rest of your eye and face makeup subtle, using light brown eyeshadow shades and just a touch of blush on your cheekbones. For spring holidays, opt for a soft focus makeup look instead.
Next, learn How to Organize Your Makeup Bag Like a Pro.
Discover more tips & tricks
Keep your skin happy
See all articles
Shop Featured Makeup products
Discover More