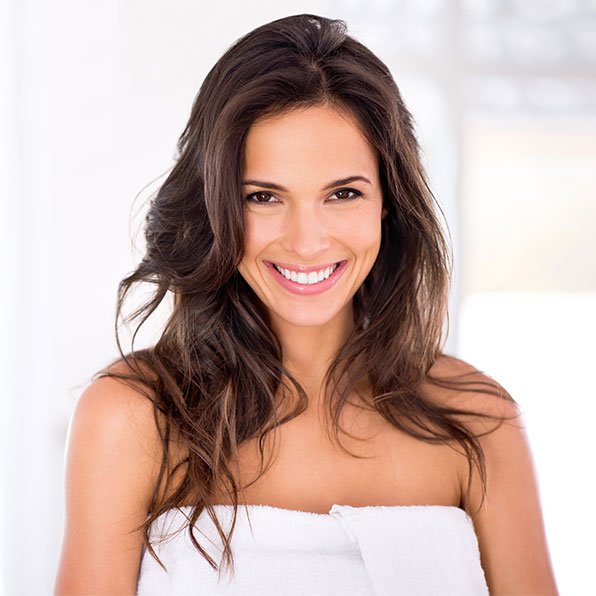 sun care and self tanning
Self Tanner Pre-Application Tips for Gorgeous, Glowing Skin
Everyone wants that look of a natural glow and it's even better if your glowing skin didn't come along with any sun damage. That's what makes self-tanner the perfect choice for developing and maintaining glowing skin all year. Still, you may be hesitant to try some sunless tanning options, because you've heard of the infamous streaks, smells and orange tones that accompany some formulas. The good news: Self tanners have come a long way in the recent years. Many self-tanner formulas today have been created to not only give your skin a natural bronzed glow in place of an orange-y color, but are also streak-free and have lovely smelling scents. That being said, no matter how advanced a sunless tanning formula is, what has a lot to do with how well a self-tanner applies, is how smooth and nourished your skin is when you apply it. So, spend some time prepping your skin a few weeks before applying any self-tanner for a flawless finish and glowing skin.
Self-tanner pre-application tip #1: Exfoliate regularly. If you have dry skin, try using glycolic acid exfoliating pads like RevitaLift® Bright Reveal Brightening Peel Pads, three times a week. Glycolic acid can help smooth out the look of uneven skin tones and will chemically work to dissolve dead skin cells that can pile up on skin's surface and clog your pores. Additionally, these glycolic acid peel pads are equipped with a multi-ply texture to physically resurface dead skin cells so that underlying, youthful looking skin is revealed. This will help ensure that your self-tanner is absorbed evenly for a more natural sun-kissed effect.
For your body, exfoliate three times a week with a DIY mixture of brown sugar and honey and concentrate on the areas that can become especially dry like your knees and elbows. "Usually, if you have oily skin, a microdermabrasion treatment at your dermatologist's office can also help skin appear more smooth," says Dr. Rocio Rivera, Director of Scientific Communications from L'Oreal Paris. "If you are exfoliating your body at home, try using a dry brush or an exfoliant scrub to further stimulate the physical resurfacing of dead skin cells on your skin's surface."
Self-tanner pre-application tip #2: Moisturize. After cleansing or showering, moisturize your skin while it is still damp. Doing so, will help lock in the added moisture. When moisturizing your face, first apply a serum and then follow it with your day or night cream. When moisturizing your body, apply a rich cream with nourishing ingredients like Shea butter.
Self-tanner pre-application tip #3: Moisturize again. Moisture can evaporate off of the surface of your skin; so it's important to seal in moisture and re-hydrate your skin as necessary. To seal in added moisture on your face, consider applying facial oil after your regular moisturizer. Facial oil can act as a barrier on the surface of your skin to help keep nourishing formulas in place and harmful pollutants that can damage and dry out your skin, out. For your body, reapply lotion at night before going to bed if you showered in the morning and vice-versa.
Self-tanner pre-application tip #4: Apply a clay mask. If you have an uneven skin tone, self-tanner can settle in the uneven lines and spots on your skin's surface. The night before you plan to apply self-tanner, consider refining your skin by applying an exfoliating clay mask, like Pure-Clay Mask Exfoliate & Refining Treatment Mask, to your face. This clay mask formula is infused with apricot seed powder, which provides exfoliating properties to help minimize the look of uneven skin. As an added bonus, it does not cause skin to dry out, which is ideal prior to applying a self-tanning formula. Simply apply the clay mask after cleansing, leave it on for ten to fifteen minutes and rinse completely with lukewarm water. By encouraging hydrated, smooth skin, you can better ensure that the sunless tanning option you choose will be distributed more evenly for a more natural summer sun glow.
It's also important to keep your skin moisturized once you have applied any self-tanner so that your glowing skin stays looking smooth and gorgeous. Continue to moisturize daily and look for hydrating sunless tanning formulas like Sublime Bronze™ Summer Express Wash-Off Face Bronzer Cream SPF 20 that are formulated with vitamin E to help hydrate skin for up to 24 hours.
Discover more tips & tricks
Keep your skin happy
See all articles
Shop Featured Skin Care products
Discover More