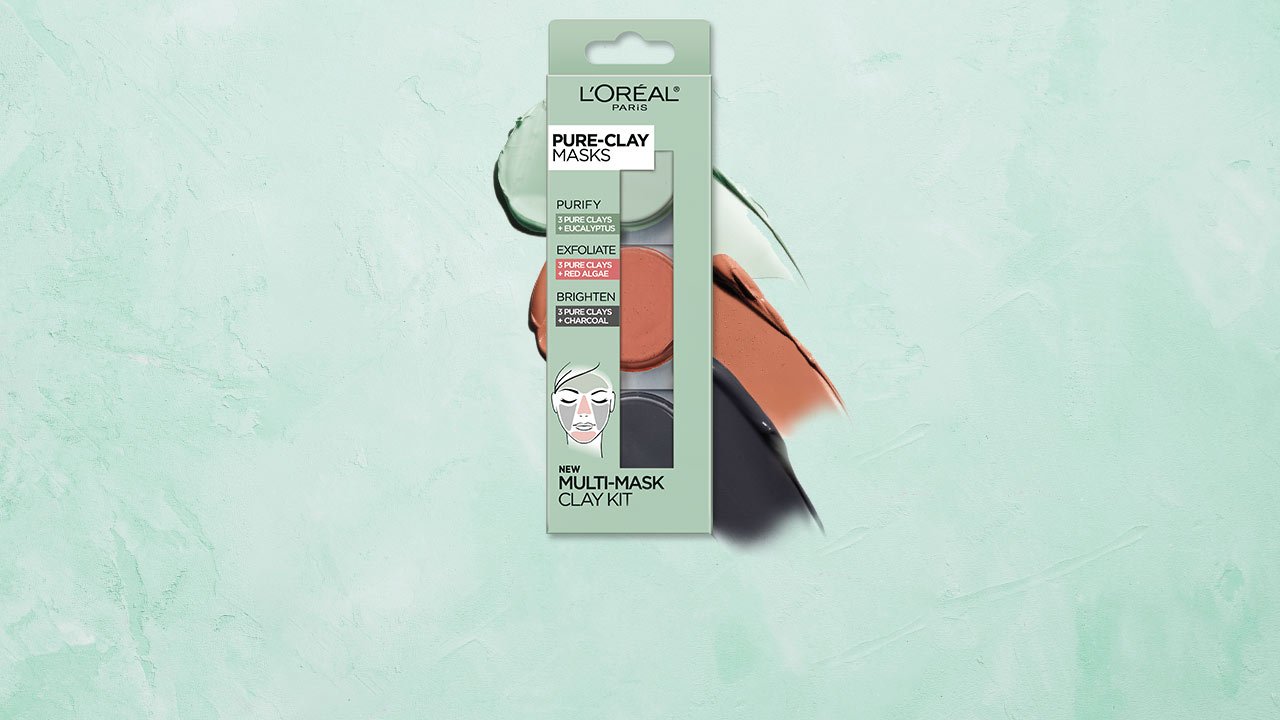 After a long day, there are few things more relaxing than changing into your pajamas, turning on the TV to binge your favorite show, and applying a soothing face mask. Face masks are one of the easiest ways to indulge in some much-deserved self-care while also giving your skin a little TLC. What more could you want? Of course, using a face mask is no longer a one-size-fits-all deal—multi-masking is where it's at. With the right face mask set, you can target the different skin care concerns that occur on different areas of your skin. Ready to add a face mask kit to your skin care routine? Below, learn about our best face mask set for multi-masking as well as how to use a face mask kit.
OUR BEST FACE MASK SET FOR MULTI-MASKING
On the hunt for the perfect face mask kit? Look no further than the L'Oréal Paris Pure-Clay Multi-Mask Clay Tripod Kit. Consisting of three different clay masks, the face mask set allows you to create a custom mask treatment that addresses the different skin concerns you have on different areas of your face, such as your forehead and cheeks. Want to learn more about the masks included? Here's the breakdown.
L'Oréal Paris Pure-Clay Purify & Mattify Face Mask: First up in our clay face mask kit is our purifying and mattifying face mask. Formulated for oily and shiny skin, the mask contains three pure clays and eucalyptus for a soothing and refreshing spa-like experience. The powerful pure clays penetrate deep to remove impurities and unclog pores, reducing excess oil and creating the appearance of less visible, tightened pores. You'll be left with a clarified, mattified, and refreshed complexion.
L'Oréal Paris Pure-Clay Exfoliate & Refining Face Mask: Next up? This super-charged pure clay exfoliating face mask that's enhanced with red algae extract. The potent pure clays and volcanic rock work together to exfoliate dead skin on your face and smooth surface imperfections. This mask addresses rough skin and deep clogged pores to visibly minimize pores and leave your skin texture refined and smooth. Say hello to healthy-looking skin with a beautiful glow!
L'Oréal Paris Pure-Clay Detox & Brighten Face Mask: Skin need a brightening boost? Look no further than the third mask in our face mask set, which is formulated with three pure clays and charcoal to detoxify and illuminate your skin. Our indulgent and powerful face mask formula provides a luxurious experience while potent pure clays and charcoal act like a magnet to clean out pores and draw-out and capture deep impurities such as dirt, oil, and pollution. The creamy, non-drying mask will leave your skin feeling clean, velvety, and rebalanced by addressing your dull, tired skin. You'll be left with skin that looks brighter with a healthy glow!
Editor's tip: New to multi-masking? Get the 4-1-1 in our article How to Multi-Mask.
HOW TO USE A FACE MASK SET
Now that you know all about our best face mask kit for multi-masking, you may be wondering how to use it. It's easy! Simply apply one, two, or three of the masks to address your skin's needs and target different areas. Try using the Purify and Mattify mask on your T-zone area for flash-ready skin (you can get more photo-ready beauty tips in our article, 10 Beauty Tips for a Camera-Ready Look), use the Detox and Brighten mask to visibly brighten dull skin on your cheeks, and apply the Exfoliate and Refine Mask anywhere pores tend to look enlarged. Where you choose to apply different masks may change by season, as your skin tends to be drier in the winter and shinier in the summer. Whichever areas you decide to designate to different masks, just make sure to apply an even layer and leave the mask(s) on for 10 to 15 minutes before rinsing thoroughly. Pretty simple, right?
Want to brush up on your face mask knowledge? Click through to our article, Face Mask 101: Everything You've Ever Wanted to Know About Masking.
{ "@context": "https://schema.org/", "@type": "WebPage", "speakable": { "@type": "SpeakableSpecification", "cssSelector": ["speakable-content"] }, "url": "https://www.lorealparisusa.com/beauty-magazine/skin-care/skin-care-essentials/face-mask-set-and-kit" }
Discover more tips & tricks
Keep your skin happy
See all articles
Shop Featured Skin Care products
Discover More
{ "@context": "http://schema.org", "@type": "BreadcrumbList", "itemListElement": [ { "@type":"ListItem", "position": 1, "item": { "@id": "/", "name": "Home" } } , { "@type":"ListItem", "position": 2, "item": { "@id": "https://www.lorealparisusa.com/beauty-magazine", "name": "Beauty Magazine" } } , { "@type":"ListItem", "position": 3, "item": { "@id": "https://www.lorealparisusa.com/beauty-magazine/skin-care", "name": "Skin Care For Every Age" } } , { "@type":"ListItem", "position": 4, "item": { "@id": "https://www.lorealparisusa.com/beauty-magazine/skin-care/skin-care-essentials", "name": "Skin Care Essentials" } } , { "@type":"ListItem", "position": 5, "item": { "@id": "https://www.lorealparisusa.com/beauty-magazine/skin-care/skin-care-essentials/face-mask-set-and-kit", "name": "face-mask-set-and-kit" } } ] }