long hairstyles
How to Make Your Hair Softer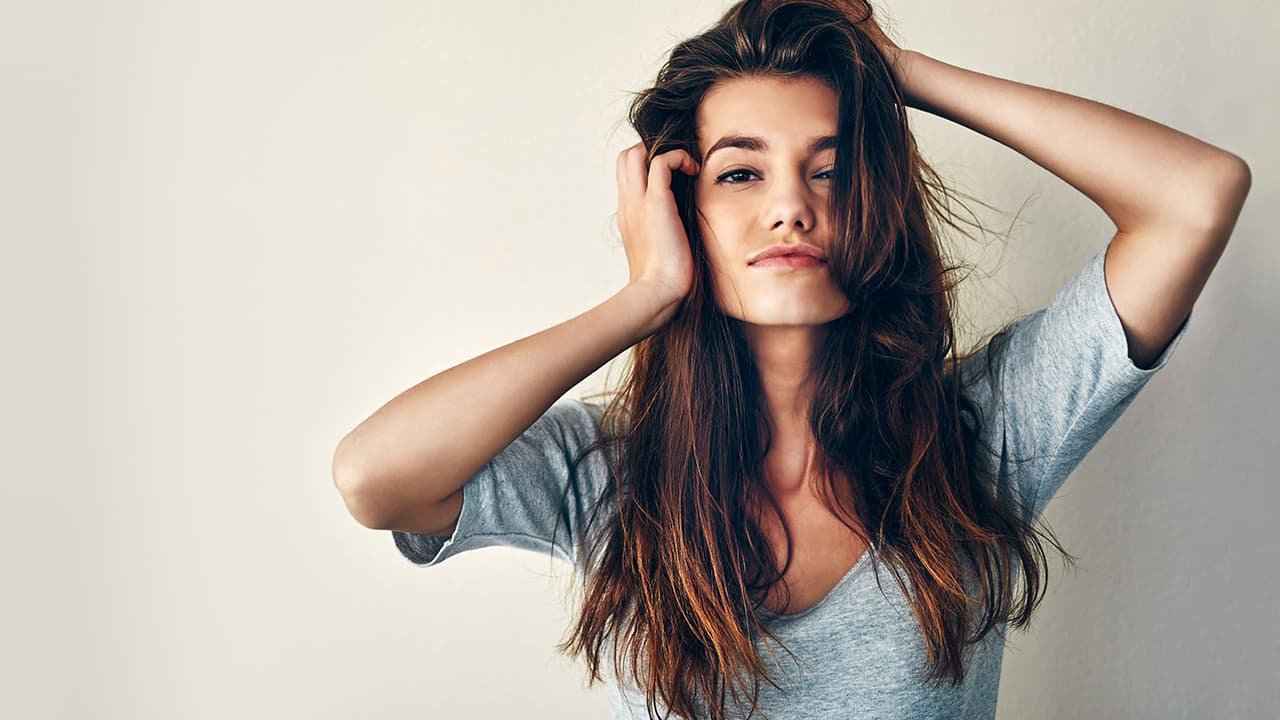 Things like dry hair, split ends, frizz, and flyaways are frustrating, to say the least—and they can stop you from achieving your hair care goals. The ultimate hair goal, aka the most enviable of hair qualities, is having luxuriously soft hair. You know what we're talking about—hair so soft to the touch that it just radiates health, hydration, and gorgeousness. However, as you likely already know, trying to make your strands feel softer is no easy feat—but we assure you that with the right hair care tips and tricks, you can get soft hair! Follow these tips to make your hair softer, STAT.
SOFT HAIR TIP #1: DEEP CONDITION REGULARLY
Using a shampoo and conditioner system that's formulated for your hair type and hair care concerns is crucial, but going the extra mile and adding a deep conditioner into the mix can seriously help in the softness department. The key to soft-to-the-touch hair is maintaining your hair's health, and what's key to healthy hair? That would be moisture. Just as hydrated skin is the ticket to a healthy, glowing complexion, the same holds true for your strands.
In addition to using a moisture-boosting shampoo and conditioner (try L'Oréal Paris Elvive Extraordinary Oil Shampoo and L'Oréal Paris Elvive Extraordinary Oil Conditioner), you can also add a deep conditioner to your routine. Reach for the L'Oréal Paris Elvive Extraordinary Oil Rapid Reviver Deep Conditioner, which works in just one minute! It's formulated to deeply moisturize hair and help hydrate each strand for silkier, softer locks. Simply use it in place of your regular conditioner.
SOFT HAIR TIP #2: USE CONDITIONER AFTER EVERY SHAMPOO
Along the same lines, you never want to shampoo your strands without following up with conditioner afterward, according to the American Academy of Dermatology (AAD). That means that every single time you shampoo, you should also use conditioner. Worried this will make your hair look too greasy? If you're prone to oily roots, use the conditioner only on the lengths and ends of your strands.
SOFT HAIR TIP #3: T-SHIRT DRY YOUR HAIR
Ready for a life-changing soft hair hack? Next time you hop out of the shower (post-hair washing), instead of reaching for a towel to dry off your strands, grab an old T-shirt. It's softer on your hair and will help prevent damage. You may not realize it but rubbing your wet strands against a cotton towel can contribute to breakage and damage. A soft T-shirt will promote softer locks—it's as simple as that!
SOFT HAIR TIP #4: COMB WET STRANDS
Another wet hair care tip: Instead of brushing damp strands, take your time and use a wide-tooth comb. Your hair is at its most fragile when it's wet, so you'll want to be extra gentle with it when trying to detangle. As such, a comb is a better choice than a brush for helping to prevent breakage and yes, make hair softer over time.
SOFT HAIR TIP #5: USE AN OIL-BASED HAIR SERUM
Washing your hair is necessary, but it can also strip your hair of its natural oils—but not all hope is lost! Simply replenish what's lost with an oil-based hair serum, which you should apply onto the lengths and ends of your damp strands after every wash. It's easy and quick to do and you only need a dime-sized amount of serum each application. Try the L'Oréal Paris Elvive Extraordinary Oil Treatment, which is formulated with flower oils and transforms dry, lifeless hair into touchably-soft, silky strands. Even better—this serum is multi-use. You can also use it before shampooing for an extra dose of nourishment or as a finishing touch when styling dry strands.
SOFT HAIR TIP #6: TURN DOWN THE DIAL
We know, we know—a hot shower feels so good at the end of the day! But unfortunately, showering your hair (and your skin) in water that's too toasty can strip it of its natural oils, which are precisely what keep it hydrated and healthy. Next time you suds up your strands, turn down the dial so that you're showering in lukewarm water. We promise, even though it might not feel as enjoyable in the moment, your strands will thank you for it later!
SOFT HAIR TIP #7: MAINTAIN A HEALTHY SCALP
Hair care starts with a healthy scalp. And what does it take to maintain a healthy scalp? Well, for starters, things like dead skin cells, excess oil, and product residue can build up on the scalp over time. Slough off these impurities with an exfoliating scalp scrub. Try using one once a month as a pre-shampoo treatment. Here's how: Wet your hair first, then apply the product onto your scalp in sections. Take a minute or two to gently rub it onto your scalp with your fingers, then rinse thoroughly and finish with shampoo and conditioner.
Discover more tips & tricks
Keep your skin happy
See all articles
Shop Featured Hair Care products
Discover More