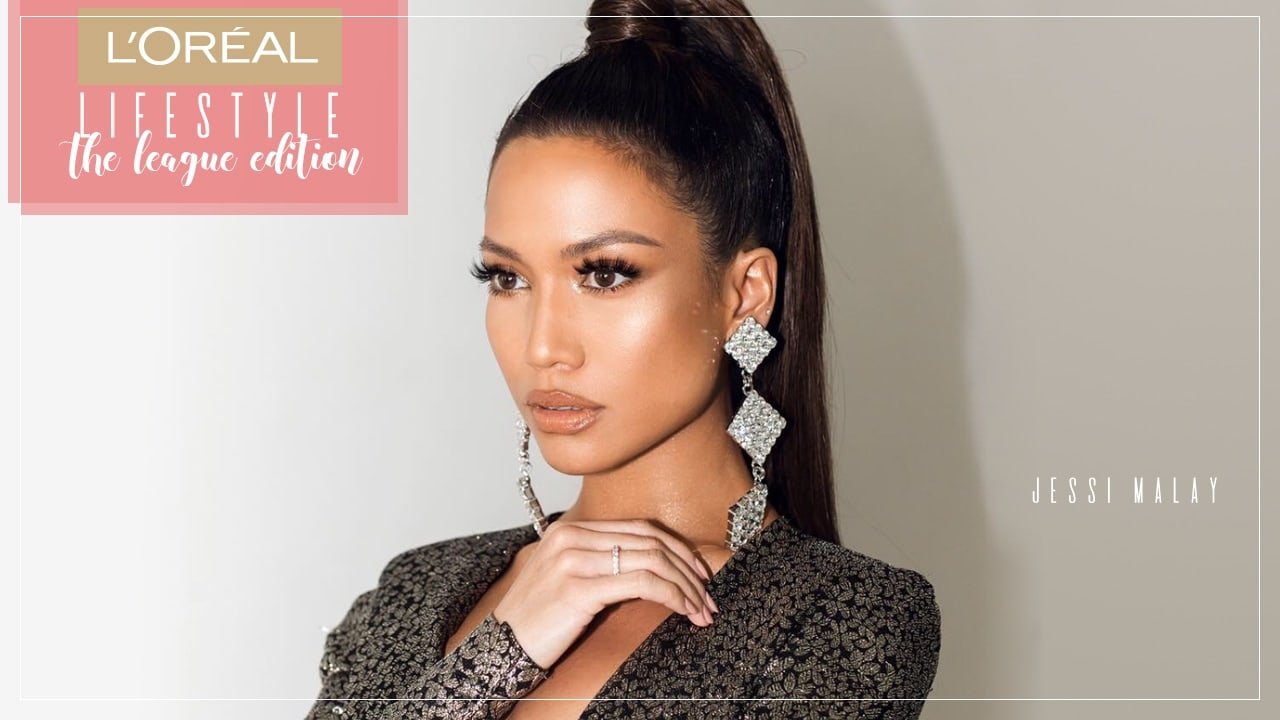 beauty looks
L'Oréal Lifestyle: How Jessi Malay Went from Popstar to Fashion and Beauty Blogger
From popstar to beauty and fashion blogger to mom, Jessi Malay has had quite the journey to where she is today. With nearly 500 thousand followers on Instagram, she's officially an influencer and icon in the beauty space. On top of her busy schedule, she's also a member of the L'Oréal League—L'Oréal Paris' influencer ambassador program. Really, who better to talk career, beauty, and life advice with? Get to know Jessi, including the story of her career, her take on fashion and beauty trends, and more, below.
ON GETTING WHERE SHE IS TODAY…
Jessi's journey into the world of beauty and fashion began as a child—in the form of music. Singing and dancing as part of the group, 'No Secrets,' she then began working on her own solo music projects before heading to college. Though she didn't start her career in the fashion and beauty industries, she believes her music background and the latter go hand-in-hand.
"Fashion and beauty were always a huge part of my music career and helped me express who I was as an artist," she shares. Her blog began as a hobby to share her creativity in the form of outfits and makeup looks she was wearing on stage as well as her personal street style.
"I became more and more passionate about the blog when I found this whole community of women that were equally inspired by personal style and it just grew organically from there with the help of Instagram and YouTube," Jessi explains.
While not the typical start to a career in fashion and beauty, Jessi recognizes how music and dance play a vital role in both industries. "Not only do they overlap—they need each other. A singer becomes an artist by creating a complete brand between their music and their style. Beauty and fashion trends are inspired by music, and vice versa," she shares.
ON CAREER ADVICE…
When it comes to career advice, Jessi has a few words of wisdom. For those who want to pursue a career in beauty, it's important to find and focus on what makes you different as a person. Jessi explains it like this: "People want to work with individuals that are inspiring to be around and create an environment of inner beauty first."
As far as being an influencer, patience, consistency, and passion are key, as getting into the industry is a process. "Connect with other aspiring influencers, collaborate, and help each other," she advises.
ON A TYPICAL WORKDAY…
Wondering what a day in the life is like? Jessi spends hours of her workdays connecting with her audience, trying to reply to as many messages as possible. Beyond that, the rest of her time is spent doing a variety of things. "I'm either in a shoot, planning a shoot, editing content, sharing content, or working on a couple exciting upcoming projects both in music and fashion," she shares. After 7 p.m., she disconnects from social media as much as possible to be present with her husband and daughter.
ON BEING A NEW MOM...
Balancing her career as an influencer and the full-time job that comes with being a mom is no easy feat, but Jessi makes it work. "I'm grateful to be self-employed and working from home most days—I take breaks throughout for cuddles and besitos," she explains.
Of course, balancing the two is a constant exercise of trying to find balance. For parents and new moms, in particular, Jessi believes it's important to realize there's no such thing as the 'perfect balance.' "Some days we're going to kill it and accomplish all the things we wanted to do and dedicate all the family time we wanted to, and then some days we just won't. And that's completely OK. Giving yourself grace is key," she says.
ON BEAUTY ADVICE…
We can all use a little beauty advice, and who better to ask than a beauty and fashion blogger? Jessi's pro tip? Rubbing an ice cube across your face in the morning for a complexion pick-me-up!
ON BEAUTY TRENDS—THE GOOD AND THE BAD…
We're constantly on the hunt for the latest and greatest beauty trends, and Jessi has a few she's living for at the moment. "I'm really into neon-tipped French manicures and glossy eyelids—and I'll never get over a good cat eyeliner look! L'Oréal's Flash Cat Eyeliner has changed the game for me," she confesses.
Of course, beauty trends are not a one-size-fits-all kind of deal. One trend Jessi can't get behind? Glitter lips. She tried it once, but it was a no-go—you live and you learn!
ON HER L'ORÉAL PARIS MUST-HAVES…
Aside from Flash Cat, Jessi is obsessed with L'Oréal's hyaluronic acid serum, Freshwear Foundation, and Colour Riche Shine lipsticks. "Oh, and Lash Paradise is the best mascara of all time," she adds.
ON SKIN CARE…
Ever wonder what Jessi does to keep her complexion looking its best? When it comes to her skin care routine, Jessi starts her morning off with her own beauty advice—by running an ice cube across my skin. Then, she cleanses, applies her hyaluronic acid serum, and layers moisturizer all over her face and neck. Because she lives in the dry climate of Los Angeles, she keeps a facial mist on-hand to refresh her makeup and prevent her skin from over-drying.
ON FASHION TRENDS AND INSPIRATION…
Aside from beauty, Jessi is also known for her impeccable style. One fashion trend she's living for? The '90s revival! Tiny spaghetti straps, layered dainty gold necklaces, high-waisted wide-leg pants, and looks that pair white tops and denim are on her radar.
As far as fashion and beauty inspiration goes, Jessi takes cues from the past. "I pull a lot of inspo from old photos of my mom from the '60s and '70s," she explains.
ON A TYPICAL DAY OFF…
For Jessi, the weekend is all about family time. "Saturdays and Sundays I dedicate to my daughter and hubby, whether that means spending a lazy long morning eating pancakes and watching Coco, or going to the beach or park to run around. We like to get out and be active but also love being lazy around the house," she shares.
ON RESTAURANT RECS…
Calling all foodies, this one's for you. When it comes to brunch, Jessi is all about the beignets at Preux & Proper. Yum! On date nights, you can find Jessi and her husband bonding over food at Barrique. "It's this sweet little Italian restaurant in Venice, California. We always order red beet pasta," she shares.
ON FITNESS…
As far as her workout regimen goes, Jessi is all about dancing. "I've just started taking dance classes again and there's nothing else that works me out harder or makes me feel better than dancing," she says.
ON SELF-CARE…
Everyone needs to indulge in self-care—especially when trying to balance work and downtime. Speaking on the matter, Jessi tries her best to be organized so she can accomplish the most while also taking care of herself. "Otherwise, I become mentally overwhelmed and just shut down," she shares. Of course, she also knows a great facial or massage can't hurt, either!
Next: L'Oréal Lifestyle: How Iskra Shook the Model Stereotype
Discover more tips & tricks
Keep your skin happy
See all articles
Shop Featured Makeup products
Discover More