beauty looks
How to Stop Biting Your Nails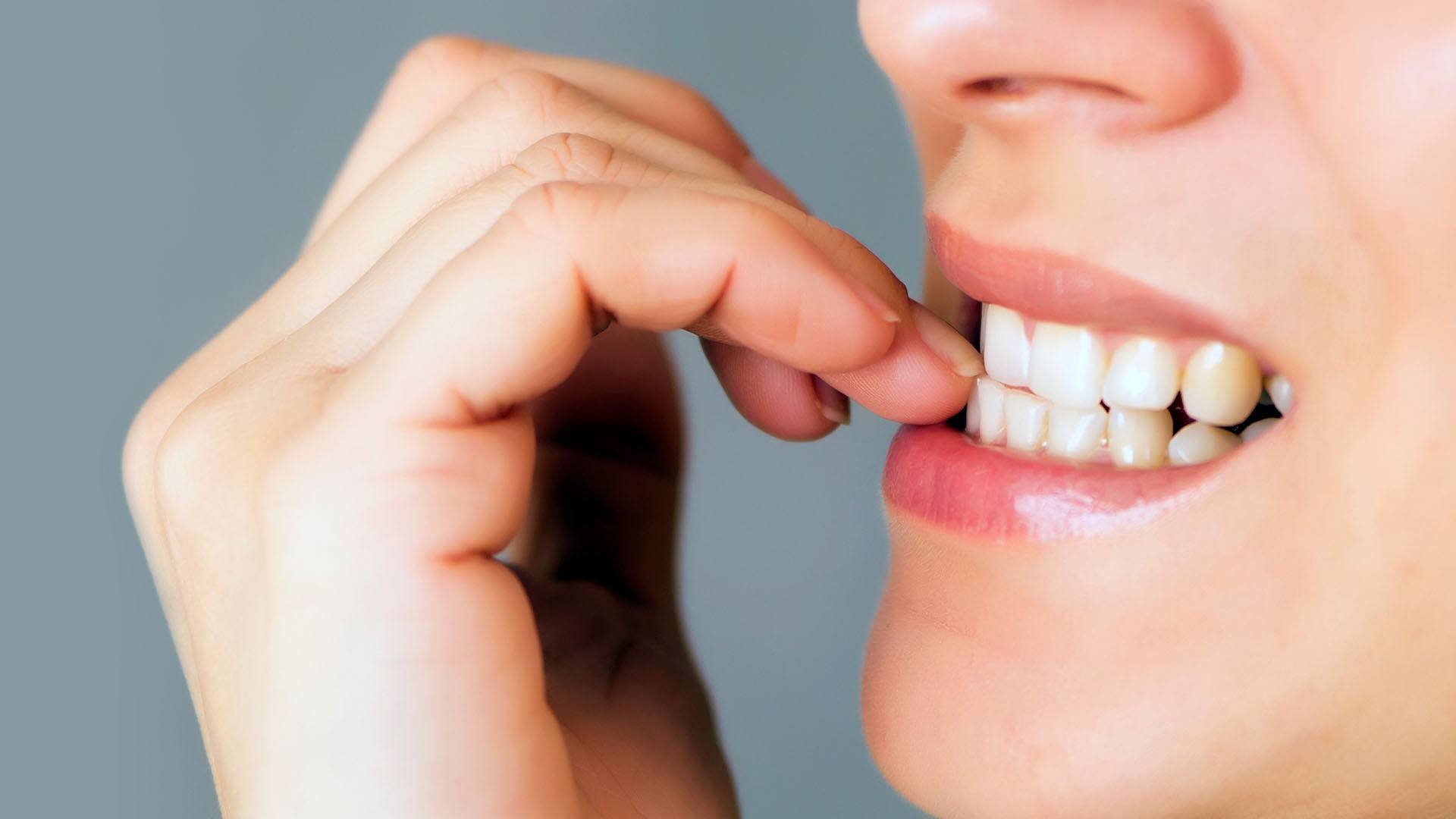 You know what they say: bad habits die hard. If you're prone to nail biting, you aren't alone. And while this habit may bring you instant satisfaction or relief, in the long run you know it's better to give it up and be able to grow healthy nails. Sound familiar? If you're on a quest to learn how to stop biting nails, you've come to the right place. With certain key tips and tricks, including wearing special nail biting polish, you can resist the urge and work to break your nail biting tendencies. Ready to call it quits? Read on to learn how to stop biting your nails.
WHY DO PEOPLE BITE THEIR NAILS?
Before we go over a few tips on how to stop biting nails, let's talk about what causes this habit in the first place. The American Academy of Dermatology (AAD) states that nail biting typically begins in childhood and can continue through adulthood. The habit can be triggered due to various factors, depending on the person, including hangnails, boredom, stress, and anxiety.
HOW TO STOP BITING YOUR NAILS
There's more than one way to prevent nail biting, but not every method will work for every person. Take note of our tips below and find which works best for you.
TIP #1. WEAR NAIL BITING POLISH
If you weren't already aware, there's nail polish specifically designed to curb the habit of biting nails. This over-the-counter nail polish has a safe formula that tastes horrible, according to the AAD, discouraging nail biters from continuing with their habit.
TIP #2. KNOW YOUR TRIGGERS
Like we mentioned, there are quite a few triggers that can lead to nail biting. The AAD recommends identifying these triggers so you can avoid them when possible and be aware when a situation that may create temptation is arising.
TIP #3. KEEP YOUR NAILS SHORT
While you may long for long nails, the excess length is more likely to have you return to your bad habits. Instead, the Mayo Clinic recommends keeping your nails trimmed short to play it safe.
TIP #4. WEAR PRESS-ON NAILS
Not quite ready to part with the idea of having long nails? Get the best of both worlds and give press-on nails a try. Yes, fake nails are in—and they've been seriously upgraded since you were younger. With the help of nail glue and a trendy press-on kit, you can cover your actual nails, keeping them out of harm's way if you go to bite.
TIP #5. TAKE A GRADUAL APPROACH
Like we said, habits are hard to break, so don't beat yourself up if you're struggling to quit nail biting for good. Sometimes, it's easiest to take things one step at a time. If you want to give the gradual approach a try, the AAD suggests starting with not biting one set of nails. This means you'd first make an effort to leave your thumbs alone, then your pointer fingers, and so on.
TIP #6. GET A MANICURE
Book an appointment at the salon, and you're much more likely to resist the urge to bite your nails. After all, you wouldn't want to ruin the manicure you just spent money on, would you? Whether you simply get your nails painted or decide to give tips a try, this is a great option for keeping your nails away from your mouth.
TIP #7: ALWAYS HAVE A NAIL FILE ON HAND
Even if you've mostly kicked your nail biting habit, if a nail breaks, you may try to smooth things out with your teeth. Instead of giving into that draw, make sure you have a nail file at your desk, in your bag, on your vanity, and anywhere else you may need one, and quickly file any rough edges before turning to biting as a solution.
TIP #8. FIND A REPLACEMENT
If you don't stay busy, you'll be all the more tempted to bite your nails. You know what they say about idle hands! Find a replacement for the habit, such as squeezing a stress ball. You can also take this as an opportunity to pick up a new hobby, like playing an instrument or a sport—anything that keeps your hands and mind busy.
Next up: Looking for a good habit to pick up? Check out our article, How to Get Motivated to Workout.
Discover more tips & tricks
Keep your skin happy
See all articles
Improve your routine
Show your new look more love:
makeup