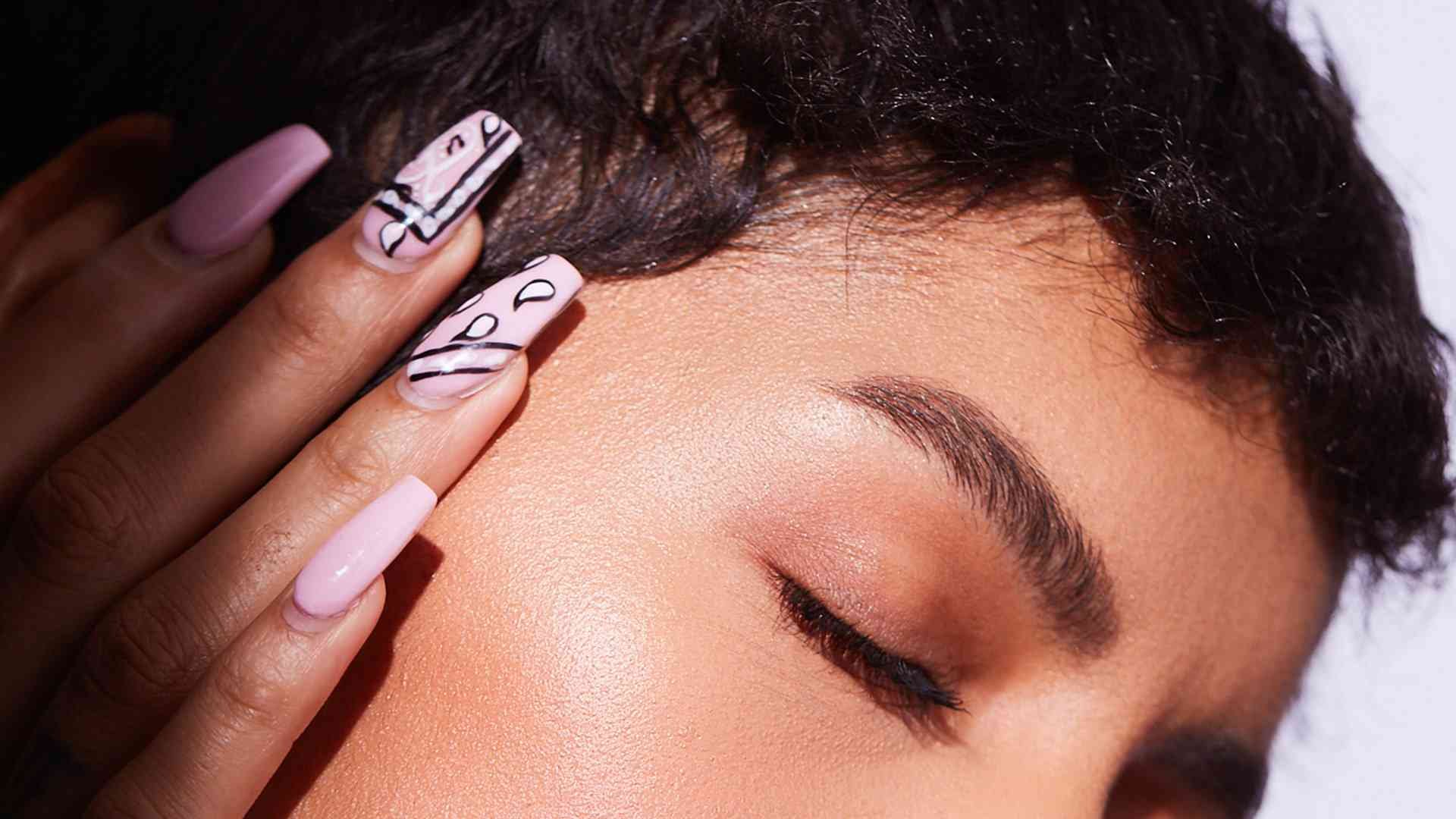 beauty looks
How To Safely Remove Acrylic Nails At Home
There's no denying that acrylic nails are totally Instagramable, but they're not exactly the easiest to remove on your own once you're ready for your next beauty look. (Jelly nails for winter anyone?) You definitely can't just rip them off—you'll regret it if you try! You can head to the salon and have a nail technician remove your acrylics—then redo your nails for you. But if going to your salon or favorite nail tech is not an option, you may have to just remove those acrylic nails on your own at home. While learning how to remove fake nails may seem intimidating, bringing you back to that idea of ripping off your nails, we promise it's actually quite simple. Below, we're sharing a few of our favorite methods for at-home acrylic nail removal, including two ways to remove acrylic nails without acetone.
How To Remove Acrylic Nails At Home
There are a few tried-and-true methods when it comes to removing acrylic nails at home. Whether you're rocking a classic French mani on almond-shaped faux nails or just indulged in some cool neons, you can take your pick from the removal options below.
Option #1: Acetone Soak
One of the most common and foolproof ways to remove acrylic nails is to do an acetone soak. This is typically the same process that's used at salons. As for what it entails, exactly, simply follow the steps below.
What you'll need: Nail clippers, nail file, acetone nail polish remover, petroleum jelly, cotton balls and aluminum foil.
How To Execute: Use a nail clipper to cut your acrylics as short as possible. The less nail you're left to work with, the better! Then file and buff the tops of your nails to remove any nail polish that was applied on top of your acrylics. Prep your cuticles for your acetone soak by applying some petroleum jelly to cuticles and fingers. Next, saturate a cotton ball with acetone nail polish remover and place it on top of and around your nail. Then wrap the nail with a piece of aluminum foil and let the soaking begin. Repeat for each nail.
Let your aluminum foil nails be for about 20 minutes or so (now would be the perfect time to catch up on your favorite podcast or TV show!). Once time is up, gently lift the aluminum foil on one of your nails. If the acrylic doesn't start to come off easily, leave your nails to soak for an additional five to ten minutes.
Option #2: Non-Acetone Soak
If you're wondering how to remove fake nails without acetone, we have you covered. If an acetone-free method is your preference, this acrylic nail removal technique will help you.
What you'll need: Nail clippers, tweezers or a cuticle stick, acetone-free nail polish remover and a bowl.
How To Execute: Again, begin by clipping your nails as short as possible. Then using a pair of tweezers or a cuticle stick, gently pry and lift the edges of your acrylics. Keyword: Gently! Pour some acetone-free nail polish remover into a bowl, making sure to pour enough so your nails can be fully submerged, and put your fingers in. Wait 30 to 40 minutes or more if needed. When the nail starts to loosen, reach for your tweezers once more to pull the acrylics off your actual nails. This process may take longer but won't leave your nails and cuticles as brittle and dry as acetone can.
Option #3: Dental Floss
Another way to remove your acrylic nails sans acetone is to use a bit of dental floss. Yes, you read that right—dental floss! This thin piece of string can be used for more than just healthy teeth and gums. That said, this technique can cause damage to your actual nails, so it's best used when your acrylics have already begun to come loose.
What you'll need: Cuticle stick, dental floss, and someone to assist.
How To Execute: First, grab your cuticle stick and gently lift the edges of your acrylics with it. If your acrylics have already begun to come loose, you may not need to do much for this step! Then enlist the help of your roommate, partner, or a friend. You'll need another person for most of this removal process. After the edges of your nails have been lifted, have them insert a piece of dental floss under the acrylic nail. Carefully move the floss down the nail in a sawing motion until the acrylic pops off. And voilà!
What To Do After You Remove Acrylic Nails
Now that you've gotten those acrylics off, let's talk post-manicure removal. When you remove your acrylics, you may be left with some residue. Use a nail file to buff the tops of your nails and smooth the edges. Your cuticles will also be needing some love so apply cuticle oil generously to soften and care for your them. And finally, show your hands need TLC and reach for the L'Oréal Paris Age Perfect Hydra Nutrition Manuka Honey All Over Balm - Face, Neck, Chest and Hands to wrap your skin in soothing moisture.
Next: How To Choose The Right Nail Shape
Discover more tips & tricks
Keep your skin happy
See all articles
Shop Featured Skin Care products
Discover More