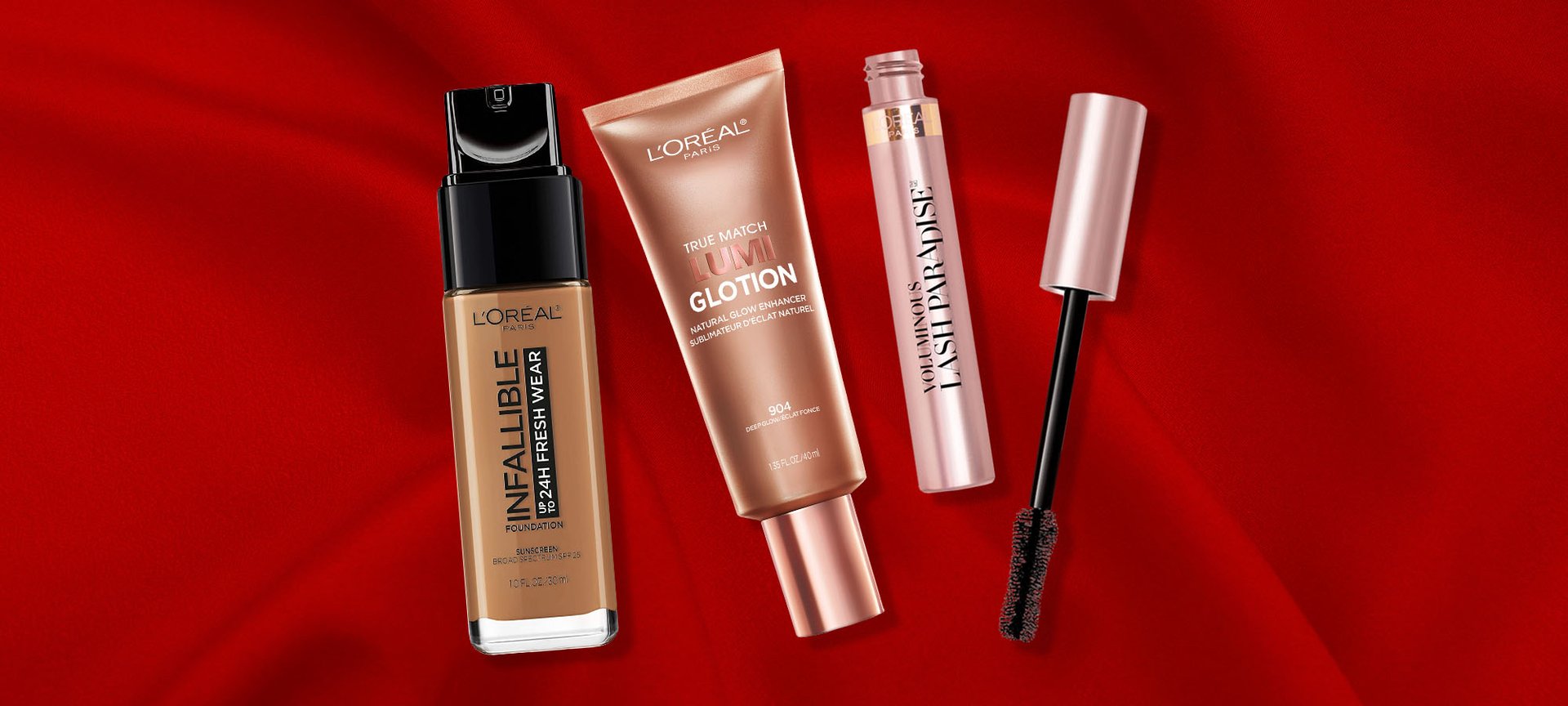 beauty looks
10 Products To Help You Get Camila Cabello's VMAs Glow
Recreate this red carpet look.

Awards season is here and that means a new season of celebrity red carpet makeup looks to enjoy. This week one of our favorite faces, L'Oréal Paris spokesperson Camila Cabello, made a colorful statement at the MTV Video Music Awards (VMAs) with a bold and beautiful pink monochromatic eye. Want to recreate her stunning awards show style? Below we're sharing all the L'Oréal Paris makeup products you need to get the full Camila Cabello VMAs glam.
This long-lasting foundation is made for the spotlight. It has a lightweight formula that's waterproof, transfer-resistant, and sweat-resistant. The ultra-thin liquid goes on smoothly, is non-comedogenic, and formulated with broad-spectrum SPF 25—not to mention it comes in 40 shades, so there's one for every skin tone.


Show your fans (and followers) your freshest face with this foundation that has a weightless texture but still gives full coverage and a natural, matte finish. The formula feels breathable and weightless leaving skin feeling comfortable for up to 24hrs. With a blurring effect and all day matte finish, this powder evens skin tone with no transfer. It's waterproof, heatproof and sweatproof. Wear it on its own or use it to set your liquid foundation.
Achieve rosy sun-kissed cheeks with this powder blush that seamlessly enhances cheekbones with a delicate glow. It's available in two shades for a faux sun-lit beauty look that's fit for a celebrity.
This highlighting glow lotion delivers an illuminating tint to enhance your skin's natural glow for a healthier, brighter-looking complexion. It's infused with glycerin and shea butter and provides all-day, continuous hydration. This liquid highlighter can be worn alone, under foundation, or on targeted areas for a more luminous effect.
This mist can be used to prime, set, and refresh your makeup to give your skin a natural-looking, healthy glow in just one spritz. Formulated with coconut water and vitamin C, your skin will get a lasting boost of hydration.
Get enchanted with 12 captivating warm eyeshadow shades including creamy ivory, rosy nudes, bronzed ambers and pops of coral pinks. Ranging from shimmering pearls to matte finishes, it has everything you need to create endless enchanting eyeshadow looks. The soft, velvety texture allows for ultra-blendable application and rich color pay off. It's also infused with an enchanting fruit scent for an ultimate sensorial experience.
This long-wearing, full-coverage liquid lipstick feels light for all day comfort. Use it on the lips or get creative like Cabello's makeup artist and add a touch to the inner corner of the eyes to give them some extra drama.
This luxe yet affordable mascara features a soft, wavy bristle brush that catches every lash for a dramatic volumizing effect. You'll get a full lash fringe that's feathery soft with no flaking or clumping.
Our classic satin-finish lipstick is formulated with nurturing ingredients like argan oil and sesame seed oil, and leaves your lips feeling soft and moisturized. This lipstick is available in four vibrant color families — red, berry, pink, and nude — so there's something for every look. The lipstick won't smudge, bleed, migrate, or feather.
This one-of-a-kind clear waterproof topcoat can be used by itself or on top of a brow pencil to set your brows with a laminated look. It can last up to 30 hours, and is smudge- and transfer-resistant and quick-drying. It works to seal in companion products and keep your brow hairs in place through the entire event — no matter how long the acceptance speeches get. It also has a precise spoolie applicator to ensure you don't miss any hairs.

Next: How To Recreate Camila Cabello's Makeup Looks From 'Cinderella'


Written by: Lauren Paige Richeson, Photo Design: Sarah Duvivier
{ "@context": "https://schema.org/", "@type": "WebPage", "speakable": { "@type": "SpeakableSpecification", "cssSelector": ["speakable-content"] }, "url": "https://www.lorealparisusa.com/beauty-magazine/beauty-tips/beauty-looks/camila-cabello-vma-makeup" }
Discover more tips & tricks
See all articles
Improve your routine
Show your new look more love:
makeup
{ "@context": "http://schema.org", "@type": "BreadcrumbList", "itemListElement": [ { "@type":"ListItem", "position": 1, "item": { "@id": "/", "name": "Home" } } , { "@type":"ListItem", "position": 2, "item": { "@id": "https://www.lorealparisusa.com/beauty-magazine", "name": "Beauty Magazine" } } , { "@type":"ListItem", "position": 3, "item": { "@id": "https://www.lorealparisusa.com/beauty-magazine/beauty-tips", "name": "Pro Ideas For Your Unique Look" } } , { "@type":"ListItem", "position": 4, "item": { "@id": "https://www.lorealparisusa.com/beauty-magazine/beauty-tips/beauty-looks", "name": "Beauty Looks" } } , { "@type":"ListItem", "position": 5, "item": { "@id": "https://www.lorealparisusa.com/beauty-magazine/beauty-tips/beauty-looks/camila-cabello-vma-makeup", "name": "camila-cabello-vma-makeup" } } ] }