Panel 1

Panel 2

Panel 3

Panel 4
Elvive
Dream Lengths Curls Moisture Push Shampoo
Say hello to dream curls with this creamy, shampoo best for wavy to curly hair. The paraben-free formula locks in moisture and is great for damaged hair, color-treated hair and frizzy hair.
$9.49
PRODUCT DETAILS

Dream Lengths Curls Moisture Push Shampoo fills curls with moisture for up to 72 hours without weigh down. It's formulated with castor oil to help define curls by sculpting and retaining shape and hyaluronic acid to help lock in long-lasting moisture for deeply hydrated curls. In addition to offering a sweet, fruity, floral scent, when used with the Dream Length Curls system it:

 • Cleanses without stripping hair of moisture
 • Reveals bouncy, soft curls without weigh down
 • Sculpts and retains curl shape
 • Fights humidity
WHO SHOULD USE

Reach for this shampoo if you have any of the following:

 • Curly hair
 • Coily hair
 • Wavy hair
 • Textured hair
 • Frizzy curls or waves
WHEN TO USE

Wash with Dream Lengths Curls Moisture Push Shampoo as the first step in your wash day routine.
HOW TO USE

Use as the first part of the Dream Lengths Curls system, following these steps:

Step 1. Apply the shampoo to wet hair
Step 2. Massage and lather, then rinse
Step 3. Follow with Dream Lengths Curls conditioner and rinse with cold water for shiny curls
Step 4. Apply Dream Lengths Non-Stop Dreamy Curls Leave-In Cream
INGREDIENTS

Main Ingredients:

Hyaluronic Acid: Hyaluronic Acid (HA) is a potent hydration-attracting molecule naturally found in the skin. It forms an imperceptible film on the skin which also prevents moisture loss. Hyaluronic acid is a safe ingredient used by dermatologists for its intensely hydrating and replumping properties — it has similar moisturizing and humectant properties when in contact with hair fibers.

Castor Oil: Castor oil is extracted from crushed seeds of the castor plant, and is comprised of 90% ricinoleic acid, a hydroxyl containing fatty acids. These fatty acids provide emollient properties that help minimize moisture loss, thus improving hydration. It has also been known to give hair increased shine.

Other Ingredients:

Water, Sodiumlaurethsulfate, Sodiumlaurylsulfate, Cocamidopropylbetaine, Sodiumchloride, Glycoldistearate, Hexyleneglycol, Fragrance, Cocamidemea, Sodiumbenzoate, Sodiumhydroxide, Citricacid, Dimethicone, Carbomer, Coco-Betaine, Salicylicacid, Guarhydroxypropyltrimoniumchloride, Glycerin, Amodimethicone, Ricinuscommunisseedoil/Castorseedoil, Trideceth-10, Hexylcinnamal, Benzylsalicylate, Linalool, Benzylalcohol, Limonene, Alpha-Isomethylionone, Peg-100Stearate, Steareth-6, Sodiumhyaluronate, Phenoxyethanol, Coumarin, Citronellol, Hydroxycitronellal, Geraniol, Trideceth-3, Fumaricacid, Aceticacid Fil Code T283617/1
See why this is the perfect shampoo to give your curls a spring refresh

READ MORE
Transform lifeless, dry curls into luscious, dreamy curls.
A cocktail of hyaluronic acid and fine castor oil hydrates curls while it gently cleanses.
The Elvive Dream Lengths Curls regimen helps lock in long-lasting moisture for deeply hydrated curls that feel soft and bouncy and retain shape.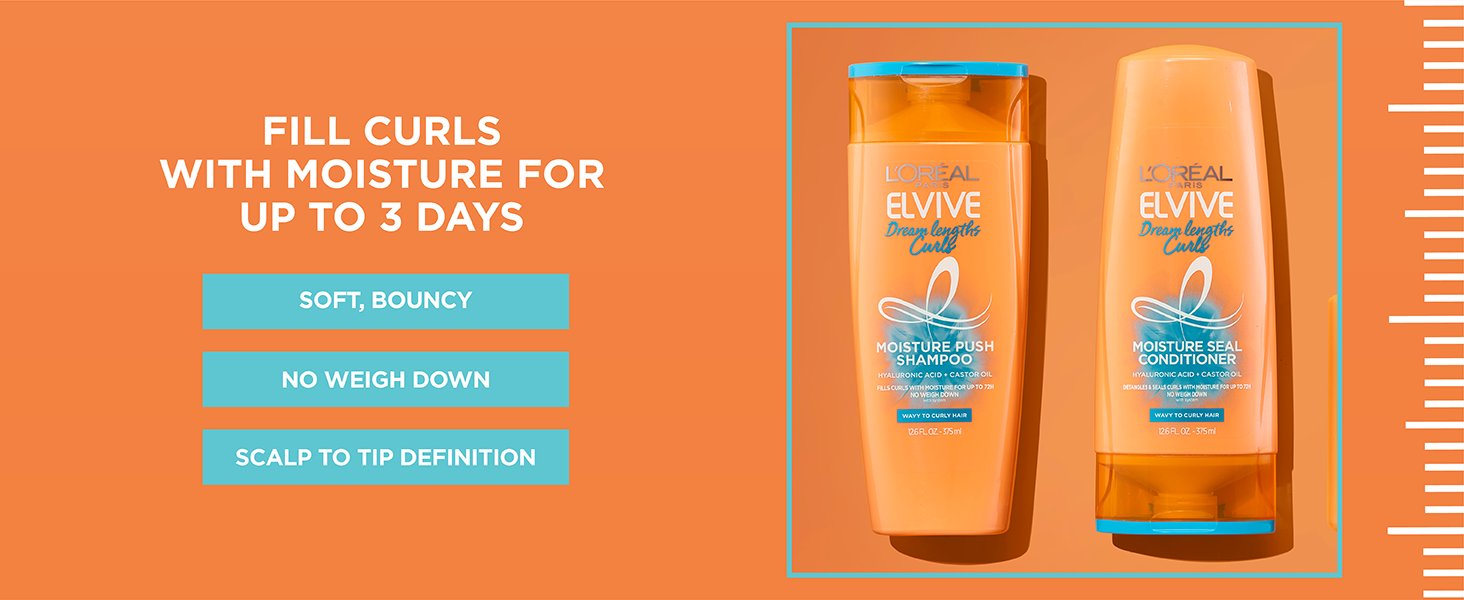 Ratings and Reviews
Complete the look
28 Oz
Elvive
Dream Lengths Curls Moisture Push Shampoo