skin care essentials
How to Remove Dead Skin Cells From Your Face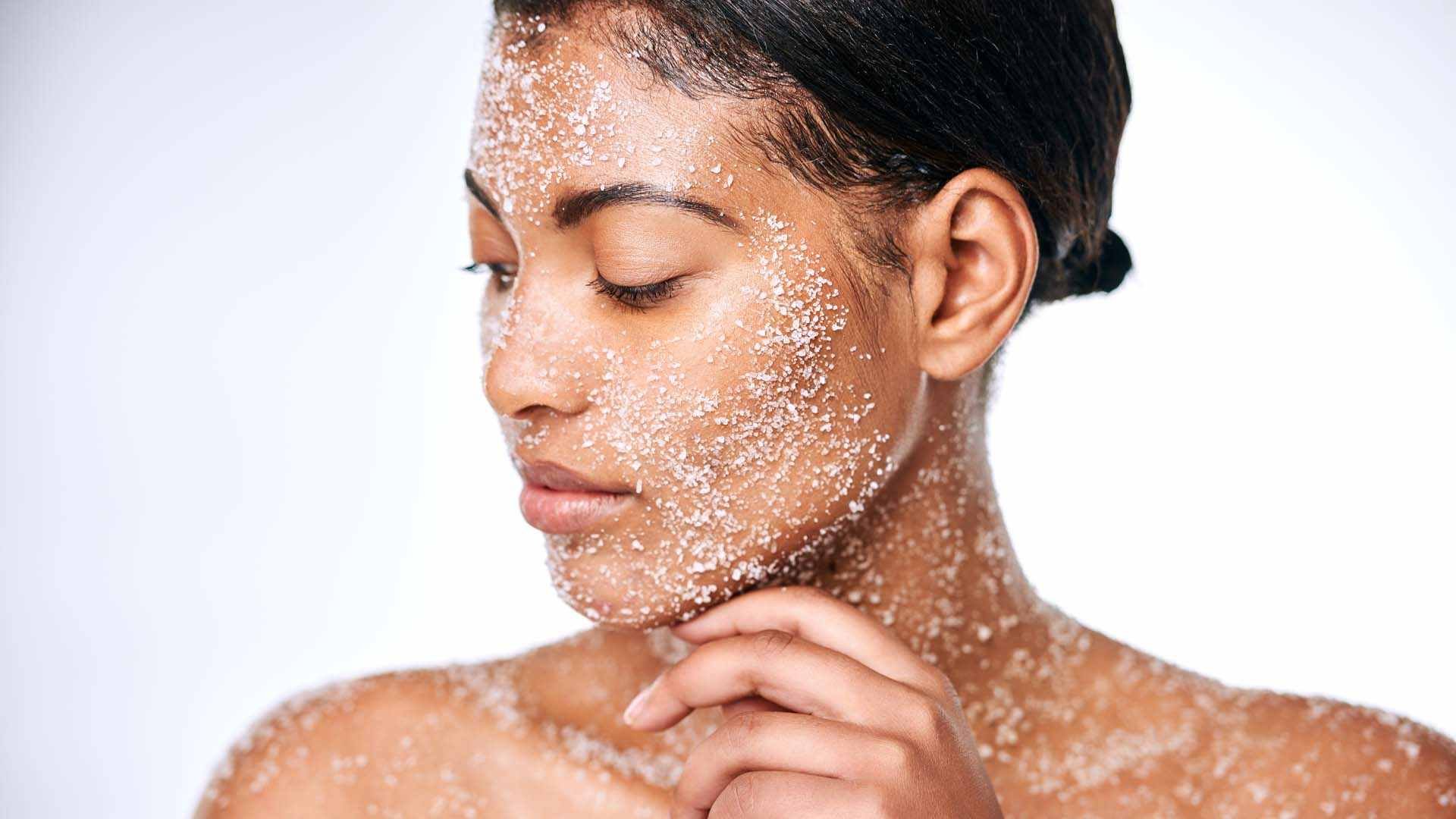 When it comes to keeping your face in tip-top shape, you likely enlist the help of a solid skin care routine. No matter how many skin care products you arm yourself with, however, dead skin cells will eventually make an appearance. When that dead skin isn't sloughed away, it can cause your complexion to look dull and feel rough. If you're looking to keep this skin care concern at bay, as we suspect you are, it's time you learn the fundamentals of exfoliation. Follow along as we share five tips to help you master how to remove dead skin from your face.
WHAT CAUSES DEAD SKIN CELL BUILDUP?
Before we dive into how to remove dead skin, it's only right we explain what causes this pesky buildup. Like many skin care concerns, there is a myriad of reasons why dead skin on your face can become a concern. While dead skin cells are 100 percent normal and part of how your skin refreshes itself, they can build up over time, which is when it can take a toll on your complexion.
The main culprit behind this buildup is none other than failing to exfoliate your face. Exfoliating regularly helps to sloughs away dead skin cells. This means you'll need to learn how to exfoliate in order to keep your skin shape.
Other reasons for dead skin cell buildup include aging (skin cell renewal slows down with age), dry skin, and environmental factors.
5 TIPS TO REMOVE DEAD SKIN CELLS FROM YOUR FACE
Now we're getting to the aspect of this topic you're probably most interested in—learning how to remove dead skin from your face. Follow our five tips below to work your way to more healthy-looking and vibrant skin.
TIP #1: PICK UP A FACE SCRUB
When dead skin cells are getting you down, take matters into your owns hands with a face scrub. Face scrubs are a form of mechanical exfoliation that allows you to physically slough away dead skin cells from your skin's surface.
Try using the L'Oréal Paris Pure-Sugar Resurface & Energize Kona Coffee Scrub, L'Oréal Paris Pure-Sugar Nourish & Soften Cocoa Scrub, or the L'Oréal Paris Pure-Sugar Smooth & Glow Grapeseed Scrub. All three scrubs are formulated with a blend of three-pure sugars to effectively remove dirt, oil, and impurities from the surface of the skin and gently polish away the look of dull skin.
TIP #2: USE THE RIGHT TOOLS
Believe it or not, there are a few beauty tools you can use to remove dead skin. These tools are an excellent way to amp up your skin care routine while adding some exfoliation into the mix. Not to mention, they are great for mechanical exfoliation if you want to give your scrubs a break. Pick your potion below.
1. Facial exfoliating brush. If you make it a point to stay on top of beauty trends, then you're likely familiar with facial exfoliating brushes. Designed to be used on damp skin with a cleanser, this tool comes in handy to give your skin a deep clean while removing dead skin at the same time. Available in electric and manual offerings, face brushes can have a big impact on your dead skin routine.
2. Washcloth. Washcloths are likely a staple in your shower routine, but they can totally be used to exfoliate your face, too. Simply rubbing a washcloth over your face in circular motions is all you need to remove dead skin cells.
3. Microdermabrasion: If you love the idea of at-home treatments, microdermabrasion should definitely be on your radar for tackling dead skin. According to the American Academy of Dermatology, microdermabrasion is a non-invasive treatment that gently exfoliates the top layer of your skin. Keep in mind, however, that at-home treatments are not as effective as professional options.
TIP #3: TRY LIQUID EXFOLIATORS
Another method we love for removing dead skin cells? Liquid exfoliators! A great way to enjoy the benefits of chemical exfoliation, these formulas use mild exfoliants to dissolve dead skin. If your skin can't handle traditional exfoliants or if you're working with dry, sensitive, or acne-prone skin, liquid exfoliators are an excellent choice. Have your pick of our best liquid exfoliators below.
L'Oréal Paris HydraFresh Toner: Want to refresh and remove dead skin all at once? This toner will make it happen! Formulated with pro-vitamin B5 and beta hydroxy acid, it helps protect against moisture loss and gently sweeps away dull, tired-looking skin. It also boasts a gentle, non-drying formula that refreshes and softens skin for a smoother, brighter complexion. To use, saturate a cotton pad and smooth over face and neck for desired results.
L'Oréal Paris Revitalift Bright Reveal Brightening Daily Peel Pads: If you prefer a convenient, sink-free option, these daily peel pads will tickle your fancy. Formulated with glycolic acid, these pads gently yet effectively exfoliate dead skin cells and help renew the skin's surface layer. Best of all, these peel pads help to resurface uneven tone and rough texture and reduce the appearance of wrinkles over time.
To use, simply smooth a peel pad gently over the skin at night. Be sure to follow up with a broad-spectrum sunscreen with an SPF of 15 or higher daily, like the L'Oréal Paris Revitalift Bright Reveal Brightening Day Moisturizer SPF 30 for proper sun protection.
L'Oréal Paris Revitalift Derm Intensives 10% Pure Glycolic Acid Serum: Say goodbye to dead skin with the help of this face serum. Featuring 10% pure glycolic acid and aloe, this serum will leave your skin feeling smoother and visibly refined. In one week, skin is resurfaced and younger-looking. Over time, skin tone is more visibly even, and dark spots and wrinkles are visibly reduced.
To use, apply four to five drops onto clean skin every night before using a moisturizer. Follow up with the L'Oréal Paris Revitalift Triple Power Day Lotion SPF 30 in the morning to protect skin from the sun's harmful rays.
TIP #4: REACH FOR A FACE MASK
While a pampering session may not be on your agenda, you'd be surprised what the right face mask can do for your skin troubles. Since dead skin cells can accumulate on your face every day, it doesn't hurt to go the extra mile in your routine. And that's where an exfoliating mask for dead skin, like the L'Oréal Paris Pure-Clay Exfoliate & Refining Face Mask, works its magic.
Formulated with kaolin, montmorillonite, and Moroccan lava clays and enhanced with red algae extract, this clay mask draws out the buildup of impurities, dirt, and oils, exfoliate dead skin cells and smooths the look of imperfections. To use, smooth an even layer of the creamy mask to clean, dry skin, making sure to avoid your eye and lip areas. After 10 to 15 minutes, remove the mask with lukewarm water, using circular motions to exfoliate.
Editor's note: Keep in mind, you shouldn't be using every dead skin cell tip out there. Pick one or two to try and don't do them at the same time—you don't want to over-exfoliate your skin.
TIP #5: MOISTURIZE, MOISTURIZE, MOISTURIZE
Last but certainly not least, you'll need to seal the deal with a moisturizer. Since exfoliation can sometimes make skin feel dry, it's essential to follow up with this skin care essential to keep your complexion healthy and balanced. Layer on the L'Oréal Paris Hydra Genius Daily Liquid Care - Normal/Oily Skin, L'Oréal Paris Hydra Genius Daily Liquid Care - Normal/Dry Skin or L'Oréal Paris Hydra Genius Daily Liquid Care - Extra Dry Skin. Formulated with aloe vera water and hyaluronic acid, these water-based formulas will provide skin with intense hydration that lasts.
Discover more tips & tricks
Keep your skin happy
See all articles
Shop Featured Skin Care products
Discover More