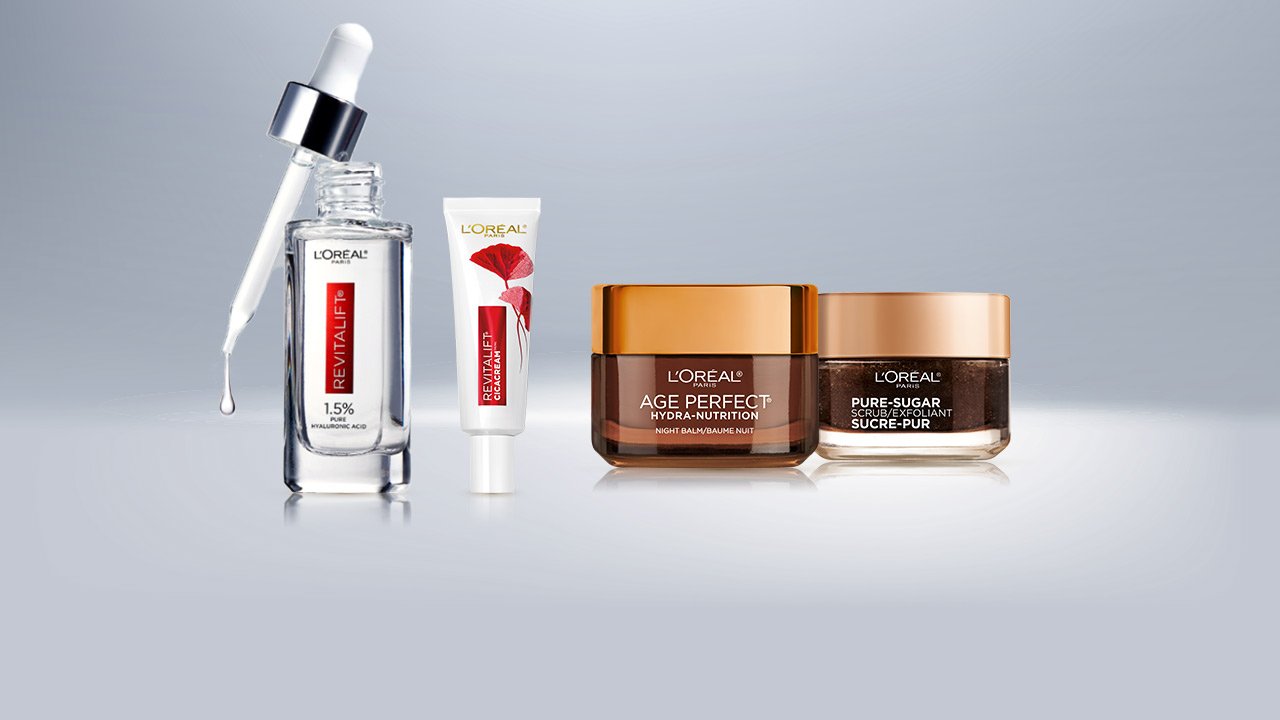 skin care essentials
16 Skin Care Products and Trends Everyone Should Try in 2021
Finding the right way to upgrade your skin care routine can prove to be a tricky task. A quick browse of the best skin care products and trends proves that you have endless options. One day you could be trying out the cloudless skin trend and the next, you could be experiencing the joys of a new serum. Either way, it's a win-win for your complexion. While the new year is sure to bring plenty of unknown skin care trends and products, there are some, like glycolic acid serums and double cleansing, we're already confident have earned a place in 2021. Without further ado, here are 16 good face products and trends to put on your beauty radar.
1. CLAY FACIAL CLEANSER
Using facial cleanser should be a strict, twice a day occurrence regardless of your skin type. Instead of sticking to tradition, level up your routine with a clay facial cleanser, like the L'Oréal Paris Pure-Clay Exfoliate & Refine Cleanser. This exfoliating pick is formulated to remove everyday impurities from the surface of your face without over-drying. Squeeze a small amount of the cleanser into your hands, add water to transform it from clay to mousse, and gently massage the formula over your face. Rinse thoroughly with lukewarm water and pat dry.
2. MINI MAKEUP AND SKIN CARE FRIDGES
You don't have to store your skin care essentials that you like to keep cool with your food in the refrigerator. Keep your beloved products in reach with a special fridge. Think about it: mini makeup and skin care fridges are almost too cute, and they won't force you to trek to the kitchen to complete your skin care regimen. Pick one up and start stowing your eye creams, jade rollers, and more inside for a delightfully chill routine.
3. WATER-BASED MOISTURIZER
If your go-to moisturizer just doesn't cut it anymore, it may be time to switch to a water-based moisturizer. This alternative contains water as its main ingredient and has a lightweight feel that provides instant moisture. Give one a try, choosing based on your skin type. Oily skin types can benefit from a lightweight moisturizer with an oil-free formula, while dry skin might benefit from a richer option.
Have your pick from the L'Oréal Paris Hydra Genius Daily Liquid Care - Normal/Oily Skin, L'Oréal Paris Hydra Genius Daily Liquid Care - Normal/Dry Skin, and L'Oréal Paris Hydra Genius Daily Liquid Care - Extra Dry Skin. Each offering is formulated with aloe vera water and hyaluronic acid to provide hydration that lasts.
4. GLASS SKIN
Korean beauty trends have likely taken your skin to new heights over the last couple of years. The latest trend, glass skin, is set to follow suit. It delivers pore-less, baby soft, dewy skin that has a flawless appearance. This trend is also a fantastic option that can help you bring the no makeup, makeup look to life.
5. GLYCOLIC ACID SERUM
A few years ago, we might have been too afraid to introduce our skin to an acid. These days acids, like alpha-hydroxy-acids, have become a popular ingredient in the beauty world. A glycolic acid serum is a perfect way to get your complexion acquainted with them. Try the L'Oréal Paris Revitalift Derm Intensives 10% Pure Glycolic Acid Serum, which is formulated with 10% pure glycolic acid and aloe. The resurfacing serum clarifies your face to reveal radiant and renewed skin. With daily use after two weeks, dark spots are visibly improved. Within four weeks, fine lines and wrinkles are visibly reduced.
6. RETINOL
If you're obsessed with skin care like us, you may be familiar with retinol. This powerful ingredient goes the extra mile to address signs of aging, skin texture, and other common beauty concerns. So, if you're sold on the wonders of retinol, then it's only right to welcome it into your routine. Click through to our article, Our Best Skin Care Products with Retinol, for more information.
7. ANTI-AGING CICA CREAM
It's never too early to start an anti-aging skin care routine. Incorporating these products into your regimen from an early age can help maintain the skin's youthful look. Prep your face for the future with the help of cica cream. It's a moisturizer that complements aging skin and provides lasting hydration. That's why we love the L'Oréal Paris Revitalift Cicacream Face Moisturizer Pro-Retinol & Centella Asiatica. This lightweight, protective cream is formulated with Pro-Retinol and centella asiatica that helps strengthen and repair the skin barrier. It also resists the appearance of fine lines and wrinkles and loss of firmness. Smooth the cica cream over your face every morning and evening until thoroughly absorbed.
8. FRAGRANCE-FREE SKIN CARE
Let's be real—products formulated with fragrances tend to receive a bad rep. This proves to be true since certain ingredients can take a toll on sensitive skin. Thankfully, there are many fragrance-free products on the market that are suitable for all skin types. One of our favorites is the L'Oréal Paris Revitalift Anti-Wrinkle + Firming Moisturizer Fragrance Free, which is also paraben- and dye-free. This rich, non-greasy moisturizer visibly reduces wrinkles and firm skin. All you have to do is layer this essential over your face every morning and night to reap the benefits.
9. DOUBLE-CLEANSING
Sometimes, one cleansing session is not enough. When your face has been exposed to dirt, oil, and pollutants all day long, you need the power of two cleansers. This trend has been a staple for most women who already wear makeup, and it's also a fantastic method that can give your skin a refreshed look you desire at nighttime.
For those with dry skin…start with your everyday facial cleanser. Follow up with an oil or cream-based option like the L'Oréal Paris Age Perfect Nourishing Cream Cleanser, which is formulated to cleanse your face without over-drying.
If you have oily skin…cleanse your face with your go-to cleanser. Then, use a gel or foaming offering like the L'Oréal Paris Ideal Clean All Skin Types Foaming Gel Cleanser. This oil-free pick will gently remove debris and minimize pores leaving your skin feeling radiant as ever.
For those with combination skin…you want to use a cleanser that tends to all of your skin care concerns without stripping your face of oils. We recommend starting with a gentle pick. Follow up with the L'Oréal Paris Pure-Clay Detox & Brighten Cleanser to remove pollutants from your face and achieve a radiant glow.
If you're dealing with sensitive skin…products that provide your skin with a gentle cleanse should be your focus. After using your favorite cleanser, add the L'Oréal Paris Micellar Cleansing Water Complete Cleanser Waterproof – All Skin Types as your next step to remove impurities without the need for harsh rubbing.
10. FACE MASKS
Nothing takes pampering to the next level like a face mask. This essential has been around forever, but it's recently seen a resurgence in popularity thanks to the multi-masking trend (AKA applying different face masks to different areas of your face at the same time). Try a trendy clay mask, like the L'Oréal Paris Pure-Clay Detox & Brighten Face Mask, L'Oréal Paris Pure-Clay Exfoliating & Refining Face Mask, L'Oréal Paris Pure-Clay Clarify & Smooth Face Mask, or the L'Oréal Paris Pure-Clay Clear & Comfort Face Mask. To use any of the above options, apply a thin, even layer to cleansed skin. Leave on for 10 to 15 minutes and rinse. Use two to three times a week for best results.
11. COLOR-CORRECTING SKIN CARE
Color-correcting concealers and makeup had their time in the spotlight a couple of years ago, but now the trend is taking a new turn. While people are still correcting imperfections with color-correcting crayons, you also have the option of using the best skin care products that color correct for you.
The L'Oréal Paris Age Perfect Rosy Tone Anti-Aging Eye Brightener is an eye cream with a pretty pink hue that isn't just for show. The under-eye brightener visibly color corrects dark circles and leaves you with a smoother and brighter-looking eye area. Every morning, pat it around your eye and gently smooth until absorbed.
12. FACE SCRUBS
Dead skin cell buildup is an absolute no-no, but a face scrub can slough it all away and give you a clean slate. Choose from an on-trend sugar scrub, like the L'Oréal Paris Pure-Sugar Resurface & Energize Kona Coffee Scrub, L'Oréal Paris Pure-Sugar Nourish & Soften Cocoa Scrub, L'Oréal Paris Pure-Sugar Smooth & Glow Grapeseed Scrub, or L'Oréal Paris Pure-Sugar Purify & Unclog Kiwi Scrub.
Apply your face scrub of choice to clean skin with dry fingers. Massage over your face with wet fingers and rinse thoroughly with warm water. Use up to three times a week for best results. Bonus: You can also use any of these face scrubs on your lips.
13. MAKEUP WITH SKIN CARE BENEFITS
One of the most sought-after beauty traits is a dewy, highlighted complexion. While you may rely on makeup to deliver these results, there are good skin care products that can help you embrace both beauty trends. This is where the L'Oréal Paris True Match Lumi Glotion Natural Glow Enhancer comes into play. It's a skincare-makeup hybrid that works as a lightweight highlighter lotion to enhance your skin's natural glow, leaving you with a brighter and healthier-looking face. It's infused with glycerin and shea butter to provide lasting hydration.
14. HYALURONIC ACID SERUM
If hydration is at the top of your list, try a serum formulated with hyaluronic acid. The L'Oréal Paris Revitalift Derm Intensives 1.5% Pure Hyaluronic Acid Serum is so popular that one bottle sells every minute. This powerful facial serum will plump and nourish skin while helping to reduce the appearance of wrinkles with continued use over time. Even if anti-aging isn't your primary concern, this serum also provides essential hydration.
15. NIACINAMIDE
Niacinamide is another skin care ingredient receiving attention as of late, and that's something you can expect to continue through 2021. It's easy to see why niacinamide serums are slated to be something of a staple since the ingredient is known to address dark spots and visible signs of aging. Visit our article, What Is Niacinamide and Why Is Everyone Adding It To Their Routine, for the 4-1-1.
16. OVERNIGHT MASK
One of the best ways to maximize your beauty sleep is by applying an overnight mask before you hit the hay. Think of a night mask as a supercharged nighttime moisturizer. Add the L'Oréal Paris Revitalift Triple Power Anti-Aging Overnight Mask into your night routine. It's formulated with Pro-Retinol, hyaluronic acid, and vitamin C and works to penetrate the skin quickly and form a protective layer to cradle skin while you sleep. It also improves skin's firmness, and visibly reduces wrinkles over time to give you a youthful-looking complexion. Smooth it over your face, neck, and jawline at night until absorbed.
Next up: If you're not too sure about working these new trends and products into your routine, we can help. Check out Your Best Skin Care Routine For Every Day, Week, and Month for some pointers.
Discover more tips & tricks
Keep your skin happy
See all articles
Shop Featured Skin Care products
Discover More