skin care concerns
How To Manage Dry Skin In The Winter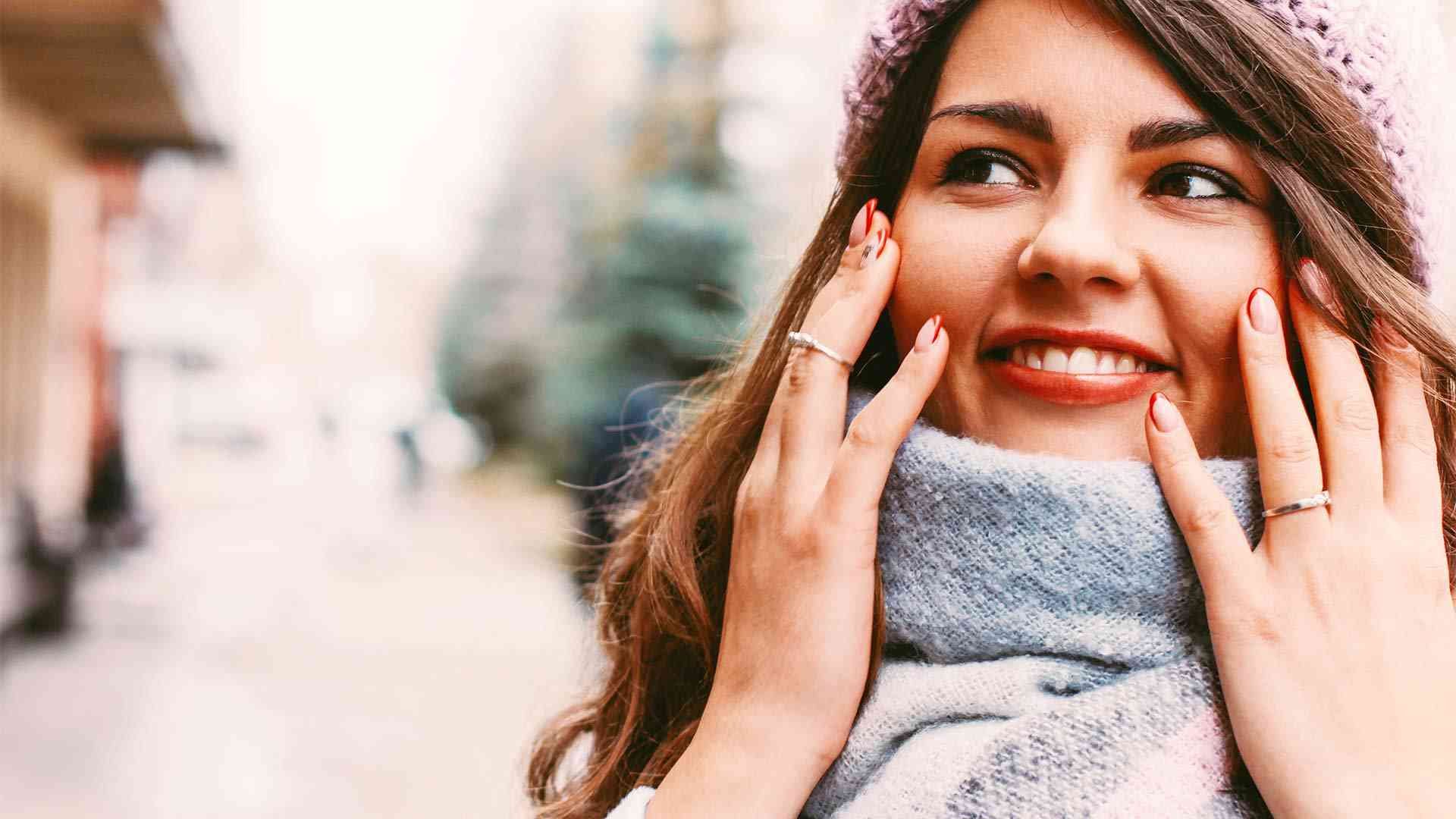 As if the freezing cold temps and super-short days weren't enough, you might also have dry skin and hands to look forward to this winter. What a bummer. Well, just like you swap out your summer wardrobe in favor of cozy sweaters and boots when temperatures drop, the same rule should apply to your skin care products. It's important to switch up your daily skin care routine for one that's better suited to the frigid weather. To help you better understand how to update your skin care routine, we're sharing what can cause dry skin in winter and what you can do about it.
7 Causes of Dry Skin In Winter
When it comes to having drier than dry skin from December to February, it isn't as simple as blaming the time of year. Yes, the shifting seasons can wreak havoc on your skin, but they aren't the only source of your skin care concerns. Below, find out what could be contributing to your dryness in order to have a balanced complexion all year round.
Dry Skin In Winter Cause #1: Dry Air and Cold Temperatures
Most of the time, winter brings about drier air and colder temperatures, and the resulting lower moisture levels in the air can lead to dry skin. Not only that, the Mayo Clinic states that central heating, wood-burning stoves, space heaters, and fireplaces all reduce humidity and dry your skin. So, while you may simply be trying to keep warm, sitting or sleeping in a room with the heat blasting can also lead to dry skin in winter. What can you do? Invest in a humidifier and place it next to your bed to help counteract the drying effects.
Editor's note: If you're debating whether a humidifier is a worthwhile purchase, find out How Using a Humidifier Can Benefit Your Skin.
Dry Skin In Winter Cause #2: Over-Cleansing
Washing your face twice per day is a skin care must to help remove dirt, oil, and grime that has built up on the surface of your skin. But, cleansing more than twice a day can be too much for your complexion to take, especially in the winter. If you have dry skin during the winter, reach for a no-rinse cleansing option that doesn't require you to rub your skin harshly. Try a micellar water, like the L'Oréal Paris Micellar Cleansing Water Complete Cleanser Waterproof - All Skin Types, which hydrates and purifies—a skin care must during colder months. Micellar water is powered by tiny micelles—oil molecules—that act as a magnet to lift dirt and oil up and away from your skin. Just saturate a cotton pad and wipe it across your face.
Alternatively, a cream cleanser will remove impurities without drying out your skin. Try our L'Oréal Paris Age Perfect Nourishing Cream Cleanser, which contains replenishing oils for softer, smoother skin.
Editor's note: If you're heading on vacation this winter, micellar water is a great travel-friendly skin care product since you don't have to be near a sink to use it. In related news, here are 5 Travel Skin Care Hacks To Use On Your Next Vacation.
Dry Skin In Winter Cause #3: Skipping Moisturizer
Whether you have oily skin, dry skin, normal skin, or something in between—do not, we repeat, do not skip out on applying moisturizer, especially in winter. Your skin needs daily hydration, which is why moisturizer should play a starring role in your skin care routine.
Since the air can be drier during winter (and you're probably spending a lot of time in artificial heating), you may want to consider changing up your moisturizer. If you have dry skin in the winter, pick up the L'Oréal Paris Hydra Genius Daily Liquid Care - Normal/Dry Skin or L'Oréal Paris Hydra Genius Daily Liquid Care - Extra Dry Skin. Both of these water-based moisturizers are formulated with aloe vera water and hyaluronic acid to give your skin a boost of long-lasting hydration. Smooth on after cleansing morning and night.
If you're looking to pamper your dry skin with a moisturizer that also offers anti-aging benefits, try the L'Oréal Paris Revitalift Cicacream Face Moisturizer Pro-Retinol & Centella Asiatica. This anti-wrinkle and skin barrier repair cream works to reduce the appearance of fine lines and wrinkles while helping to firm and hydrate, too.
Dry Skin In Winter Cause #4: Neglecting Serum
Instead of simply relying on your daytime or nighttime moisturizer to hydrate your skin, consider layering another hydrating product, like a serum, beneath your face cream or lotion. Apply a lightweight, hydrating serum underneath your moisturizer to deeply nourish skin and keep it protected from the harsh heat and elements. Try the L'Oréal Paris Revitalift Derm Intensives 1.5% Pure Hyaluronic Acid Serum, which is formulated with hyaluronic acid and will leave you with smoother, more hydrated skin.
Editor's note: Facial serum isn't just beneficial during the winter months—you should be using it in your skin care routine no matter the season. Read our article, What Is a Face Serum and Why Should You Use One, to learn more.
Discover more tips & tricks
Keep your skin happy
See all articles
Shop Featured Skin Care products
Discover More