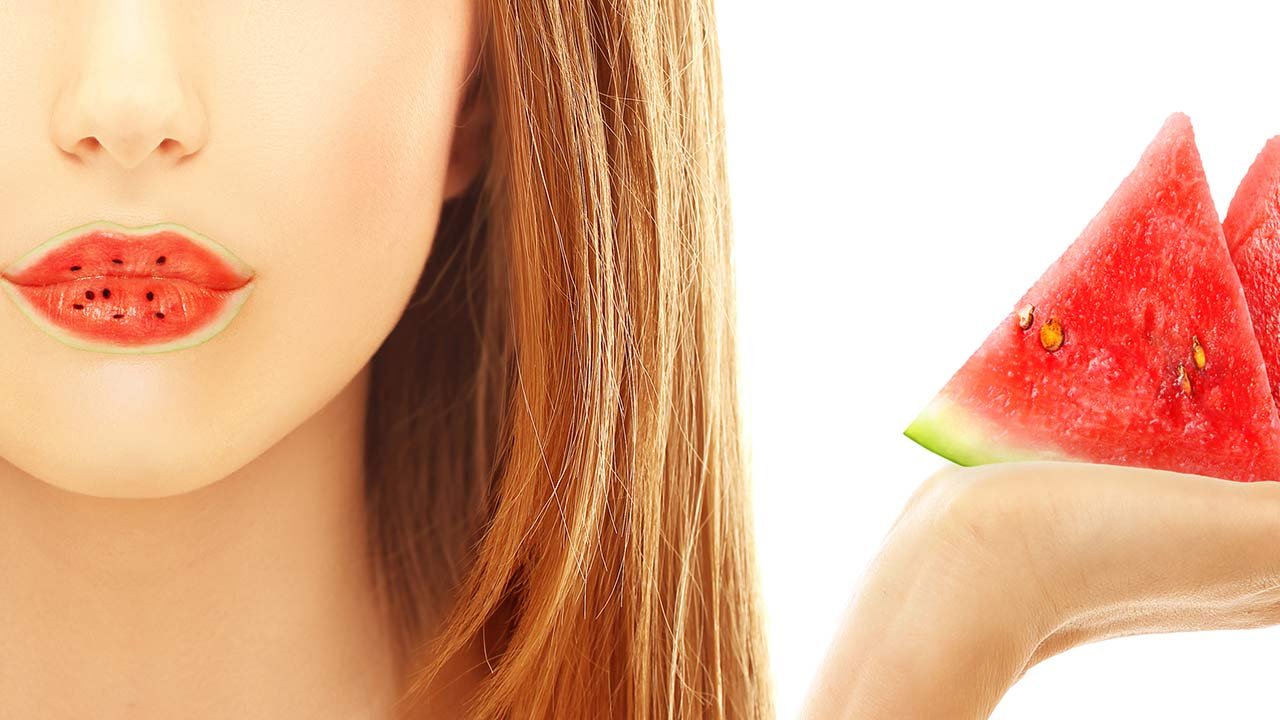 makeup looks
How to Embrace the Watermelon Makeup Trend
Makeup artists don't only just have the most basic makeup applications mastered—they also create one-of-a-kind looks for every season and holiday, too. One of our favorite makeup trends of the moment just so happens to be inspired by a deliciously sweet, juicy fruit: the watermelon. We're talking watermelon-inspired eye makeup looks and lip colors. Keep reading for three watermelon makeup tutorials.
SUMMER MAKEUP TREND #1: GEOMETRIC WATERMELON EYES
For this look, eye shadow should be applied in a triangular shape to mimic the appearance of a slice of watermelon.
What you'll need:
L'Oréal Paris Voluminous Lash Paradise Liquid Eyeliner in Black
L'Oréal Paris Voluminous Lash Paradise Mascara
Red eye shadow
Kelly green eyeliner
Tape
Get the look by following these simple steps:
Step 1: Tape off a triangle on your lids
To get this shape, overlap two pieces of tape extending from each corner of your eye up to a point in the center of your lid. By taping your lids off, you can help ensure that your watermelon slices end up looking extra-crisp.
Step 2: Fill in with eye shadow
To create your watermelon slices, use a pigmented red eye shadow to fill in the triangles densely for an opaque finish.
Step 3: Apply eyeliner
While the tape is still on your lids, draw a line of kelly green eyeliner along your lash line. Make sure your line only extends for the base of the triangle.
Step 4: Draw on the seeds
Using your black liquid eyeliner, dot a few seeds onto each lid to bring your watermelon look to life.
Step 5: Finish with mascara
For the final step, apply a coat of volumizing mascara to your lashes.
SUMMER MAKEUP TREND #2: BLENDED WATERMELON EYES
Even if you don't want to rock triangles on your lids, you can still get in on the watermelon-inspired makeup trend with this look.
What you'll need:
L'Oréal Paris Brow Stylist Shape & Fill Mechanical Pencil
Black liquid eyeliner
L'Oréal Paris Infallible Paints Eyeliner in White Party
L'Oréal Paris Voluminous X Fiber Mascara
L'Oréal Paris Infallible 24 HR Eye Shadow in Golden Sage
Red eye shadow
Get the look by following these simple steps:
Step 1: Shape your eyebrows
Before diving into this watermelon eye makeup look, start off by shaping your eyebrows with an eyebrow pencil—that way your beautiful work will be perfectly framed.
Step 2: Apply red eye shadow
Use a fluffy eye shadow brush to dust shadow across your entire lid, making sure to stay confined to the area between your lash line and crease. For a soft finish, spend extra time blending the outer edges so that there's not a harsh line of demarcation that could make the red shadow look clown-like.
Step 3: Create a white wing tip
Draw a crisp line from your inner corner to just beyond your outer corner using a white liquid eyeliner. The white eyeliner can help brighten your eye look.
Step 4: Dust your under-eye with eye shadow
Add the green rind into your look by dusting green eye shadow across your lower lid, staying as close to your lash line as possible so that it's subtle but noticeable.
Step 5: Draw on seeds
Dot your upper lid with a black liquid eyeliner to create the appearance of seeds. Be sure to let your seeds dry before applying any mascara so as to prevent any transfer on your lids.
Step 6: Finish with mascara
Your statement eye isn't complete until you top it off with a coat of fiber mascara.
SUMMER MAKEUP TREND #3: WATERMELON POUT
Why let your eyes have all the fun? This watermelon-inspired lip look is super-cute!
What you'll need:
L'Oréal Paris Colour Riche Matte Lipstick in Matte-ly In Love
Green eye shadow
Black liquid eyeliner
Get the look by following these simple steps:
Step 1: Apply lipstick
Create the base of your watermelon lip look with a matte red lipstick. Be sure to fill from your cupid's bow out to each corner to accentuate the peak of your pout.
Step 2: Shade under your lip
Next, use a densely-bristled eye shadow brush to apply green eye shadow along the outer edge of your bottom lip to create the rind of your watermelon pout.
Step 3: Add seeds
Finish with a few dots to create the seeds using black liquid eyeliner—and you have the most perfect summer-ready pout. Wear it to a barbecue or a day at the beach. You're sure to turn heads wherever you go!
If you loved learning about this statement lip look, check out our article, How to Do Unicorn Lips, for another fun tutorial that's great for summer.
Discover more tips & tricks
Keep your skin happy
See all articles