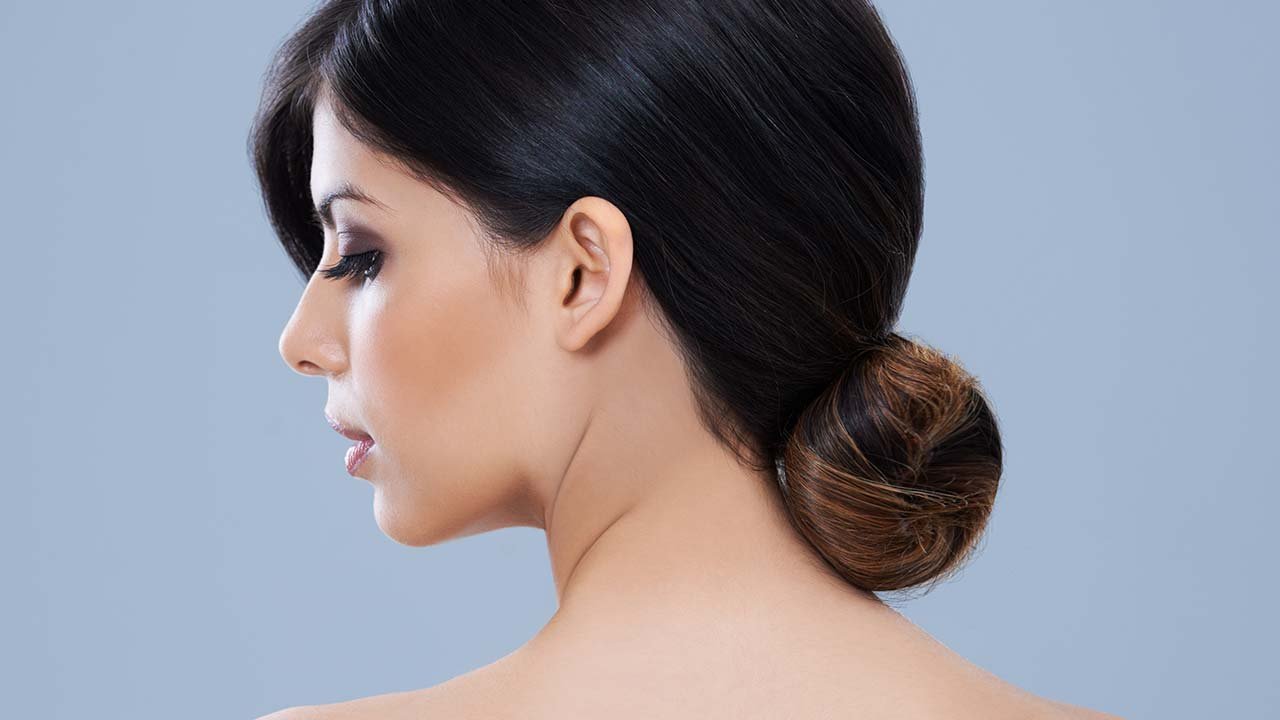 hairstyle trends
5 Hairstyles That Make Thin Hair Look Thick
Being born with thin hair can seem like some sort of horrible curse. We get it: Craving voluminous-looking thick hair is a struggle that's all too real for so many women. Most likely, all you want to do is try out the latest hairstyles—but why does it seem like nothing ever looks as good as it's supposed to? In fact, when you have thin hair, hairstyles may tend to end up falling flat (pun intended). But there is good news: You can fake a fuller-looking head of hair. The key to making your thin hair look thicker all lies with the illusion. Sure, you can't magically make your thin hair thicker, but you can trick others into thinking you were born with a luscious head of hair starting with what hairstyles you choose. Here's how you can fake fuller-looking hair with five easy-to-do hairstyles.
Thin to Thick Hairstyle #1: Double Ponytail
When you're in a rush to get out the door in the morning, a ponytail always seems like an easy option when it comes to your hair—but what if you have thin hair? Create a thick ponytail and instantly create volume with a hidden ponytail—yes, a hidden ponytail! Not sure what we mean? Keep reading as we explain.
What you'll need:
L'Oréal Paris EverPure Volume Shampoo
L'Oréal Paris EverPure Volume Conditioner
L'Oréal Paris Advanced Hairstyle Boost It Air-Blown Texture Mist
Curling iron
Two hair ties
Get the look by following these simple steps:
Step 1: Start fresh by washing your hair. This will help get rid of any greasiness and will add some volume to your hair. Instead of choosing any old shampoo and conditioner, use a volumizing system to help give hair some extra boost.
Step 2: Amp up the texture of your hair. Use a texturizing mist to give your hair some shape.
Step 3: Curl your hair. Since your hair is now prepped and texturized, it's time to bring out the curling iron. For the best results, opt for a one-inch curling iron. Make sure to hold the iron vertically, curling section by section to create longer-looking curls. Doing this can also help make your ponytail look fuller.
Step 4: Create your ponytails. As we mentioned before, the trick to getting a thicker-looking ponytail lies in making two ponytails—one of which is hidden. Gather the hair above your ears to create a half ponytail. Secure it with a rubber band. Take the top section you just created and flip it forward to the top of your head so it's out of the way. Create the second ponytail using the remaining bottom section of hair. Make sure to secure it directly below the base of the first ponytail so that it's perfectly hidden from plain sight. And there you have it: a super-thick ponytail!
Thin to Thick Hairstyle #2: Voluminous Half-Up Bun
The '90s makeup trends (as well as clothing) are all the rage right now. Velvet dresses are back in a big way, and matte lipsticks have replaced lip glosses as the lip look du jour. In the hair department, '90s hairstyles like the half-up bun have also been making a major comeback.
What you'll need:
L'Oréal Paris Advanced Hairstyle AIR DRY IT Ruffled Body Mousse
Blow-dryer
Hair tie
L'Oréal Paris Elnett Satin Hairspray Extra Strong Hold Volume
Curling iron (optional)
Get the look by following these simple steps:
Step 1: Use hair mousse. Hold your can of mousse upside down and dispense some onto your palm. Apply the mouse to dry roots at the crown of your head to make your half bun look bigger.
Step 2: Blow-dry your roots. Gently tousle roots with your fingers while giving them a blast from your blow-dryer.
Step 3: Create a half-up bun. Section off the hair at your crown and secure into a loose bun.
Step 4: Add curls. This step is optional, but do it if you want your style to have extra oomph. Give your thin hair some added volume by curling the ends into loose curls.
Step 5: Use hairspray. Spray a couple of spritzes of volumizing hairspray to keep your half-up bun in place.
Thin to Thick Hairstyle #3: Mohawk Braid
Looking for a hairdo that screams rock 'n roll? Then look no further than the mohawk braid. As you probably know, braids are everywhere right now—and this particular hairstyle is great for those who want to rebel against the norm and still look cool. Have a look at how you can create get this punk-rock braid for thin hair. 
What you'll need:
Brush or teasing comb
L'Oréal Paris Advanced Hairstyle AIR DRY IT Undone Style Cream
Elastic band
Bobby pins
L'Oréal Paris Advanced Hairstyle LOCK IT Fine Control Hairspray
Get the look by following these simple steps:
Step 1: Tease. Start off by teasing your tresses all over and at the crown of your head in order to create a fuller braid.
Step 2: Use styling cream. Work a hair cream through your teased locks to enhance any natural waves or texture.
Step 3: Braid. Take the top half of your hair (starting just above the ears) and braid it down the middle to create an inside-out French braid. Braid all the way down through the length of your hair and secure it with an elastic band. You can pin back any stray strands or flyaway hairs.
Step 4: Mess it up. Working your way down from the top of the braid, gently tug at the plait to make it look fuller.
Step 4: Use hairspray. Spritz hairspray all over the braid to keep your hair put.
Thin to Thick Hairstyle #4: Retro French Twist
There's something about French women that just exudes chicness. So, it's no wonder why the French twist is considered one of the most glamorous women's hairstyles out there. Give this classic look a retro spin with a bouffant to take the volume up a level.
What you'll need:
Lots of bobby pins
Paddle brush
L'Oréal Paris Advanced Hairstyle AIR DRY IT Ruffled Body Mousse
L'Oréal Paris Advanced Hairstyle LOCK IT Bold Control Hairspray
Get the look by following these simple steps:
Step 1: Use mousse. Start by working in a small amount mousse. Apply it evenly through dry hair.
Step 2: Brush hair. Flip your hair upside down and comb it thoroughly using a paddle brush. Doing this will help lift your hair at the roots, creating more volume.
Step 3: Section off hair. Make a side part and then separate a couple of inches of face-framing hair. Using a bobby pin, secure this section behind your ear. You can either leave this section to create a side-swept look or you can untie it at the end of this process and smooth it out over your bouffant.
Step 4: Tease. Using the paddle brush, tease your hair at the crown to build volume. Spray the hairspray on the now teased section to make sure it doesn't fall apart.
Step 5: Create a bouffant. Gently comb back the rest of your front hair and smooth it over the teased section to create a bouffant. Use a couple of bobby pins to secure it in place. Finish off by spritzing some hairspray to set the bouffant.
Step 6: Secure with bobby pins. Gather all of the remaining loose hair at the nape of your neck and tuck in bobby pins vertically to secure your locks on one side.
Step 7: Twist hair. Twist your hair up and towards (in the same direction as) the pins. For example, if your pins on the left side, twist up your hair clockwise and vice versa. You'll know if you did this right if the side opposite the bobby pins is absolutely smooth.
Step 8: Coil hair. We're almost at the finish line! Coil the end of the twist and fold it inside the pinned side. Secure the hair by tucking in a couple of more bobby pins.
Step 9: Use hairspray. The last step of the process is to set your retro French twist with a generous spritz of bold control hairspray to make sure all your hard work doesn't go to waste. Voilà! You're ready to hit the town. 
Thin to Thick Hairstyle #5: Perfect Low Bun
Whether you're going to attend a fancy soiree or you need to look a tad more professional, a low bun's the way to go. This next hairstyle makes you look put-together while making your thin hair look thicker at the same time. 
What you'll need:
Bobby pins
Elastic band
Paddle brush
Shine spray
Get the look by following these simple steps:
Step 1: Create a low ponytail. Start by leaving a front section loose. Pull the remaining hair back into a low pony with an elastic band.
Step 2: Separate the ponytail. Split the pony into two even sections and wrap one section around the base of your ponytail, covering the elastic band.
Step 3: Tease and tuck. It's now time to make your tresses look thicker. Tease the remaining half of your hair just slightly and tuck it underneath the base of your ponytail with a bobby pin.
Step 4: Incorporate front section of hair. Sweep the front section of your hair (which was left out way back in Step 1) back and pin it down just underneath the bun for a sleek look.
Step 5: Pull apart. Tug at the sides of your low bun to create a fan-like effect.
Step 6: Add shine. As a finishing touch, spray your fanned-out strands with a glossing mist to create the appearance of shiny hair.
These aren't the only tips we have up our sleeves for thin hair. Next up, find 9 Ways You Can Fake Thicker-Looking Hair.
Discover more tips & tricks
Keep your skin happy
See all articles
Shop Featured Hair Care products
Discover More