hair color trends
18 Gorgeous Green Hair Color Ideas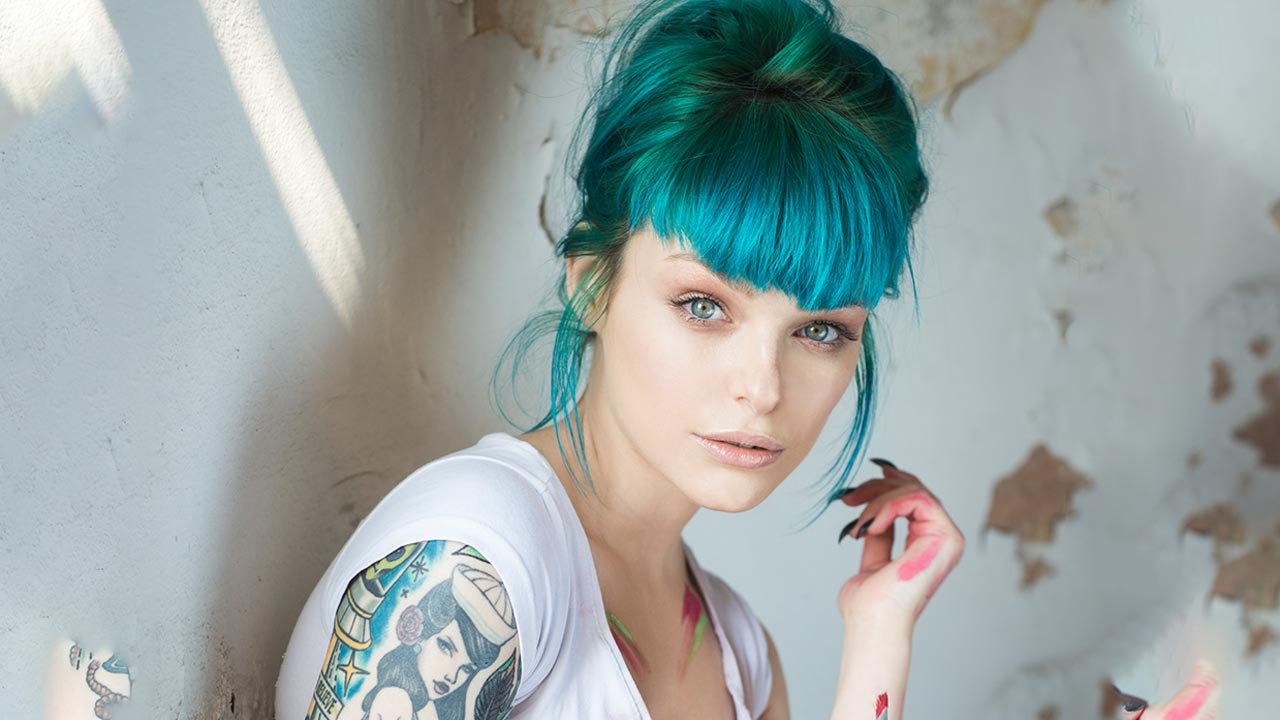 In a time when blonde hair color is just about everywhere, you might be wondering if you can get away with something a bit more bold, like green hair. Green hair was one of the hottest hair color trends in 2020—and it's maintained its popularity throughout 2021. While green hair dye is often associated with grunge girls, it's actually a hair color that anyone can pull off—if you find the right shade. From lime to mint to dark green hair, keep reading for our guide to the best green hair colors, plus how you can care for your new green hue.
1. MINT GREEN HAIR
If you're smitten with pastel hair which has been trending for a while, then you'll be excited about this ultra-light but equally bright green hair color, which resembles your favorite scoop of mint chocolate chip ice cream. Get ready to look downright delectable! If you want to take this shade for a test drive, you can get the look at home (commitment free) with the L'Oréal Paris Colorista Hair Makeup Temporary 1-Day Hair Color Spray in Pastel Mint.
2. DARK HUNTER GREEN HAIR
Dark green hair may seem a little too bold if you aren't used to edgy hair colors, but it's actually one of the more wearable options. If you already have dark brown or black hair, updating your mane with a green tint will be just about as subtle as green hair can get.
3. SEAFOAM HAIR
Seafoam green hair is another semi-pastel green hair color. It tends to be a bit more subdued than mint, with just a hint more of a baby blue hue. If you have light hair, this color will be easy to pull off without much bleaching beforehand.
4. EMERALD GREEN HAIR
This jewel-toned hair color can be worn on its own or with a rooted mane for an extra edgy emerald green hair look. The deep, rich shade makes a statement without being too neon. The depth and dimension makes it flattering on a wide variety of skin tones.
5. BLACK WITH EMERALD GREEN DIP DYE
A black base with emerald green ends (done using the dip-dye technique) will fall perfectly in line with the cool-girl aesthetic. This trendy hair color adds a modern spin to green hair and will certainly call attention to your strands. Not to mention, it takes low-maintenance hair color to the next level as there's no need for constant touch-ups.
6. LIME GREEN HAIR
If you keep up with fashion, it won't be a surprise that lime green hair is totally on-trend. After all, fashion and beauty trends almost always bleed into one another, and we can't seem to look anywhere as of late without seeing bright green makeup and accessories. Of course, this bold hue isn't for everyone, but give it a try if you're feeling daring.
7. FOREST GREEN HAIR
Forest green hair hits all the marks: It's not too dark and not too bright. The shade is equal parts edgy and sultry, and we love that it emulates the gorgeous green hues straight from nature. It's ideal for people who want to play with color without a bold touch—think of forest green hair as your happy medium.
8. BLUE-GREEN HAIR
When you can't choose between a blue hair color and a green one, one option is to rock a half-and-half hair color that's equal parts blue and green. You can also consider mixing both shades into a dimensional blue-green hair color. Blue-green hair is super pretty and can flatter just about anyone since you can customize the color, going bluer or greener depending on your preferences.
9. NEON GREEN HAIR
There's nothing more eye-catching than super-bright, neon green hair. If you're looking to make a statement with your green hair color, neon green strands are the way to go. The daring color looks great on all skin tones.
10. NEON GREEN WITH CHOCOLATE LOWLIGHTS
You can add some depth to your strands with neon green hair and chocolate lowlights. It's a gorgeous option if you can't resist dark strands. This hair color will serve up the right amount of contrast for an eye-catching look.
11. SAGE HAIR
If you love subdued hair colors that scream minimalism, then sage green hair could be for you. This soft green hair color borders on the edge of natural earth hues, making it a stunning option for a subtle yet seriously pretty shade update.
12. OLIVE GREEN HAIR
Add a vibrant yet cool touch to your beauty look with an olive green mane. The shade features hints of blue, yellow, and red that come together to brighten up your look. If you have an olive skin tone, this hue will complement you beautifully.
13. MOSS HAIR
Moss hair is your green hair color match if you love the gray and yellow undertones of olive green. The hue features the same undertones and is flattering on all skin tones. It's the perfect entrance into trying out the green hair color trend because it's both subdued and bold.
14. BLACK AND GREEN OMBRÈ HAIR
To make a big impact with your hair color, turn to black and green ombré hair. This trendy option is all about gradually fading your hair from one hue to the next. As a result, the color is surprisingly low-maintenance as frequent root touch-ups won't be necessary.
15. GREEN SOMBRÈ HAIR
Green sombré is a more minimalist hair trend that's definitely worth a try. The sombré technique (which is really just subtle ombré) is designed to give your strands texture and dimension, and adding green into the mix is a fun twist.
16. PASTEL GREEN WITH PINK BALAYAGE
Dare to mix colors by combining pastel green and pink balayage hair. It's a hair color that allows you to embrace the mermaid hair trend, and bring your pink and green hair dreams to life in the most beautiful way.
17. GREEN WITH VIOLET MONEY PIECE
We have to introduce you to green hair with a violet money piece. It's a unique pick for those who want to play with contrasting colors. This highlighting technique allows you to frame your face and add bold definition in the front. This end result is nothing short of a head-turning look. If you want to experiment with a fun money piece without commitment, grab the L'Oréal Paris Colorista Hair Makeup Temporary 1-Day Hair Color Spray in Purple and Hot Pink and apply them to your strands for a custom violet shade.
18. GREEN MERMAID HAIR
There are plenty of options for rocking green hair, but one of our favorites is none other than green mermaid hair. A step up from the traditional trend, this offering features hunter green strands with neon yellow ribbon highlights painted through your mane. It makes for the ultimate lemon-lime green hair color.
Editor's Tip: If you're not sure which green hair color would suit you best, try our Virtual Hair Color Try-On tool which will allow you to upload a photo of yourself or use the live camera try-on feature to try on various hues and see how they look on you. And, if you're planning on completing your green hair transformation at home, head to the Haircolor Concierge which will allow you to speak one-on-one with a color specialist to give you personalized recommendations.
HOW TO TAKE CARE OF GREEN HAIR
There's no denying that green hair is gorgeous—but to keep it looking that way, you're going to want to make a few changes to your hair-care routine. We've outlined them all for you below. Green hair, do care!
TIP #1: TURN DOWN THE DIAL IN THE SHOWER
Super-hot water can strip your strands of necessary oils, which can lead to your green hair feeling drier and looking duller. The next time you hop in the shower, (or wash your hair) use lukewarm water instead. Sure, it may not feel quite as relaxing, but your green hair color will surely thank you.
TIP #2: USE COLOR SAFE SHAMPOO & CONDITIONER
Washing your hair with color-safe products is extremely important if you want to keep the integrity of your hair color. Try the L'Oréal Paris EverPure Sulfate Free Bond Strengthening Color Care Shampoo and L'Oréal Paris EverPure Sulfate Free Bond Strengthening Color Care Conditioner, which are formulated to be safe on color treated hair as well as strengthen weak hair bonds which can result from color processing and heat styling.
TIP #3: USE HEAT PROTECTANT BEFORE HEAT STYLING
Heat tools can prove to be useful in creating a ton of different hairstyles, but consistently heat styling can take a toll on your color. Make sure to apply a heat protectant, like the L'Oréal Paris Elvive Dream Lengths Heat Slayer Pre-Iron Spray Leave-In.
TIP #4: PREPARE FOR TOUCH-UPS
The truth is, your green hair color will fade over time. To help keep your strands looking vibrant, you'll need to book an appointment with your colorist for touch-ups as needed. If you're rocking DIY color, keep a back-up box of your favorite dye on hand.
Photo Credit: Yvonne Nava @nava_beautyyy
Next: 25 Unique And Fun Hair Colors You Can Actually Pull Off
Discover more tips & tricks
Keep your skin happy
See all articles
Shop Featured products
Discover More