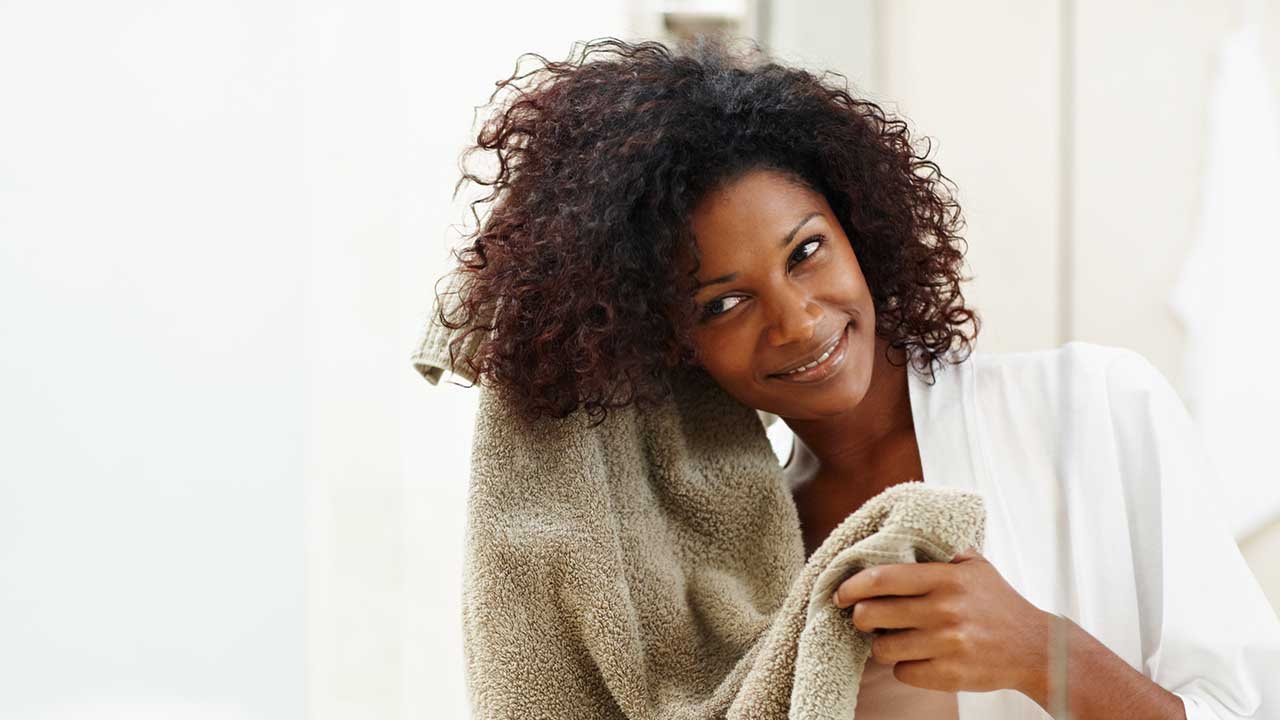 Dandruff—which the Mayo Clinic describes as the flaking of skin on the scalp—is never fun to deal with (something you surely picked up on from that description). Unfortunately, with the weather becoming colder, it can be unavoidable, and many people end up suffering from dry scalps and dry skin in the winter. Worried about flakes falling all over your black clothes? With the right hair care routine, you can put that fear in the past. Here, learn about the causes of dandruff and hair care products you can use—from dandruff shampoo to hair treatments—to help manage it.
WHAT CAUSES DANDRUFF?
We covered what dandruff is, but surely you want to know why it happens, too. According to the Mayo Clinic, a variety of factors can cause dandruff, including sensitivity to hair care products, not shampooing enough, shampooing too often, and dry skin. As the temperature falls and your skin becomes drier, it can lead to annoying itchiness and noticeable white flakes. (That said, if you feel like your dandruff is caused by an underlying skin condition, you should see your dermatologist.)
DANDRUFF VS. DRY SCALP
Dandruff and a dry scalp are not the same thing. Your scalp, just like your skin, can be dry without there being flakes. With that said, a dry scalp can progress into dandruff. If you notice your scalp getting dry, you can still follow the tips we're sharing for managing dandruff.
HOW TO HELP MANAGE DANDRUFF
Dandruff doesn't have to be your new normal. While we can't share an answer as to how to get rid of dandruff that involves snapping your figures, we can help you deal with a scaly scalp. Take these four tips into consideration to help manage dry, flaky skin on your scalp.
1. WASH WITH A SHAMPOO THAT HAS ANTI-DANDRUFF BENEFITS
When it comes to managing dandruff, the right products can make all the difference. Try the L'Oréal Paris EverPure Sulfate Free Scalp Care + Detox Shampoo, which is formulated with menthol and neem leaf extract to give your scalp a proper detox. This rich and creamy formula deeply purifies and cleanses your scalp without stripping your hair while also helping prevent the scalp-flaking and itching that are associated with dandruff. Not to mention, it's dye-, paraben-, and sulfate-free, vegan, and safe for color-treated hair. Use at least twice a week or as directed by a doctor. Apply the shampoo to wet hair, gently massaging it onto your scalp and hair, and making sure to rinse thoroughly.
2. FOLLOW UP WITH A NOURISHING CONDITIONER
To reap all of the benefits of your shampoo, we recommend that you use it in conjunction with the L'Oréal Paris EverPure Sulfate Free Scalp Care + Detox Conditioner. When used with the coordinating shampoo, this duo helps to replenish your hair with moisture and restore balance for a healthy hair environment. After using our dandruff shampoo, apply this conditioner to wet hair, massaging gently. Leave it on for one to two minutes, then rinse.
3. EXFOLIATE YOUR SCALP
Just as it's important to exfoliate the skin on your face and body, it turns out that your scalp could benefit from it, too. Here's the deal: When you exfoliate, you help slough away dead skin cells that have emerged on the surface of your skin to reveal fresh, younger cells underneath. And this is important for your scalp. Your scalp is skin as well—and it can also experience a buildup of dead skin cells, dirt, and oil. Using an exfoliating treatment that's specially formulated for your scalp can help remove that buildup and debris.
We recommend the L'Oréal Paris EverFresh Micro-Exfoliating Scrub. The scalp scrub contains apricot seeds that gently remove impurities, flakes, and buildup from dirt and excess oils that can cause hair to be weighed down. As a result, this scrub promotes a healthy-looking scalp. Use it in the shower before washing your hair with shampoo and conditioner by gently massaging it onto your scalp and throughout wet hair.
Editor's tip: To learn more about scalp scrubs and their benefits, read our article, Why You Should Add a Scalp Scrub to Your Hair Care Routine.
4. LIMIT HAIR STYLING PRODUCTS AND DRY SHAMPOO
As much as you rely on your hair-styling products to achieve different styles, they may be doing your hair and scalp harm. According to the Mayo Clinic, hair products can cause buildup on your hair and scalp, making them oilier, and ultimately leading to dandruff. Instead of using so many products, minimize the amount to keep dandruff at bay.
However, if you can't stay away from your styling products, dry shampoos can help. While you may think that dry shampoos dry out your hair and scalp, they actually rejuvenate your mane and may help you minimize how many products you need to use. Dry shampoos provide many benefits like adding volume and texture to your hair, providing hair with nutrients, and, most importantly, refreshing oily strands.
However, keep in mind, you don't want to over-rely on dry shampoo in your hair care routine. Using it too much is a recipe for buildup. Play it safe and only use dry shampoo once or twice a week when your hair is in need of a refresh. Apply dry shampoo directly on your oily roots and lightly through your hair. Brush to work the product evenly from root to tip.
5 HAIRSTYLES THAT HIDE DANDRUFF
While updating your hair care routine to manage dandruff is the main way to address this concern, chic hairstyles are a temporary fix that can help hide your flaky scalp. Below, we're sharing our five favorite hairstyles that will do just that.
1. TEXTURED PONYTAIL
One of the easiest ways to mask dandruff is to rely on a trendy textured ponytail. This popular updo helps hide your hair part and keeps your strands stylishly tucked for a quick fix. All you need to do is spritz volumizing spray, like the L'Oréal Paris Advanced Hairstyle BOOST It High Lift Creation Spray, over your entire mane to amp up the texture and volume. Next, gather your strands toward the center of your head and pull them into a ponytail.
2. LOW BUN
Another way to help minimize the look of dandruff is to wear a low bun. This brushed back look effortlessly hides your scalp for a foolproof pick. Simply gather your strands at the nape of your neck and pull them into a ponytail as you normally would. Twist the length of the ponytail around its base to form a bun, and you'll be all set.
3. DUTCH BRAID
The Dutch braid is a snazzy style that allows you to flaunt a beautifully woven mane. This look hides your scalp and allows you to flaunt trendy detailing for a playful and fashionable look.
4. BEACH WAVES
Beach waves are always a smart move. They're a fabulous way to flaunt all over texture and volume, so you can disguise dandruff. We also dig that they add a touch of summer to your look all year round.
5. SLICKED-BACK
The trendy slicked-back look makes for a solid pick if you're partial to sleek styles. Not only does this hairstyle allow your stunning features to shine, but you also won't have to worry about dandruff ruining your look. Start by brushing through your hair to take out any tangles or knots. Next, use a rattail comb to tease your hair at the crown. Apply a touch of hair gel, like the L'Oréal Paris Studio Line Clean Gel, to your roots and smooth your hair back. Finish by placing a few bobby pins along the side of your head to keep any flyaways in place.
Next up: Find more beauty tips for beating the harsh effects of winter weather in our article, 5 Must-Know Winter Skin Care Tips.
Discover more tips & tricks
Keep your skin happy
See all articles
Shop Featured Hair Care products
Discover More